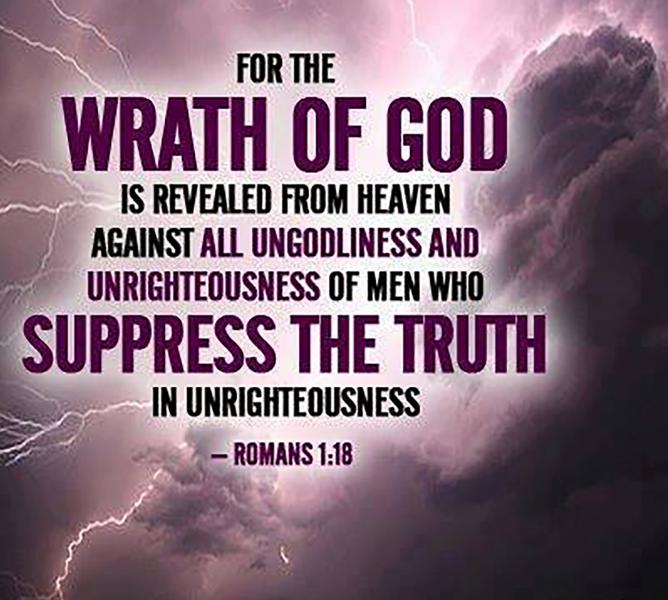 Complimentary Story
We live in the days of Noah. (Genesis 6: 5)... "The Lord saw that the wickedness of man was great in the earth, and that every intention of the thoughts of his heart was only evil continually."
Take notice that God can see every person's mind and judges the heart and soul of man's intentions, not just their behavior. He knows your motivations of your heart in everything you do. Nothing is hidden from Jesus. This definition of mankind's heart is not only true of our pagan culture, but sometimes of the Church of Jesus Christ. How can this be you might ask? We know from the Bible that man's sinful nature does not allow mankind to truly think and live as God intended. Unregenerate man or woman have a sinful nature that hates God's holiness and love as God intended. Unregenerate man and woman love sinful behavior.
Look at Galatians 5 and you will see unregenerate man loving the acts of the sinful nature. Also, 2 Timothy 3: "But understand this, that in the last days there will come times of difficulty. For people will be lovers of self, lovers of money, proud, arrogant, abusive, disobedient to their parents, ungrateful, unholy, heartless, unappeasable, slanderous, without self-control, brutal, not loving good, treacherous, reckless, swollen with conceit, lovers of pleasure rather than lovers of God, having the appearance of godliness, but denying its power. Avoid such people. For among them are those who creep into households and capture weak women, burdened with sins and led astray by various passions, always learning and never able to arrive at a knowledge of the truth."
If we, as a society, look at what we are becoming, this is it. God gave the people of Noah's day over 100 years to repent as Noah was building the ark before the flood waters of judgement came. But the only people that were saved were Noah and his family. Genesis 6: 8 "But Noah found favor in the eyes of the Lord. These are the generations of Noah. Noah was a righteous man, blameless in his generation. Noah walked with God. And Noah had three sons, Shem, Ham, and Japheth."
There are three important things to see here. Noah found favor with God, Noah lived a righteous life. Noah walked, or lived on a daily basis following God's commands. The only thing our nation needs, more than anything, is to find God's grace, live righteously as a people, and walk with Jesus every day. Nothing else will save America. Jesus judges nations as well as all people. All people, everywhere, have the same choice, we just don't seem to understand that Jesus is LORD of everthing! Isaiah 40:17, "All the nations are as nothing before Him, they are accounted by Him as less than nothing and emptiness." I struggle with submitting every day, (Romans 7).
God's favor is God's grace and mercy bestowed on a person, because they see their sinfulness before God and trust in Jesus' death and resurrection as the means to take away that sin.
Living righteous is living according to God's standard of righteousness as described in His word. It is not righteous thoughts and behavior as mankind sees it. A good example would be displaying the confederate flag versus sexual sin. Such as sex outside of marriage. Flying the confederate flag as seen through the lens of today's society is one of the most racist, hate-filled things a person can do or think. But if we could see the intentions of peoples' hearts and minds, I believe it is a sense of pride of the history of the south. The men who fought for a nation they believed would be a better nation. Yes, there was evil intentions to keep the black population as slaves. But these days the confederate flag is just a symbol of a time in our history. I personally believe that our nation has progressed past the thoughts of enslaving the black man again, just because some people want to fly a flag.
How does mankind view sexual sin like sex outside of marriage? "Anything is permissible as long as it meets my needs." You may think this is too harsh. Jesus says in, Matthew 5: 27 "You have heard that it was said, 'You shall not commit adultery.' But I say to you that everyone who looks at a woman with lustful intent has already committed adultery with her in his heart. If your right eye causes you to sin, tear it out and throw it away. For it is better that you lose one of your members than that your whole body be thrown into hell. And if your right hand causes you to sin, cut it off and throw it away. For it is better that you lose one of your members than that your whole body go into hell. Everywhere we look in our society today we see God's standard of purity for sex within only marriage between one man and one woman despised as some sort of old fashioned idea. Every kind of sexual perversity is thought about and contemplated by sinful men and women every day against God's holy standard. Jesus says to pluck your eye out, so your mind won't see the perversity of our modern filth. But modern man loves the filth. Thinks about it day and night and keeps coming up with more perverse ways to satisfy our hunger for sex.
Noah walked with God. Psalm 1: "Blessed is the man who walks not in the counsel of the wicked, nor stands in the way of sinners, nor sits in the seat of scoffers; but his delight is in the law of the Lord, and on his law he meditates day and night."
Noah delighted in God's law. He meditated on it day and night, because it says Noah walked each day with God. Walking along the path of Noah's life was God's thoughts and commands. Noah was not perfect, because none of us are. But he was not listening to the society around him, because it says every intention of their hearts was to do evil.
So as we can see in the above verses about unregenerate man's sinful thoughts and intents, what about the Christian church? What are the thoughts and intentions of all of us who call ourselves born of the Spirit Christians? We pray and hope that we are submitting to the Spirit of Jesus every day. But do we? If we want revival, we as the body of Christ must know what Jesus wants us to think and do each day. I fear that we who call ourselves the body of Christ are not what Jesus wants us to be. God has more grace than we will ever need to repent and He desires for us to be filled with His Spirit. Jesus said His church will win. But Jesus said even though we are certain of heaven, we need to live out our lives each day to God's glory and know what Jesus desires of us each day. If we think about the Scripture from 2 Timothy, we are losing the battle, and it's not God's fault. I personally do not see Christians making the impact on our cities as Jesus would desire.
So as the body of Christ, what do we need to do to bring our societies back to God? The first thing is to believe God's promises and obey His commands. This has always been God's way. He has promised us in 2 Chronicles 7: 14, "IF My people who are called by My name humble themselves, and pray and seek My face and turn from their wicked ways, then I will hear from heaven and will forgive their sin and heal their land. Now My eyes will be open and My ears attentive to the prayer that is made in this place. For now I have chosen and consecrated this house that My name may be there forever. My eyes and my heart will be there for all time. And as for you, if you will walk before me as David your father walked, doing according to all that I have commanded you and keeping My statutes and my rules, then I will establish your royal throne, as I covenanted with David your father, saying, 'You shall not lack a man to rule Israel.'"
God says, IF. There is a condition here. Humble ourselves and pray is a condition. Christians have become self-sufficient. We have million-dollar churches that have everything we desire, but is this what Jesus wants? We love our comfort, coffee, and songs that have to please every person, but do we have prayer? The disciples prayed day and night and sought the mind of Jesus. We don't like to pray and fast. There is a church in Africa that fasted and prayed for 120 days and God woke up the people in their community and they are the largest church in the world. I know we see our cities daily getting darker, but Jesus wants to heal our cities. He says in the above passage that He wants His eyes and heart in our cities forever. Today we are afraid to mention the name of Jesus because our society says they don't want God. But God wants THEM. We need to have love and courage to talk about Jesus, talk about His commands, what Jesus desires of them. It is not just asking Jesus into their hearts, but repentance and faith. This is what Jesus taught, and we should too.
People need to hear God's Word! Our land is dying because the word of God is ignored. How can God in His holiness and sovereignty bless us when we ignore His commands? Most Christian churches never preach about God's commands. I really do not think that the modern professing Christian really knows what the sin of idolatry is. God warned Israel that after they had come into the blessings like we have here in America, that they would become comfortable and forget that anything other than God's Spirit living and providing for Spiritual food rather than our own comfort, we are committing idolatry. Do Christians these days desire the Spirit of Jesus more than our comfort? Do we meditate on God's Word day and night? Do we fight for God's commands in our cities? Do we love God's rules and by the power of the Spirit live it?
John the Baptist loved God's righteousness more than his life. He boldly proclaimed God's commands to his society around him, and Jesus said there is no greater than John. Jesus told us we would be persecuted because of righteousness, but Jesus wants righteousness to prevail against the darkness. We love people, most Christians are good at this, but what about righteousness? Love cannot be love in the eyes of Jesus without righteousness. Love without righteousness can easily be distorted. Sin is so terrible that even love can be perverted so bad, and that's what we see in our cities. We think, which I believe is a lie from the devil, that if we just "love" people, somehow they will see the love of Christ in us. This may be so, but what about God's Word and commands? Paul wrote the the Romans and asked: "how will they know, unless someone tells them?" Sinful people don't think about God's commands; they are always trying to sneak something past God. Romans 3: 18, "There is no fear of God before their eyes." Is this not what the people are like around us? Is God's Word the truth and is this not true?
The true Church of Christ needs godly courage to say "thus saith the Lord!" The church has become so much like the world around us, no one can see the righteousness John the Baptist and Jesus preached about. We have somehow become blind to how the gospel is preached. We think that if a person just "received Christ," everything will work out. But Jesus preached God's law and commands to people. There has to be a fear of God first, there has to be God's commands and what Jesus expects of people before there is grace. There is no grace before there is the fear of God. This is what the Bible teaches.
If God says this, who are we to try to change God's way of proclaiming the gospel? In the past, before Jesus, God sent His prophets to tell His people of their sins. Then there was renewal. It says in Hebrews in these last days God gave us Jesus. Hebrews 1: "Long ago, at many times and in many ways, God spoke to our fathers by the prophets, but in these last days He has spoken to us by His Son, whom He appointed the heir of all things, through whom also He created the world. He is the radiance of the glory of God and the exact imprint of His nature, and He upholds the universe by the word of His power. After making purification for sins, He sat down at the right hand of the Majesty on high, having become as much superior to angels as the name He has inherited is more excellent than theirs."
Jesus is the last word in these last days. How did Jesus bring about spiritual renewal? He preached the beatitudes. Jesus spoke God's Word to people and pointed to Himself as the Savior. We try to reverse this by telling people about God's grace first, and then trying to teach Jesus' commands to people. Jesus never did this. How can someone cry out for mercy, when they do not think they need it? We have not only lost God in our society, we are losing any concept of the commands and fear of God. Our society has gone so far, that they think smoking a cigarette is a greater evil than letting grown men into a little girl's restroom. If our society is so warped, what will change their thinking? What can change someone's attitude about right and wrong? God's word, the beatitudes, God's commands, the Spirit of God.
2 Chronicles 7: 14 "IF My people who are called by My name humble themselves, and pray and seek My face and turn from their wicked ways, then I will hear from heaven and will forgive their sin and heal their land." There is a big IF here. What will the modern church do? Go on building bigger, nicer churches to try to please man's flesh, or repent and seek God's face and do what He wants us to do? Proclaim the Word of God to a dying world.