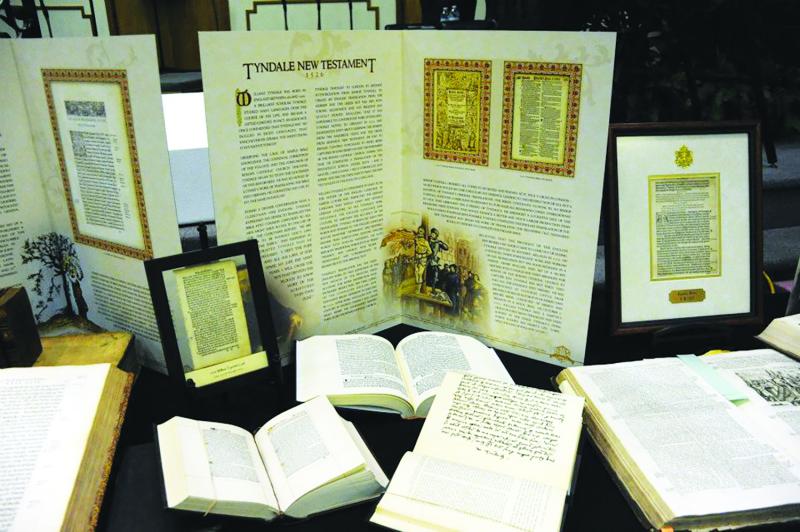 See the
Biblical Heritage Archive Traveling Museum
at the WVCY Rally on Saturday, October 28, 2017. Over the past 25 years Dr. David L. Brown has acquired ancient historic tablets, manuscripts, and Bibles from across Europe and the United States. See genuine cuneiform tablets from the time of Abraham, an ancient Hebrew Scroll fragment from Genesis, Greek papyrus fragments, a rare velum lectionary page, and ancient Latin, Greek, and English Bibles dating from the 1400's through the 1600's. There will be more than 60 feet of antiquities on display for you to see. Rarely will you see all these things in one place, and likely never are they open so you can see them up close.
Dr. Brown will be taking you by PowerPoint to Mount Sinai where God revealed His Words to Moses, to the Caves where the Dead Sea Scrolls were discovered, and to the dungeons where Christians were tortured for preaching, teaching and reading the Word of God in their own language. Hear the exciting stories of how God used brave men like Wycliffe, Tyndale, Coverdale, and Rogers to translate the Hebrew and Greek manuscripts into English, and learn the price they paid so that we might be able to read the Bible in the English language today.
This VCY Rally will be a visual display that God has preserved his Word and that believers need to more boldly share the Gospel in your own Jerusalem, Judea, and Sa ...