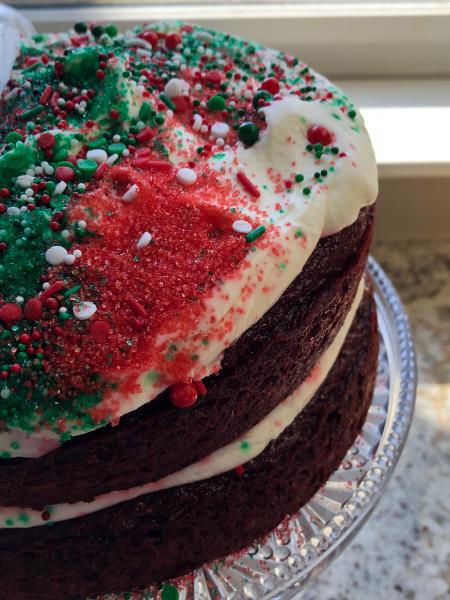 Complimentary Story
I made a cake. As my best friend told me (in love of course) it was not my best work.
After frosting my luscious red velvet cake with homemade buttercream frosting, I decided that it would be enhanced with a few sprinkles on the top. I carefully opened the small section that I wanted to use of my multi-sprinkle container. As I began to gingerly shake out the dainty candy circles something unexpected happened: the lid fell off, completely off!
On about one quarter of my masterful cake, there was a mounted up mass of every type of sprinkle in the container. After pausing a moment in disbelief, I decided there was only one thing to do — add more sprinkles. I emptied the remainder of my container in a similar "pattern" over the rest of the cake.
I told my friend that there was a large life lesson to learn from the great cake mistake...sometimes we get to make our own decisions in life...and sometimes life makes our decisions for us. What I had planned for my cake was interrupted by a different reality.
So many times that happens, doesn't it? We are moving forward with a well-laid plan, when BAM out of nowhere, our circumstances bring us to a screeching halt. After pausing a moment in disbelief, there is only one thing to do...
James 1:2-5,
"Count it all joy, my brothers, when you meet trials of various kinds, for you know that the testing of your faith produces steadfastness. And let steadfastness have its full effect, that you may be perfect and complete, lacking in nothing."
The unknown, unpredictable, and unexpected should not hold us back from our forward progress. After pausing in shock as our circumstances test our faith, we should move forward by confirming our faith in God's faithfulness, and pour out more "sprinkles." Although trials are not usually in our plans, we can choose to respond to them in a way that doesn't cripple us spiritually. We can pour out more steadfastness, pour out more perseverance, pour out more praise, and pour out our prayers to our faithful God, who is never surprised by the lid falling off our life's circumstances. Life does not have to follow our own plans for it to be beneficial and beautiful. Our response to our unforeseen circumstances and our trust in God's faithfulness toward us can bring unexpected beauty to even the ugliest of trials.
As I gaze at my cake, I see it through different eyes than most would. It may not win a beauty contest, but it bears the marks of joyful victory over the unforeseen. It shows the world that something broken doesn't have to be a mess, but may hold the beauty of a mosaic. Its colorful chaos doesn't diminish its wonderful flavor, just as chaos in our lives doesn't have to diminish the richness God intends to bring to us.
It seems a simple lesson from an unlikely source. I have not been schooled by a cake before. An ugly cake reminding me of a beautiful truth... life's untimely interruptions bring with them an opportunity. Sometimes I get to make my own decisions in life and sometimes life makes decisions for me, but I ALWAYS get to choose how I respond to the unforeseen events that intrude on my life when the lid falls off my own well-intentioned plans. In that response is an opportunity to both be faithful and to experience God's faithfulness toward me.
1 Peter 1:6-9 (ESV),
"In this you rejoice, though now for a little while, if necessary, you have been grieved by various trials, so that the tested genuineness of your faith — more precious than gold that perishes though it is tested by fire — may be found to result in praise and glory and honor at the revelation of Jesus Christ. Though you have not seen Him, you love Him. Though you do not now see Him, you believe in Him and rejoice with joy that is inexpressible and filled with glory, obtaining the outcome of your faith, the salvation of your souls."
2 Corinthians 4:17,
"Our light and momentary troubles are achieving for us an eternal glory that far outweighs them all."
Chris McMahan
Happy1970@icloud.com