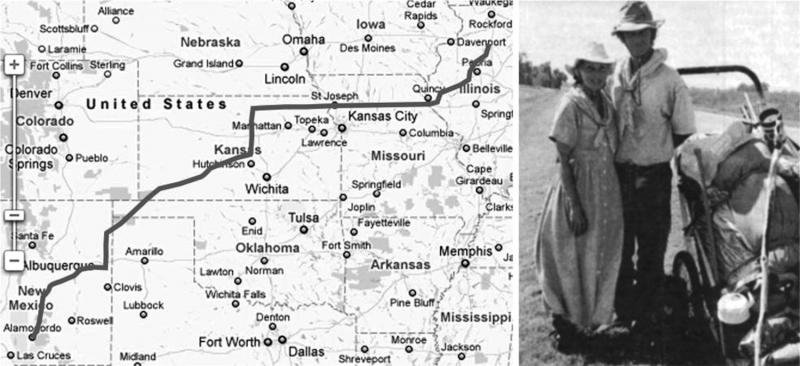 Complimentary Story
This is the first article that covers the story of our 1500 mile trek from Dixon, IL to Alamogordo, NM based on our daily diary.
We are just plain ordinary people that the Lord reached down and provided for, protected, and helped in many wondrous ways. It is our hope and prayer that the way God helped us through our experiences will be an encouragement to you.
Our walk actually began On Sunday March 24, 1996. That's the day the Lord first put the idea in our minds. We spent 3½ years prior to this time traveling the country, making our living selling our leather and jewelry crafts out of our Sioux style tipi and traveling in a U-Haul truck which we fixed up for living quarters and storage of our "trade goods." We spent winters, or parts of them, in Mississippi, Arizona, New Mexico, Texas, and Nevada. However, that is all part of another story that I hope to tell about after we finish the walk. This particular year it was Tennessee.
We were set up next to a gas station/convenience store approximately 4 miles from Pickwick Dam and Lake, at the edge of Counce, Tennessee. It was February and already signs of spring were popping up everywhere. The days were getting warmer and spring flowers were appearing. We discovered a side road running past the store and making a one-mile loop through the countryside, ending back at the highway a short distance from us. We got into the habit of walking this loop around to the highway and then back again, making a two-mile walk. It was wonderful exercise for us and for Shiloh, or faithful little dog, and an invigorating way to start each day.
One morning as we were heading back and enjoying the quiet countryside Hadassah said, "I think we should take off and walk around the country." This "off the top of my head" statement planted a thought in our minds that began to grow, watered by God's Spirit. We began to kick around ideas as to how we would provide a living for ourselves if we were on foot and we also began to take our leisurely morning walks more seriously, walking at a brisker pace and timing ourselves. Soon we could make the two-mile walk easily in forty minutes.
While the idea about doing a walk was good, we had one big problem with it from the beginning. We had already lived on the road for 3 ½ years and had seen many things that can happen out there. It can be a dangerous place to be, even when you are traveling in the relative safety of a truck. Now, we were talking about leaving everything behind and going out on foot for several months. Scary! But, in full knowledge of what we could face, we still could not get the walk off of our minds and keep it off. God kept it before us in spite of our reluctance.
By the time we left Tennessee, the first part of April, we had tentative plans for preparing ourselves for a walk. We planned to spend this summer the same way we spent last summer — helping Harry's folks and selling roadside. Harry's father suffered a stroke during the summer of 1993 and since that time has been unable to care for the large grounds surrounding the farmhouse they were living in. That year we lived on the farm, in our truck, and sold our crafts while helping with the yard work.
Three days after we got back to the farm, some friends heard we were there and stopped to visit. Harry began to relate our plans about the walk to them and the young man said, "Boy, that's scary. I wouldn't want to do that. It's dangerous out there!" The moment he made this statement we realized he was right. We talked it over and decided that walking wasn't a good idea and we were not going to do it. So the thought was dropped again.
The next day, four days after we arrived at the farm, all of our tentative plans got turned upside down. An apartment became available at the senior citizen's complex in town and Harry's folks took it. Our Summer was suddenly free. For the next month everything went pretty well with preparing for the folks' move.
And during that month a woman who had done business with us the previous year came by. She began to tell us about her experiences with primitive living. She also related to us that a friend of hers had crossed the country with a wagon and team. She had joined him in this venture for just a short distance and was always sorry she didn't make the entire trip. Well, guess what? That conversation brought the walk back to our minds and we were off again. "Yes, we are." "No, we aren't." "Yes, we are." After making a decision not to do the walk and making other plans, here we were back in the middle of our dilemma again.
We are both reasonably intelligent, at least intelligent enough to make a decision about what we are planning to do. God would not let this idea rest, even when we systematically and logically convinced ourselves that we would be crazy going out there on foot. We were less than three weeks away from having our obligations finished in Illinois and being able to leave. Now we had to decide, once again, whether or not to do this walk. Not being able to make a final decision, and live by it was getting the best of both of us.
Next month we'll tell you how God brought us into obedience and provided everything we needed.
"And I have been with thee whithersoever thou hast walked."