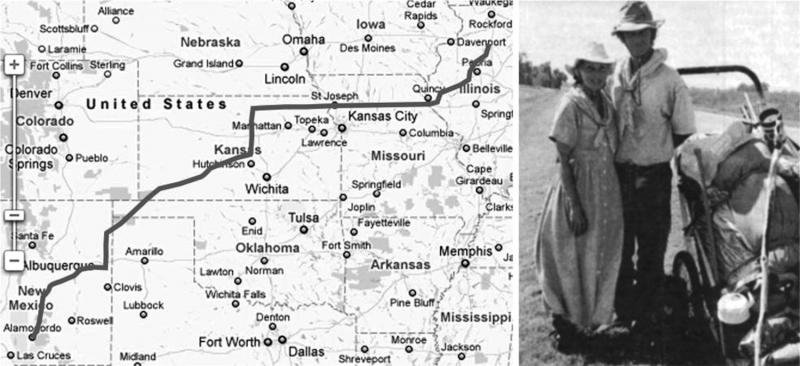 This is the first article that covers the story of our 1500 mile trek from Dixon, IL to Alamogordo, NM based on our daily diary.
We are just plain ordinary people that the Lord reached down and provided for, protected, and helped in many wondrous ways. It is our hope and prayer that the way God helped us through our experiences will be an encouragement to you.
Our walk actually began On Sunday March 24, 1996. That's the day the Lord first put the idea in our minds. We spent 3½ years prior to this time traveling the country, making our living selling our leather and jewelry crafts out of our Sioux style tipi and traveling in a U-Haul truck which we fixed up for living quarters and storage of our "trade goods." We spent winters, or parts of them, in Mississippi, Arizona, New Mexico, Texas, and Nevada. However, that is all part of another story that I hope to tell about after we finish the walk. This particular year it was Tennessee.
We were set up next to a gas station/convenience store approximately 4 miles from Pickwick Dam and Lake, at the edge of Counce, Tennessee. It was February and already signs of spring were popping up everywhere. The days were getting warmer and spring flowers were appearing. We discovered a side road running past the store and making a one-mile loop through the countryside, ending back at the highway a short dist ...