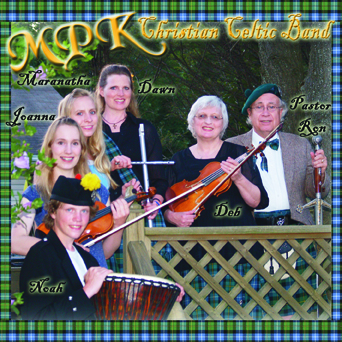 MPK Christian Celtic Band is a delicious blend of Scottish Culture. You'll savor a musical experience not soon forgotten! Toe tapping traditional Scottish fiddle tunes with a little Irish thrown in for good seasoning, Highland dancing, our own original songs and a few history lessons await your senses. Our concerts have a positive message for the whole family."
Artist Information: Contact Deb Johnson www.mpkband.com www.myspace.com/mpkband maranatha1@tds.net 715-683-2889
"As for you and the PKs, I am proud. Perform as often as you are able," Dr. John Turner, 10 times National Scottish Fiddle Champion, Jink and Diddle School of Scottish Fiddling, Chesterfield, Virginia.
"Noah Wolf is a one man international percussion band," Mike Wiegel Executive Producer for the "It's Happening" Show, Cable channel 10, Marshfield.
"We love MPK and their Scottish Fiddling. Each song that they have written brings out a powerful message this world needs to hear. They have performed for us on more than one occasion for our Macneil Association of America meetings that were held at the Grandfather Mountain Highland Games in North Carolina." Ken and Carolyn McNeill Past president and secretary of the Macneil Association of America.
"The band was very creative and entertaining and a real enhancement to the Waukesha Scottish Highland Games," Linda Somrak Secretary Wisconsin Scottish Inc.
"MPK has performed numerous times in our church, including a women's retreat. Their songs have a message that can really speak to the heart and give comfort and strength," Pastor Wendell and Sue Williams, Mauston, United Methodist Church.
MPK - "Mama and the Preacher's Kids" is made up of six family members. Pastor Ron Johnson acts as master of ceremonies and is a Scottish historian. Deb Johnson is the Mama, whose talents include writing some of the original songs for the group, vocals, classical and electric guitar and violin.
Preacher's Kid Dawn Wolf, an adult daughter, is a songwriter and vocalist, and performs on flute, whistles and bass guitar. Maranatha Johnson, Preacher's college Kid, is a vocalist, plays keyboard, guitar, bagpipes, dance and songwriting. Joanna Johnson, Preacher's other college daughter, performs Celtic vocals violin, dance and songwriting. Preacher's Grandkid Noah Wolf, performs on djembe, bodhran, drums, accordion, keyboard and composes fiddle tunes. Vince Elmhorst, also a college student and musician who performs on the sax, is the soundtech for the band and runs a 20 channel board, Yamaha EMX 5000.
MPK hails from Central Wisconsin and has performed in five states and also in Scotland. MPK has a message and a ministry that they want to share with you. Check us out on the web at www.mpkband.com and play their music at www.myspace.com/mpkband.  MPK currently has 4 CD's available. They have recently completed their 4th project called "Almost Home," which is a mix of traditional Scottish Fiddle tunes and original songs, many in the Celtic style. Almost Home 2010 and MPK Forever fiddling 2008 are available on www.cdbaby.com and amazon and itunes.
Chili, Wisconsin
Call: (715) 683-2889
Email:
maranatha1@tds.net
Website:
http://mpkband.com
Listen to a Sample