RHINELANDER, Wis.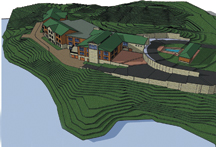 Imagine a child who was born with a cardiac condition. A child who has cancer. A child who has severe asthma. These children, because of their medical conditions, are not able to run and play like other boys and girls. They will rarely have the opportunity to attend a traditional Summer Camp due to their health restrictions.
Now, imagine a new kind of camping facility. A place that is fully climate-controlled, one that features an indoor archery range, an indoor climbing wall, an indoor environmental center and much more! Imagine that the only time a camper has to go outside is when, upon their arrival, they board the train - yes, a full train - that carries them over to the state-of-the-art facility. Now, imagine that facility had a name - Eagle Cove - and you will have a small idea of what this project is and what it will mean to thousands of youth who, because of medical restrictions, were unable to go to camp. Now they can!
Northern Lakes Ministries and Crescent Lake Bible Camp, located in Rhinelander, Wisconsin, are in the process of developing a state-of-the art camping facility to work with children with special medical conditions. It is a high-end camp and conference center that is designed to be accessible to both youth and adults of all ages, abilities, regardless of health conditions.
Eagle Cove is, as our motto says, A Christian outreach to youth, adults and families with special needs. We take our name from Isaiah 40:31, But ...