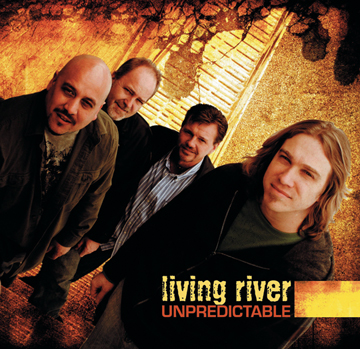 Theyre called Living River, four former high school buddies who blend country gospel, rock and a cappella styles with their love for four-part power harmony. Their goal is to communicate to their audience, with word and song, the gospel of their Lord and Savior, Jesus Christ. And they do it with their own special joy, enthusiasm and style.
The current men of Living River; Perry deJong, tenor; Bryan Niemeyer, baritone; Rich Beilke, bass, and Jeff Gut, lead singer, first met some 25 years ago while attending John Muir Middle School in Wausau, Wisconsin. Their friendships and mutual love for music continued to grow while they were students at Wausau West High School.
It was Phil Buch, music director at Wausau West, who encouraged the boys to pursue quartet music. Phil coached us on how to do the various parts, explained Perry, spokesman for the group. In 1987 a quartet known as Living Water had its debut, with Rich Beilke as one of the members. The name was eventually changed to Living River.
Then, in 1994, Rich invited Perry deJong to join him in the group. Five years later Bryan Niemeyer was added to the quartet and in 2001 the current singing group known as Living River came together when Jeff Gut joined his former classmates as their lead singer. Playing 23 concerts a month, writing songs and cutting their own music CDs, Living River has become one of the most popular singing groups in Central Wisconsin.
One of the reasons for t ...