GREEN BAY, Wis.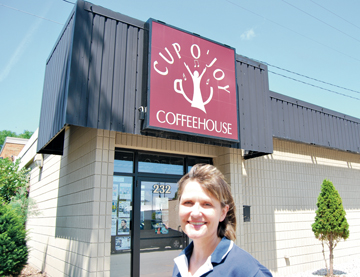 Since 1989 the Cup O' Joy has been Wisconsin's premier venue for nationally-known Christian recording artists. Now, as the Cup's many volunteers prepare to celebrate their 20th anniversary, Executive Director Jan Oettinger takes a look back at how this Christian outreach came to be.
"The Cup," as it is known, had its beginnings a few blocks north of it's present location at 232 South Broadway in Green Bay, and for ten years the people involved were blessed to see the ministry that took place amidst a little music, coffee and fellowship. But as time went on, the ministry transitioned from a coffeehouse atmosphere to more of a concert venue, and space was becoming extremely tight. Then, in 1999, the new building became available. In the past, it had housed the Knights of Columbus, various bars, and just prior to becoming the new "Cup O' Joy," had been a combination "gay" bar and tarot card reading room.
Today, the entire building has been remodeled and features a first-class professional concert stage, overflow space with closed-circuit television, a library and conference room, and a complete kitchen -- as well as a coffee, soda and snack bar on the main floor.
Oettinger is quick to point out that none of this would have been possible if not for the grace of God and the hard work of countless volunteers. "We've been blessed all along the way. You can really see God's hand in everything that has happened here," she said.
Others have e ...