MARSHFIELD, Wis.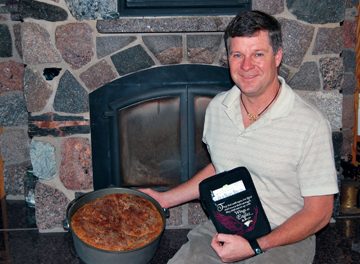 It started with a need, a desire if you will. Where can I find it? Then came the thought: I cant find it so I will start it. Then came the discussions with men. Are you interested? Then came the indecision. The unbelief. I cant possibly do this!
Then came the encouragement from God. The ever-so-gentle encouragement that kept saying Just start, I will be there. Then came the agreement. Ok Lord, I will pick a date. Then came the men. The Lord delivered.
What am I talking about? I am talking about the Bread Club - a mens Christian fellowship night held in the upper half of my barn. I had called this spot the man cave, but the men of the bread club are now fondly calling it the upper room.
The Bread Club is a time for men to get together and read a Scripture verse, and then discuss what God is saying. Its an opportunity to remember Jesus and His sacrifice and love. We call it the Bread Club, because at each Tuesday evening meeting, we share home-made bread baked in a Dutch oven and a glass of grape juice. Moreover, the Bread Club is an opportunity for men to pray together.
For about a year or so, I was thinking how I wanted to get involved in some kind of get-together where I could learn and discuss more about God. There were several meetings and Bible Studies I had heard about, but the location or time just did not work.
So I began to think that maybe I should start something myself. I started to think about how I could ma ...