MADISON, Wis.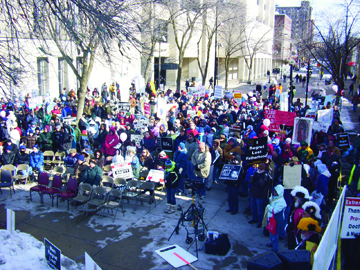 Just over one year has passed since it was first reported that UW Health and Meriter Hospital were planning to perform late-term abortions at the Madison Surgery Center at 1 S. Park St. But no abortions have been performed to date; news that encouraged the approximately 500 men, women and children who turned out for the second annual Defend Life Rally on the University of Wisconsin Library Mall February 6.
The crowd listened to almost a dozen speakers, endured the haranguing of a small group of loud abortion supporters, and then marched from State Street to Regent Street for a vigil in front of the Madison Surgery Center.
We will not go away until UW Health and Meriter scrap their plans to perform abortions for good, said Steve Karlen, the director of Vigil for Life. The UW-Madison cannot be in the business of denying these people their civil rights, their right to life, said Peggy Hamill, state director of ProLife Wisconsin. These children are entitled to equal protection under the law as persons.
Other speakers included Rev. Eric Nielson, representing the Madison Diocese of the Roman Catholic Church; Amanda Detry, of University of Wisconsin Students for Life, Barbara Lyons of Wisconsin Right to Life, Julaine Appling of the Wisconsin Family Council, Dee McCoy of Silent No More, Bob Dorn of the State of Wisconsin Knights of Columbus, and State Senator Glenn Grothman of West Bend.
Its amazing we still have to stand here after 37 years [ ...