BLACK RIVER FALLS, Wis.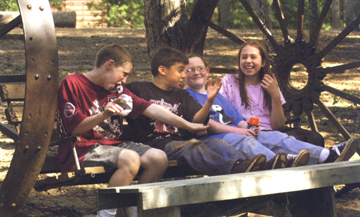 Near Black River Falls, Wisconsin, on 400 acres of unspoiled natural beauty is a site called Fallhall Glen, a place where youth experience the beauty of Gods creation, where they are led to a deeper relationship with Jesus, and where they commit to following Him for the rest of their lives through the waters of baptism in the quiet pools and waterfalls of spring-fed Robinson Creek gorge that cuts through the heart of Fallhall Glen.
Fallhall Glen is the home of Wisconsin Christian Youth Camp (WCYC), an organization dedicated to serving in the name of Jesus Christ. This former fishing resort retains its rustic character and charm through its beautiful, still-standing log structures. But since WCYCs first 2-weeks-only summer camp session was held there in 1961, many improvements have been made, due in large part to the contributions of workers and donors, making the present camp one of the outstanding Christian youth camps in the United States. Today campers will see campfire circles dotting the creek and ridges, cabins tucked away in the trees, a dining hall, bath house, nurses cabin, craft cabin, caretakers residence, great hall, hiking trails, and camp sites when they arrive for a week or two of summer camp or at other times throughout the year. And Robinson Creek provides quiet pools and trout and swimming holes.
Today, WCYC provides nine weeks of summer camp that includes youth camps, congregational retreats, Labor Day encampments, preachers retreats ...