EAU CLAIRE, Wis.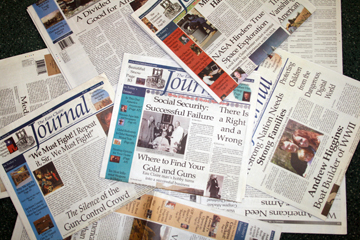 In an age of ten-second sound bites, one thing the citizens of Wisconsin need is a more in-depth analysis of both current events and history. We are surrounded by media, and yet we are probably the least informed citizenry in centuries. Some of the fault may lie with us citizens, but it is the media that has conditioned us to settle for a fast food style of news and analysis. This regular diet of junk food news has left us with information obesity and malnutrition of truth.
In these perilous times, Americans, who understand our peril, are searching for relevant and objective news. They are looking for someone to sort through all the fluff and deception and to separate out the wheat from the chaff and give to their readers true substance and honest analysis.
Three Christian men from the Eau Claire area who have longed for news coverage with just such an approach, have launched The Eau Claire Journal, a new newspaper they trust will fill that void. Dan Stanley, Chad McFarlin, and Jerry Hanson have been friends and brothers in the Lord for many years, and though they come from diverse backgrounds, they have a common interest in providing Wisconsinites and other Americans with the news and information they need to stay informed and to be well-equipped to navigate through tumultuous times.
The Eau Claire Journal also provides articles they believe will help their readers be better citizens, parents and Christians. Articles on topics such as the impor ...