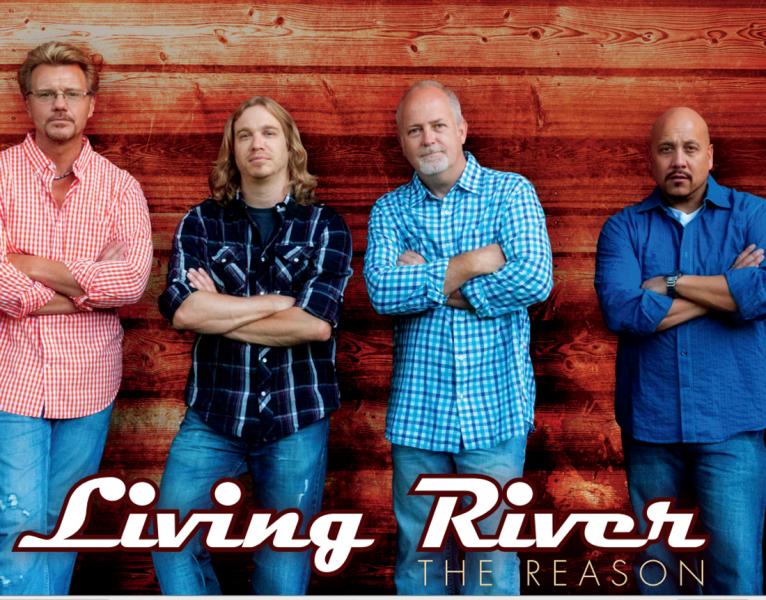 Complimentary Story
They've been referred to as the Little River Band, Living Waters, even Liver River. Call them what you may, there is no mistaking the unique blend of country gospel, rock, and a cappella style music that distinguishes this popular Central Wisconsin singing group. For 27 years the men of Living River have combined their love for 4-part harmony with the gospel of Jesus Christ, entertaining audiences throughout Wisconsin with their own special joy, enthusiasm and style.
What began in 1987 as the Living Water Quartet with Rich Beilke as one of its original members, has since evolved into the current men of Living River: Perry de Jong, tenor; Bryan Niemeyer, baritone; Rich Beilke, bass, and lead singer, Jeff Gut. The four men first met while attending John Muir Middle School, in Wausau, Wisconsin. Their friendship and mutual love for music continued to grow as students at Wausau West High School, eventually coming together in 2001 as the present Living River singing group. Through the closeness of their relationship, the blending of their voices together, and using their own musical arrangements, the men have created a unique Living River sound that people have come to love and enjoy.
In a recent interview with the men of Living River, I asked them to explain their unique relationship with one another; their music; audience and future goals for the group. Their answers are as follows:
DAVE KOY: WHAT'S IT LIKE TO BE A MEMBER OF THE LIVING RIVER QUARTET?
RICH: "It's always a good time when the four of us get together, whether it's for a practice or a concert. I could not imagine myself not singing with Perry, Jeff and Bryan; we're always there for each other. Each member of Living River brings their very own unique style, sound, humor and prayer to the group."
PERRY: "'m so glad that I get to sing and worship with my best friends. These guys are a huge part of my life. I lost my dad this past October very unexpectedly and the guys were there for me. They prayed for me then, and still are as I still grieve the loss of my dad. That means the world to me."
JEFF: "I seriously can't imagine my life without these guys. They have been there for me through the good times and the bad. It's like a brotherhood but even better because we get to share our passion of singing & performing together."
BRYAN: "I love getting together and hanging out with each of the guys. They are great friends and brothers. I really feel God's leading with the group over the past couple of years; even more than in the past."
DAVE KOY: HAS THE MUSIC AND AUDIENCE OF LIVING RIVER CHANGED THROUGH THE YEARS?
BRYAN: "I don't think much has changed about our music or audience. It's encouraging to see so many younger people coming out and enjoying our music. Our favorable Facebook contacts continue to grow and will soon reach 1000."
RICH: "I believe anyone who has followed Living River over the years has come to expect the Living River sound regardless of what style of music we decide to record or perform. We Riverize it! The vocal arrangements are a very tight 4-part harmony, consistent from song to song. We like to call it Power Harmony. Over the years we have tried to stay true to those who support and follow us - the Riverites. To be honest, we have tried to appeal to a larger following by recording all a cappella projects, praise and worship and we have also included some great rock songs on recent projects. Regardless of the song or style of music that we decide to record or perform, the songs will always have a positive message."
JEFF: "I would agree that not too much has changed about our music or audience. We have always been able to bring our unique sound to any music that we select. Our most recent project continues to feature a range of musical styles from various artists crafted into our familiar Living River sound."
PERRY: "Although we have a song list to follow, nothing is scripted in our Living River concerts, making our performances fresh and spontaneous, with a touch of humor.

DAVE KOY: WHAT ARE THE
FUTURE GOALS FOR LIVING RIVER?
JEFF: "I believe we are on a journey and there is still much for Living River to do. Our goal is to bring joy, hope and peace of mind to those we share our music with."
BRYAN: "For me our future goals would be to surrender to God's leading for us, to be used for His glory and honor to bring the story of His great love to people who need to hear it. We want to continue to bring something positive into their lives."
RICH: "In 2012 Living River had the opportunity to open up for the Oak Ridge Boys at the Wisconsin Valley Fair in Wausau. Perry and I have followed the Oak Ridge Boys since age 12 and have always used their sound and presentation as a standard. A goal of mine is to complete the following: (1) Record a tribute album to the Oak Ridge Boys featuring 10 or 12 of their most popular hits. (2) Record a new Christmas CD. (3) Record a CD with all original songs written by the current members of Living River."
PERRY: "Another goal would be to share our music at additional churches and events throughout Wisconsin. We are very thankful for the support that Central Wisconsin has given us over the last 27 years. It's great that people continue to come to our concerts and that churches welcome us back. People pray for us and genuinely care for Living River and our families. We appreciate that."

DAVE KOY: TELL US ABOUT YOUR NEW MUSIC PROJECT (CD)
PERRY: "Our brand new recording project (CD) is titled, 'The Reason.' This project is a celebration of our 27 years in music ministry. It is our way of saying thank you to an awesome God, who has forgiven us from our sins, has never ceased from loving us unconditionally, and has continued to bless Living River for all of these years. As the four of us sat down and chose songs for this project, we focused on songs that were important to us, spoke from the heart, and gave the glory to God. And of course, we wouldn't be us if we didn't record a few songs that had a big impact on us growing up. This will be our 15th CD."
Honoring and glorify God has always been paramount to the men of Living River. In addition to praying before and after each performance, a prayer box is made available at each concert where fans can place prayer requests to be prayed for by the men. When signing autographs or CDs, each singer adds his own personal Scripture verse. For Perry it's Colossians 1:10; Bryan, 1st Corinthians 15:58; Rich, 1st Peter l:3, and Jeff, Proverbs 3:5-6.
As their popularity continues to grow, the men of Living River remain open to sharing their music ministry thru new events at new churches in new cities throughout Wisconsin. "We are always eager to welcome new Riverites," said Perry.
NOTE: Information about Living River concert bookings, CDs, etc., can be obtained at their website, www.LivingRiverQuartet.com; by calling 715-848-1145, or e-mail at rbeilke1@frontier.com. Their new CD, 'The Reason' can be obtained through Itunes, Amazon or at Christian Bookstores.