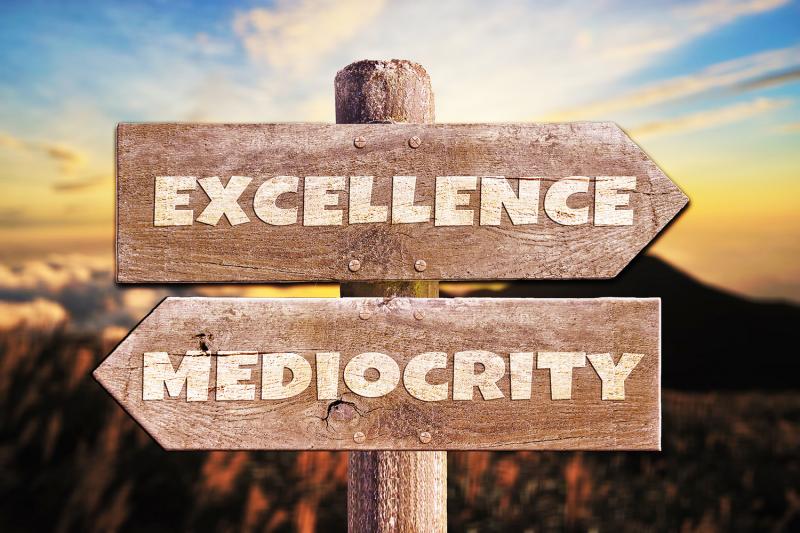 Complimentary Story
The term, "arete'," is Greek meaning "to aspire to excellence or virtue in every area of your life." Excellence is the quality of being outstanding or extremely good. Virtue is behavior showing high moral standards. Arete' then is aspiring to high moral excellence. Arete' is Jesus and how He lived His life.
It means not wanting to settle for average or "good enough," but pursing to be the best you can be in all the areas of your life. This means if I am doing anything and my focus is Jesus, is what I am doing acceptable to offer to Jesus as an offering to Him? Is offering mediocrity to Him an acceptable offering to Him?
Does this mean I am to be perfect in everything I offer or do? No. We want to pursue doing our best. If that is our attitude, accepting critique and guidance to become better each time I attempt what I am doing is part of the process. Excellence is striving and developing to be the best you can be. It is not simply talent but a willingness to keep becoming better. Practice does not make perfect, just permanence. Constructive and developing practice make perfect. Aristotle said, "We are what we repeatedly do. Excellence, then, is not an act, but a habit."
In 1 Corinthians, Paul talks about this in 10:31-11:1,
"So whether you eat or drink or whatever you do, do it all for the glory of God. Do not cause anyone to stumble, whether Jews, Greeks or the church of God — even as I try to please everyone in every way. For I am not seeking my own good but the good of many, so that they may be saved. Follow my example, as I follow the example of Christ."
We are to pursue glorifying God (Jesus) in everything we do.
In the Old Testament, glory to God means His greatness of splendor, how mighty and awesome He is. In the New Testament, glory has the meaning of honor, praise, worship and dignity. So we acknowledge how great He is and honor Him by worshiping and praising Him. This worship is not based solely on singing how great He is. The key is found in Romans 12:1,2,
"Therefore, I urge you, brothers and sisters, in view of God's mercy, to offer your bodies as a living sacrifice, holy and pleasing to God — this is your true and proper worship. Do not conform to the pattern of this world, but be transformed by the renewing of your mind. Then you will be able to test and approve what God's will is — His good, pleasing and perfect will."
Our lives are to be living sacrifices, allowing the Lord to utilize us in the best way to bring glory and honor to Him. That is true worship. You are not seeking your own agenda, you are letting Jesus, through the Holy Spirit, to lead you in your life to draw others to see Jesus in our lives, so they have the opportunity to receive Jesus as their Savior and Lord. Whatever you do in life, may people clearly see and experience Jesus. That is ARETE' at its finest.
If you use this principle as your guiding standard on how to live, you will be pursuing excellence all the time. This will be who you are. Who you are bleeds into what you do. Develop the characteristics in your life to honor and glorify Jesus. Those characteristics will then be so entwined in who you are that whatever you do, will be who you are.
Athletics were a huge part of the ancient Greek world. At one time in their culture, the goal was to create citizen-athletes who pursued excellence in all areas of their lives (arete'), no matter what part of life they were looking to develop. As believers in Jesus Christ, our culture needs to be bringing glory to God in all areas of our lives, so that people would see Jesus in us and be drawn to Savior as a result. That is our end goal, let people simply see Jesus in who we are.
Email: WildMinistries@gmail.com