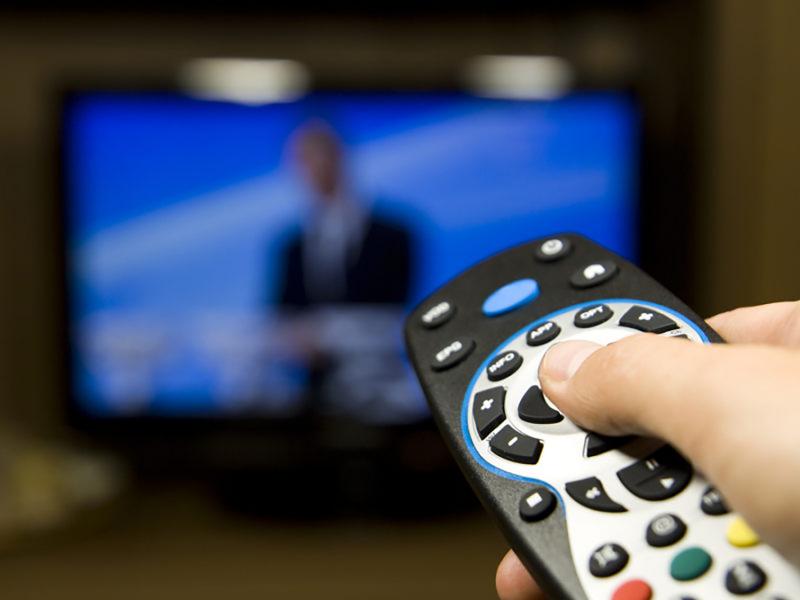 Complimentary Story
If you're like a growing number of individuals, you are completely fed-up with the likes of network television. Their daily offering of extreme liberal bias accompanied with their full-scale assault on biblical values, morality, and the traditional family is enough to empty store shelves of stomach settling medication.
The attack on Christianity is increasing and it has become vogue in their broadcasting to blaspheme the name of God, revel in profanity and promote aberrant lifestyles. Sadly, people across this nation are soaking up this degenerate programming as they empty their minds and then fill this void. Believers must be alert that the tactics of the thief are "to steal, and to kill, and to destroy." (John 10:10). Scripture further warns in I Peter 5:8,
"Be sober, be vigilant; because your adversary the devil, as a roaring lion, walketh about, seeking whom he may devour."
How many times have you quickly reached for the remote to mute the offensive language or quickly changed the channel due to the immorality being featured? Enough is enough!
In May, 2021 VCY America, home of the VCY America Radio Network based in Milwaukee, launched
VCY.tv
. VCY.tv provides viewers access to wholesome Christian programming anywhere, without subscription fees and without ads. There are no pop-ups to have to shield your eyes, no sudden ads to entice you; just wholesome content — and it's free!
VCY.tv
is available to watch on your Smart TV, Apple TV, Roku, fireTV, and Chromcast. It's even accessible from your computer, smart pad or smartphone.
Viewers have multiple options including the opportunity to watch the 24/7 programming of WVCY-TV in Milwaukee as it is being broadcast or you can choose from over 1000 hours of programming on demand.
You'll find a number of classic Christian films from yesteryear such as "Gold Thru the Fire," and "Hudson Taylor." But you'll also find "The Printing" produced by Unusual films, "Late One Night," and "Princess Cut."
VCY.tv
offers Bible teaching on demand from Dr. Les Ollila, Dr. Neal Jackson, Pastor Jim Scudder, Pastor Bob Loggans, Dr. Ken Connelly, Mike Gendron and others.
Full-length documentaries can be found on
VCY.tv
along with creation videos, Bible conferences, and apologetics videos from men like Carl Kerby, David Rives, Ray Comfort and others.
If you want to stay abreast of Bible prophecy issues, you'll find scores of videos available on-demand from gifted speakers such as Dr. Jimmy DeYoung and Dr. Richard Schmidt on "Prophecy Focus."
Christian history presentations are available through this new media ministry as are Bible conferences held in locations around the country including some of the speakers and recent retreats from Trail Ridge Camp in Hillsboro, Wisconsin.
Many have enjoyed the inspirational music of Hilton Griswold, Martha Garvin and Ben Everson. You'll find many of their music videos at
VCY.tv
. Videos of VCY Rallies are also available on demand, and it's all free!
There are also a number of videos to share with your Spanish-speaking friends.
There is so much more to come! Viewers are finding new content weekly on this site.
In this world where the major media is becoming darker by the day,
VCY.tv
offers a refreshing opportunity to share the Gospel with those who do not know Christ, build and strengthen believers in the faith. The program offerings allow you to share the light of God's Word with others.
VCY.tv
also presents the opportunity to purge yourselves from what the world calls "entertainment." The Psalmist wrote,
"I will set no wicked thing before mine eyes: I hate the work of them that turn aside; it shall not cleave to me."
(Psalm 101:3). Sadly, Christians are being lulled to sleep by a world pulling them further from the Lord. It's time to be pro-active in providing a diet of wholesome Christian viewing.
It is simple to set up a free account; all you need to do is enter your email address and create your own password so that you can enjoy viewing quality Christian videos on demand. No credit cards are required. Setting up your free account enables you to begin watching a film, Bible teacher, or Bible conference speaker and be able to return to it at a later time, picking up where you left off viewing.
VCY.tv
is a treasure trove of wholesome Christian programming. Check it out for yourself, then pass the word around through your social media sources.
May you heed the challenge found in Philippians 4:8,
"Finally, brethren, whatsoever things are true, whatsoever things are honest, whatsoever things are just, whatsoever things are pure, whatsoever things are lovely, whatsoever things are of good report; if there be any virtue, and if there be any praise, think on these things."