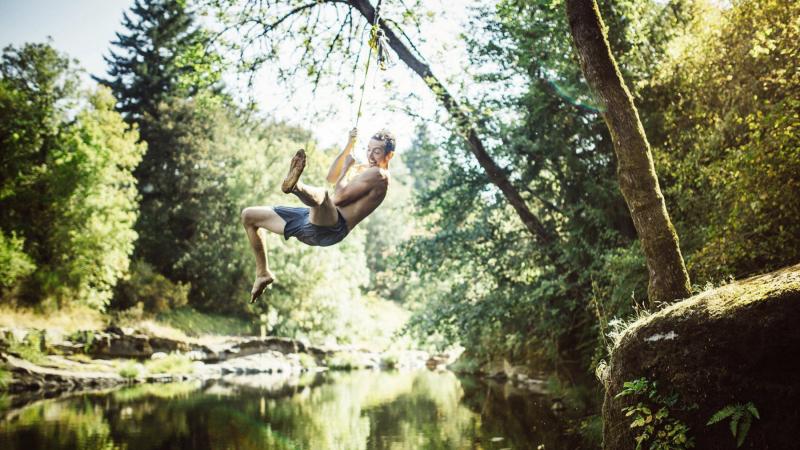 Complimentary Story
"Let go of the rope…just let go of the rope!!!"
I can still hear my teenage buddies yell, as the rope swing between my legs, left the bank, and sailed out over the Kentucky river, back and forth, time and time again…"Let go of the rope…just let go of the rope!!!"
Now I, like a lot of folks, have always had a fear of water, especially rivers, lakes and ponds. Oh, I'm not afraid of drowning, for I'm a pretty good swimmer. I was even a lifeguard once. It's what's in the water, that I'm afraid of. And the reason why I wouldn't let go of the rope, was because I was always wondering about what lurking, just below the surface of the water waiting there, just to get me.
A terminal case of "Jaws syndrome!" That's why I never liked swimming in a river.
Snakes…I hate snakes. They're out to get us, you know — payback for losing their legs. Those slimy, slithering, tree hugging, road crawling, heel biting things. Where I come from, we have these man-eatin' snakes, that just dare you to go swimming. These big, fat, long, black snakes with white mouths, and big ol' fangs along with an attitude to match, called cotton-mouths.
Have you ever seen a, "Water-dog?" U-G-L-Y!!! Ugly and slimy. My grandfather used to catch 'em while cat-fishing, and when he'd reel one of those in and see it…well he'd just reach out, and cut his line, hook, sinker and all. For you definitely don't want to mess with any ol', slimy water-dog.
How about an, "Alligator Snapping Turtle"…ever seen one of those? Now you really know why I never liked swimming in a river…for there's all kinds of stuff in there just made for biting off your toes, and fingers, and any other unfortunate and unprotected areas of a personal nature!
Water Skiing!!! Now folks have got to be down right crazy to go water skiing. Because you're putting yourself right into the food chain. Well I've got a better name for water skiing…they oughta call it, "Lake drinking!" You strap these two, two by eights to your feet, hunker your backside down in the water up to your eyeballs. Hold onto this rope, and let this guy with a four hundred horsepower, turbo-charged, Mercury ski-boat, drag you face first across the lake… Well, no thanks.
Now here's a tip you might want to keep in mind when you go, water skiing! If the guy who's driving the boat is already laughing before you've started out, then be advised: "Let go of the rope!" or open wide, 'cause you're fixin' to set the "Guinness Book of World Records" for lake drinking!
So here I am at sixty four years of age, still holding onto the rope. I've swung out many times over the river of life, back and forth, back and forth, time and time again…The only difference is, it's not the voice of my teenage buddies I hear saying, "Let go of the rope," but God's voice, "Let go of the rope, Layton…just let go of the rope. Let go of the rope of family finances. Let go of the rope of ministry needs. Let go of the rope of 'success' or 'failure.' Just let go of the rope, Layton. Let go of the rope!"
Father God, help me to let go of the rope today, and fall into the river of submission. To swim in Your "living water," and not be afraid of what's in there with me, and to always remember, that it's Your river. "For You are my refuge and strength. A very present help whenever I'm in trouble. Therefore I will not be afraid. Though the earth be removed. Though the mountains be carried into the midst of the sea. Though the waters around me roar and be troubled.
Though the mountains shake with the swelling thereof... I'm going to will stop right here and praise You!!! For there is a river, and the streams thereof shall make glad the city of God, the Holy Place of the tabernacles of the Most High, and You, Father God, are in the midst of her.