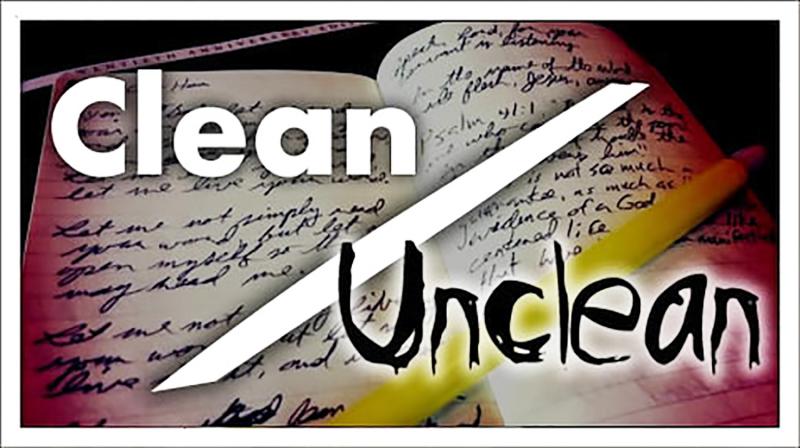 Complimentary Story
The eating of any unclean flesh as detailed in Leviticus chapter eleven and Deuteronomy chapter fifteen is very clear. Some argue that the New Testament gives us complete freedom to eat more or less what we like, based upon Peter's experience in Acts chapter ten where Peter had this vision of a sheet filled with "all manner of four footed beasts of the earth, and wild beasts, and creeping things, and fowls of the air. "And there came a voice to him, 'Rise, Peter; kill, and eat.' But Peter said, 'Not so, Lord; for I have never eaten anything that is common or unclean.' And the voice spake unto him again the second time, 'What God hath cleansed, that call not thou common.' This was done thrice: and the vessel was received up again into heaven. Now while Peter doubted in himself what this vision which he had seen should mean."
We should also ask; What does this mean? Most conclude first that God said He had cleansed all common and unclean animals. He did not say that! He said "What God hath cleansed, that call not thou common." While Peter was contemplating the meaning, God gave him the answer. "Behold, the men which were sent from Cornelius had made inquiry from Simon's house, and stood before the gate, and called, and asked whether Simon, which was surnamed Peter, were lodged there. "While Peter thought on the vision, the Spirit said to him, 'Behold, three men seek thee. Arise therefore, and get thee down, and go with them, doubting nothing: for I have sent them.'"
Nothing more is said about eating unclean animals, nor did he do so. But immediately while Peter was thinking, the three sent from "Cornelius a centurion," a Gentile, "stood before the gate, and called" for Simon. And Peter went with them to see this Cornelius. "And as he talked with him (Cornelius), he went in, and found many… And he said unto them, 'Ye know how that it is an unlawful thing for a man that is a Jew to keep company, or come unto one of another nation.'" Is this entirely true? But Peter has now drawn the conclusion that the sole purpose for the vision was to convince him that God can make clean even Gentiles which they have long considered common and unclean. Therefore had refused to be a light to them, which they were commanded many times to do in Deuteronomy 4:1-9 ; Isaiah 42:1,6; Isaiah 43:1-13; Isaiah 49:3-7, 23-26; and Isaiah 59-60. "For Cornelius being a devout man, and one that feared God with all his house, which gave much alms to the people, and prayed to God always, sought Peter to tell him what he ought to do." (Acts 10:6).
When Peter had come Cornelius said, "Now therefore we are all here present before God, to hear all things that are commanded thee of God. Then Peter opened his mouth, and said, 'of a truth I perceive that God is no respecter of persons: But to every nation he that feareth Him. The word which God sent unto the children of Israel, preaching peace by Jesus Christ: (He is Lord of all), That word, I say ye know, which was published throughout all Judea, and began from Galilee, after the baptism which John preached; How God appointed Jesus of Nazareth with the Holy Ghost and with power: who went about doing good, and healed all that were oppressed of the devil, for God (His Father) was with Him. And we are witnesses of all these things which He did both in the land of the Jews, and in Jerusalem; whom they slew and hanged on a tree: Him God raised up the third day, and shewed Him openly; Not to all people, but unto witnesses chosen before of God, even to us, who did eat and drink with Him after He rose from the dead. And He commanded us to preach unto the people (to all the world, Acts 1:8), and to testify that it is He which was ordained of God to be the judge of the quick and the dead (those who are made alive, and those who are still dead in their sins). To Him give all the prophets witness, that through His name whosoever believeth in Him shall receive remission (forgiveness and cleansing I John 1:9) of our sins.'"
"While Peter yet spoke these words the Holy Ghost fell on all them (Jews and Gentiles alike) which heard the word. And they of the circumcision which believed were astonished, as many as came with Peter, because that on the Gentiles (which they assumed to be unclean) also was poured out the gift of the Holy Ghost." Why do we tend to not see the obvious, but distort the Scriptures to justify things that are not true! As Paul later was called of God to make sure the gospel was also brought to all the world, he states in Acts 13:46-47, "It was necessary that the Word of God should first have been spoken to you (the Jews verse 45): but seeing ye put it from you, and judge yourselves unworthy of everlasting life, lo, we turn to the Gentiles. For so hath the Lord commanded us saying, 'I have set thee to be a light of the Gentiles (finally fulfilling the purpose for which Abram was called out from his people, as a faithful remnant of people to be a light of truth to the world around them), that thou shouldest be for salvation unto the ends of the world.'"
When Simon blessed Jesus as a child in the temple (Luke 2:28-32) it states, "Then took he Him up is his arms, and blessed God, and said, 'Lord, now lettest thou thy servant depart in peace, according to Thy Word: For mine eyes have seen Thy salvation, which Thou hast prepared before the face of all people; A light to lighten the Gentiles, and the glory of thy people Israel,'" which has always been their calling! This vision of the sheet with clean and unclean animals has nothing to do with the lifting the prohibition of eating the unclean animals, but all to do with bringing the gospel to the Gentiles, those lost in darkness. Later the apostle Paul came to Antioch (Galatians 2:11-21) where he reprimanded Peter who ate with the Gentiles when he was with them, but when those that were Jews came "he withdrew and separated himself" as well as the other Jews from the Gentiles, fearing them which were Jews even though they were all Christians. They still hesitated to embrace the Gentiles whom the Lord had made clean.
The truth of the matter is the only reason to justify eating unclean animals is not found in the New Testament, but the Old, where it is clear that the unclean are never to be used or eaten as a part of their worship, or a sacrifice to our Lord God and Creator. Deuteronomy chapter 12 states, "These are the statutes and judgments (rules and discernments) which ye shall observe to do in the land… all the days that ye live upon the earth. Ye shall utterly destroy all the places, wherin the nations which ye shall possess served their gods, upon the high mountains, and upon the hills, and under every green tree: And ye shall overthrow their altars, and break down their pillars, and burn their groves with fires; and ye shall hew down the graven images of their gods, and destroy the names of them out of that place… But unto the place where the Lord your God shall choose out of all your tribes to put His name there, even unto His habitation shall ye seek, and thither thou shalt come: (where I dwell among you, the tabernacle, and latter the temple in Jerusalem):
"And thither ye shall bring your burnt offerings, and your sacrifices, and your tithes, and heave offerings of your hand. And your vows, and your free will offerings, and the firstlings of your herds and of your flocks: And there ye shall eat before the Lord your God, and ye shall rejoice in all that ye put your hand unto, ye shall not do after all these things that we do here this day, every man whatsoever is right in his own eyes. For ye are not as yet come to the rest and to the inheritance, which the Lord your God giveth you. But when ye go over Jordan, and dwell in the land… Then there shall be a place which the Lord your God shall choose to cause His name to dwell there." A place one gathers to bring one's offerings, sacrifices and tithes. Hebrews 10:24-25, "Not forsaking the assembling of ourselves together, as the manner of some is; (to) exhorting one another… Consider (ing) one another to provoke unto ("agape"-a perfect) love and to good works."
Continuing in Deuteronomy 12:12-16, "And ye shall rejoice before the Lord your God, ye and your sons, and your daughters, and your man servants, and your maid servants, and the Levite that is within your gates; forasmuch as he hath no part nor inheritance with you. Take heed to thyself that thou offer not thy burnt offerings in every place that thou seest (as those who worship many gods): But in the place where the Lord shall choose in one of thy tribes (which was eventually Jerusalem of Judah), there thou shalt offer the burnt offerings, and there thou shalt do all that I command thee. Not withstanding thou mayest kill and eat flesh in all thy gates, whatsoever thy soul lusteth after (long for), according to the blessing of the Lord thy God which He hath given thee: the unclean and the clean may eat thereof, as of the roebuck, and as of the hart (as stated before in Genesis 9:3-4). Only ye shall not eat the blood; ye shall pour it upon the earth as water."
The rest of the chapter (Deuteronomy 12:17-32), He lays out the separation of the eating the clean only (verses 17-19). "Thou mayest not eat within thy gates the tithe of thy corn, or of thy wine or of thy oil, or of thy firstlings of thy herds or of thy flock, nor any of thy vows which thou vowest, nor thy freewill offerings, or heave offering of thy hand: But thou must eat them before the Lord thy God in the place which the Lord thy God shall choose… and thou shalt rejoice before the Lord thy God in all that thou puttest thine hands unto."… And the eating of the unclean (verse 20) "when the Lord thy God shall enlarge thy border, as He hath promised thee, and thou shalt say, 'I will eat flesh, whatsoever thy soul lusteth after.'" Just as before in Genesis 9:3-4 when God told Noah "Every moving thing that liveth shall be meat for you; even as the green herb have I given you all things."
But (verses 21-22) "if the place which the Lord thy God hath chosen to put His name there be too far from thee, then thou shalt kill of thy herd and of thy flock, which the Lord hath given thee, as I have commanded thee, and thou shalt eat in thy gates whatsoever thy soul lusteth after. Even as the roebuck and the hart is eaten, so thou shalt eat them: the unclean and the clean shall eat of them alike within thy gates as I have commanded thee, clean animals unto the Lord, and both clean and unclean to enjoy along with every green herb." The one thing (verses 23-25) that God has never changed is, "Only be sure that thou eat not the blood: for the blood is the life; and thou mayest not eat the life with the flesh… thou shalt pour it upon the earth as water… that it may go well with thee, and with thy children after thee, when thou shalt do that which is right in the sight of the Lord."
What does this all mean? (Verses 30-32) "Take heed to thyself that thou be not snared by following them, after that they be destroyed from before thee; and that thou inquire not after their gods, saying 'How did these nations serve their gods?' even so will I do likewise." We all seem to be guilty of this one, in picking and choosing what gods of this world would seem to meet our needs. "Thou shalt not do so unto the Lord thy God: for every abomination to the Lord, which He hateth, have they done unto their gods; for even their sons and their daughters they have burnt in the fire to their gods. What things soever I command you, observe to do it: thou shalt not add thereto, nor diminish from it."
Today we are also called to be that light to those of the world, but "be not snared by following them." We are to be clean before our God, not even a spot or a blemish! Before the death, burial, and resurrection of the spotless Lamb of God, our blemishes and uncleanness was atoned for by the blood of animals, a temporary covering by faith in His promise to bruise the head of the serpent at a pre-determined time (Revelation 13:8). And covered it must be, to have fellowship with our Lord God and Creator. But to live in this world, clean or unclean, we are all at the mercy of God to meet our every need. Only with our sins covered can we begin to know God and His ways. For "the Lord is not slack concerning His promise,… but is longsuffering to us-word, not willing that any should perish, but that all should come to repentance." (II Peter 3:9). Without repentance, we have no faith in His promise. Without repentance there is no covering of our sin. Without repentance there no forgiveness of our sins. "If we confess our sins, He is faithful and just to forgive us our sins (because He promised), and to cleanse us from all unrighteousness." (Because He fulfilled His promise to pay the price for our sins — I John 1:9). Without knowing the Lord as our God and Savior we do only as "every man whatsoever is right in his own eyes" (Deuteronomy 12:8), being lost in darkness. We can be that light which we have been called out for, only in repentance and doing "that which is good and right in the sight of the Lord thy God… What things soever I command you, observe to do it: (Remember!) thou shalt not add thereto, or diminish from it." (Deuteronomy 12:28, 32).
We are destroying that light, the very reason for the "Ekklesia," the called out ones in the wilderness (Acts 7:38) and the "Ekklesia" the called out Church of today, with our adding to or taking away, a diminishing from "every word that proceedeth out of the mouth of God" (Matthew 4:4). So in rememberance of Him, why do we typically remember with an unclean animal? Eat it anytime otherwise, but do not blaspheme His work of atonement with an unclean animal! The celebration of the resurrection is a celebration of the perfect spotless Lamb of God, the fulfilled promise made with the first covenant. So "do this in rememberance of Me" with nothing common or unclean!