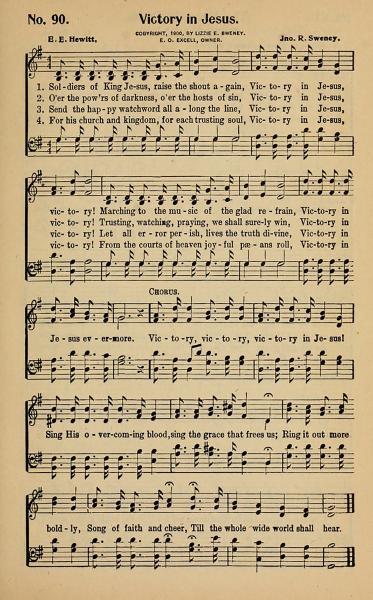 Complimentary Story
"But thanks be to God, which giveth us the victory through our Lord Jesus Christ. Therefore, my beloved brethren, be ye stedfast, unmoveable, always abounding in the work of the Lord, forasmuch as ye know that your labour is not in vain in the Lord." (I Corinthians 15:57-58).
We certainly have a lot for which to thank God. We have salvation, security, righteousness, peace, hope, liberty and, as mentioned in the verses above, victory. Verse 57 tells us God "gives" us the victory, meaning that we did nothing to personally earn the victory. Also, the victory hasn't just been provided, and it is not awarded or paid out. God GAVE it to those who believe. We possess it. There are no more battles to fight or skirmishes in which to engage; we stand in a position as victors. God gets all of the thanks for this because the only reason we have victory is due to His gracious work in giving us the victory. If we are going to serve Him, we need to understand this victory that God has given us; otherwise, we will set ourselves up for practical defeat.
First, we need to recognize that we already have victory. Victorious living, then, comes by acknowledging the position of victory in which we stand as believers in Christ. This starts when we recognize we are already on the winning side. We are not still in bondage trying to escape, we have already been saved and liberated. Colossians 1:13 declares, "Who hath delivered us from the power of darkness, and hath translated us into the kingdom of His dear Son." God has not given us the victory and transferred us to authority of His Son so that we can go back to living defeated lives, continuing to struggle against the enemy. We are called to live by appropriating the victory we have been given.
Second, we have to realize death has no hold over us. Yes, death will come to us all. For some of us it might be quick and unexpected; for others it might be slow and diagnosed. No matter how we get there, the soul and spirit of each individual will one day depart his physical body upon death. For the believer, however, this is not a loss; it is victory. Death cannot keep us in the grave, and it cannot keep us from new, eternal bodies. When the believer's time comes to depart his/her physical body, they begin a new experience that far surpasses anything we will go through on this earth. Death, when it comes, does not defeat us; it accomplishes God's purpose to remake us in the image of His Son.
Next, we benefit when we admit that sin is no longer our master, for Christ has given us victory over sin. We do not have to listen to sin. It cannot boss us around. When we find ourselves in sin, it is because we fail to recognize that we already have victory over it. We no longer have to give sin authority that it no longer has over us. After assuring us we already have victory over sin ("…we should not serve sin. For he that is dead is freed from sin." Romans 6:6-7), Romans 6:11 tells us how to appropriate this victory by recognizing "ye also yourselves to be dead indeed unto sin, but alive unto God through Jesus Christ our Lord." You have been given victory over sin, so live victoriously over sin.
Then, we thrive when we acknowledge we are no longer bound to the law but free in Grace. Romans 6:14 states that one of the ways sin does not have dominion over us is because "ye are not under the law, but under grace." When Christ was on hanging on the cross, He figuratively nailed the commandments there, taking them out of the way (Col. 2:14). Christ set us free from the requirements of the law; we have no further obligations to it. Instead of serving defeated lives in the flesh, we can victoriously live righteously through the indwelling Holy Spirit (Romans 8:4).
Finally, we have complete severance from Satan and the opposition forces. The fact that Jesus "spoiled principalities and powers, He made a shew of them openly, triumphing over them in it." (Colossians 2:15) is a truth that we possess. Not only have we been given victory over Satan, but we have been given armor to withstand his tricks and temptations (Ephesians 6:12-17). Do not let the deceiver whisper lies into your ear that cause you to doubt the victorious position you have as a believer in Christ. His lies are not welcome in your life any longer.
We will get into Verse 58 in the next edition. For today, reflect on the victory you have been given the moment you trusted in the death, burial, and resurrection of Christ to save you. Live in victory, thanking God that in Christ Jesus you have been made "more than conquerors through Him that loved us." (Romans 8:37).
BEREAN BIBLE INSTITUTE
PO Box 735
204 S 7th Ave.
West Bend, WI 53095
www.BereanBibleInstitute.org
E-mail: BBI@BereanBibleInstitute.org