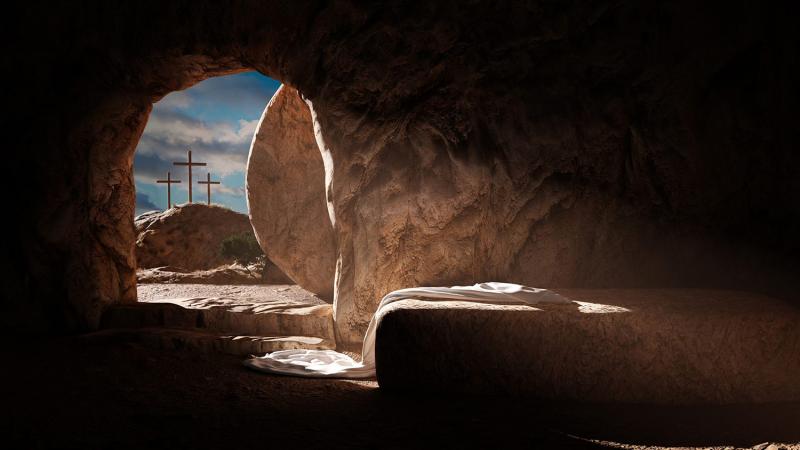 Complimentary Story
On Easter Sunday 2021, the twitter account of Baptist minister Raphael Warnock, U.S. Senator from Georgia with two master's degrees and a PhD from Union Theological Seminary, read the following: "The meaning of Easter is more transcendent than the resurrection of Jesus Christ. Whether you are Christian or not, through a commitment to helping others we are able to save ourselves."
It should go without saying that this is heresy of championship rank. Warnock blamed a low-level staffer, and the tweet was deleted. Nearly one million twitter followers, thus, witnessed the result when society nurtures a shallow appreciation of Christian beliefs without any evidence of actual faith in Christ – "cultural Christianity."
Not coincidentally, Warnock's church, Ebenezer Baptist, was formerly pastored by Martin Luther King, Jr. King denied numerous, fundamental Christian doctrines like the virgin birth, the Deity of Christ, and the substitutionary theory of atonement, but especially rejected Jesus' bodily resurrection, even from a young age. His autobiography noted that he "shocked [his] Sunday school class by denying [it]," at age 13, a belief sustained into adulthood when he eventually articulated that teaching the bodily resurrection produces "shackles of literalism," and "from a literary, historical, and philosophical point of view…raises many questions. In fact, the external evidence for the authenticity of this doctrine is found wanting."
Yes, one of the most revered Baptist ministers in this nation's history wrote that the evidence for Jesus' resurrection is "wanting." That's American Christianity – faith according to you.
How do you think we got here? Without the resurrection, Christianity ends at the cross. The self-proclaimed Jewish Messiah was irrefutably dead. His disciples were in hiding, fearful for their lives. The hopes of Old Testament prophecy fulfillment abandoned. So, what, then, caused the complete transformation of His small company of panicked, desperate followers into the greatest missionary force in history?
The Book of Acts validates that "[Jesus] also presented Himself alive after His suffering by many infallible proofs, being seen by [the apostles] during forty days and speaking of the things pertaining to the kingdom of God." (1.3) In 1 Corinthians, Paul notes "that Christ died for our sins according to the Scriptures, and that He was buried, and that He rose again on the third day according to the Scriptures, and that He was seen by Cephas, then by the twelve. After that He was seen by over five hundred brethren at once, of whom the greater part remain to the present, but some have fallen asleep. After that He was seen by James, then by all the apostles. Then last of all He was seen by me also, as by one born out of due time." (15.3-4) Peter stood with the disciples and preached that they were all "witnesses" of Jesus being raised up by God. (Acts 2.32, 3.15) John's gospel showed the skeptic's cause had no further merit when Jesus had Thomas feel the scars on His resurrected body, compelling the declaration "My Lord and my God!" (20.28).
Should not the most profound evidence of His resurrection be the disciple's gracious acceptance of persecution unto death to share witness of this miracle?
Early in Acts, the Sadducees, "being greatly disturbed that [the disciples] taught the people and preached in Jesus the resurrection from the dead," arrested Peter and John, ordering them to cease teaching. (4.2) By Acts 5, they had disobeyed and were thrown into the "common prison," where they were consequently released by an angel of the Lord. (12). Even in their subsequent trial, they preached the resurrection, holding nothing back against their Jewish accusers: "The God of our fathers raised up Jesus whom you murdered by hanging on a tree." (5.30).
The resurrection changed everything for these men. Eventually, Peter was crucified upside down, (Eusebius) James was killed by the sword, (Acts 12.3), Paul was beheaded (Clement of Rome), and church tradition describes the martyrdom to which many others fell victim. Who dies for something that they know to be a lie?
Paul's central hope of the gospel is the resurrection. And why wouldn't it be? The legalistic Pharisee encountered a dead man risen from the grave. (Acts 26.13-18). His first letter to the Corinthians summarizes the faith's essential doctrine: "But if there is no resurrection of the dead, then Christ is not risen. And if Christ is not risen, then our preaching is empty, and your faith is also empty. Yes, and we are found false witnesses of God, because we have testified of God that He raised up Christ, whom He did not raise up – if in fact the dead do not rise. For if the dead do not rise, then Christ is not risen. And if Christ is not risen, your faith is futile; you are still in your sins! Then also those who have fallen asleep in Christ have perished. If in this life only we have hope in Christ, we are of all men the most pitiable." (15.13-19).
No resurrection means no forgiveness of sin, no reconciliation with the Creator – no Christianity.
Paul confirmed that our defense is found in Christ's righteousness, which was imputed to those "who believe in Him who raised Jesus our Lord from the dead, who was delivered up because of our offenses, and was raised because of our justification." (Romans 4.25) The resurrection was proof that God accepted Jesus' sacrifice, justifying us amid our ungodliness, and established an unprecedented power over death that started a spiritual revolution.
Early Christians, thus, discovered hope that because death held no grasp on Christ, the same was true for those spiritually united with Him. Such a transcendent restoration made man not only acceptable in God's presence, but he would, eventually, be raised in glory with Jesus on the last day, a promise assured in Peter's first epistle: "Blessed be the God and Father of our Lord Jesus Christ, who according to His abundant mercy has begotten us again to a living hope through the resurrection of Jesus Christ from the dead to an inheritance incorruptible and undefiled and that does not fade away, reserved in heaven for you." (1.3).
As such, Christian, we should be "looking for the blessed hope and glorious appearing of our great God and Savior Jesus Christ," (Titus 2.13) exercising enough patience to "wait for His Son from whom heaven, whom He raised from the dead, even Jesus who delivers us from the wrath to come." (1 Thes. 1.10)
Paul left no doubt that "if you confess with your mouth the Lord Jesus and believe in your heart that God has raised Him from the dead, you will be saved." (Romans 10.9). This is our hope.
Jesus professed, "I am the resurrection and the life. He who believes in Me, though he may die, he shall live. And whoever believes in me shall never die." (John 11.25).