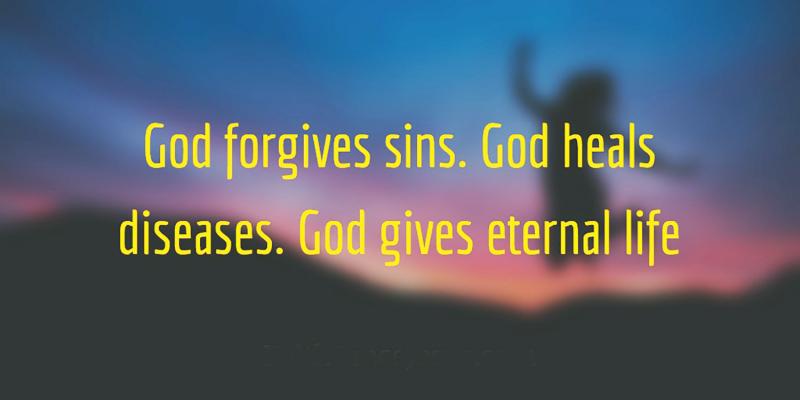 Complimentary Story
In "The God of the Bible Who Is, Part 1," we gave some attributes of Allah, the god of Mohammed, which belong to Satan himself. However, the God of the Bible is never "WAS" but is always "IS" – yesterday, today, and forever. Our God is the unchangeable God. In this article, we will continue to show the exact opposite natures of the God of the Bible and Allah in the Qur'an.
Allah, the god of Islam, is a god who loves war and those who will fight for him. See Qur'an 61:4. However, we read in the Bible that God loves those who love their enemies and also loves those who forgive others seventy times seven. We see this in Matthew 18:21-22:
"Then came Peter to Him, and said, 'Lord, how oft shall my brother sin against me, and I forgive him? 'Till seven times?' Jesus saith unto him, 'I say not unto thee, until seven times: but, until seventy times seven.'"
Once again the opposite is true about Allah as we read in Qur'an 9:80: "Ask forgiveness for them, or do not ask forgiveness for them; if you ask forgiveness for them seventy times, so Allah will not forgive them…."
According to the Bible, not only does God forgive us but He also commands us to forgive those who sin against us. We read in Luke 11:4a:
"And forgive us our sins; for we also forgive every one that is indebted to us."
Colossians 3:13 tells us:
"Forbearing one another, and forgiving one another, if any man have a quarrel against any: even as Christ forgave you, so also do ye."
Ephesians 4:32 states:
"And be ye kind one to another, tenderhearted, forgiving one another, even as God for Christ's sake hath forgiven you."
In our prayers, we pray to forgive those who sin against us as commanded in Mark 11:25.
Even though the Qur'an teaches that Allah forgives, this forgiveness cannot be obtained. We read in Qur'an 39:53: "Say, 'O my servants who are extravagant against themselves, do not despair from the mercy of Allah. Surely Allah forgives all sins. Surely he is the forgiving, the merciful.'" Allah's forgiveness goes against the true nature of God, for God's attributes cannot contradict themselves. If God is holy and just, He will not allow sin to go unpunished.
When we study the Word of God in the Bible, we discover that the wages of sin is death (Romans 6:23:
"For the wages of sin is death; but the gift of God is eternal life through Jesus Christ our Lord"
and that the shedding of blood is the price for the forgiveness of sin (Hebrews 9:22:
"And almost all things are by the law purged with blood; and without shedding of blood is no remission."
When Jesus died on the cross, the justice and holiness of God met with His mercy and grace. Jesus died on the cross as the substitute for us for our sins. Otherwise, forgiveness cannot be obtained.
Then we see Allah contradict himself on forgiveness as we read in Qur'an 3:90-91 that Allah will never give people a second chance: "Surely those who become infidels after believing, then they increase in their infidelity. Their repentance will never be accepted, and those are they who have gone astray. Surely those who became infidels and die infidels, none of them will be accepted, even with as much gold as the earth could contain, even though he should offer it in ransom. Those will have a painful torment, and they will have no helpers."
Unlike Allah, the God of the Bible knows the future and keeps His promises. In Old Testament prophecies, God revealed the future hundreds and even thousands of years earlier through the writings of the prophets as to what is to come. That is why the God of the Bible never used the word "perhaps" (except when He did not allow His prophets to know what the results of their ministries would be, but, of course, God knows how their ministries will end) as was in the case with Allah who often used the word "perhaps" throughout the Qur'an. That is why God never changed His Word and commands, but we read that Allah did in the Qur'an. Here are just a few examples of God's promises which were fulfilled.
God keeps His promises, even when we are not faithful, as we read in 1 Kings 8:56:
"Blessed be the LORD, that hath given rest unto His people Israel, according to all that He promised: there hath not failed one word of all His good promise, which He promised by the hand of Moses his servant"
and in Romans 4:21:
"And being fully persuaded that, what He had promised, He was able also to perform."
While Allah described himself to be "higher, big" (Qur'an 4:34), we know that the God of the Bible is meek and humble as we read in Matthew 11:28-30: "Come unto Me, all ye that labour and are heavy laden, and I will give you rest. Take My yoke upon you, and learn of Me; for I am meek and lowly in heart: and ye shall find rest unto your souls. For My yoke is easy, and My burden is light."
The God of the Bible teaches us not to swear. God commanded in Matthew 5:34-37:
"But I say unto you, 'Swear not at all; neither by heaven; for it is God's throne: Nor by the earth; for it is His footstool: neither by Jerusalem; for it is the city of the great King. Neither shalt thou swear by thy head, because thou canst not make one hair white or black. But let your communication be, Yea, yea; Nay, nay: for whatsoever is more than these cometh of evil.'"
Allah swears by the trees, by the dirt, by the moon, and by the stars as we read in the following verses: Qur'an 16:38: "And they swear by Allah with their most solemn oath that Allah will not raise who died…", Qur'an 36:2: "[I swear] by the wise," Qur'an 38:1: and "[I swear] by the Qur'an…", Qur'an 37:1: "[I swear] by the ranks lining up in ranks," Qur'an 51:1: "[I swear] by the scattering they scatter," Qur'an 52:1: "[I swear] by the mountain," Qur'an 53:1: "[I swear] by the star when it goes down," and in Qur'an 74:32: "and [I swear] by the moon." Allah also swears by fruit, vegetables, and a mountain in Qur'an 95:1-3. In other words, Allah swears by everything.
In the next article we will write about the God of the Bible who knows the future as we write about the prophecies concerning the birth, ministry, death, and the resurrection of our Lord.
For more information about Islam, visit our website at
www.TheStraightWay.org
. To debate the information of this article, please call
941-223-3698.

TheStraightWay.org