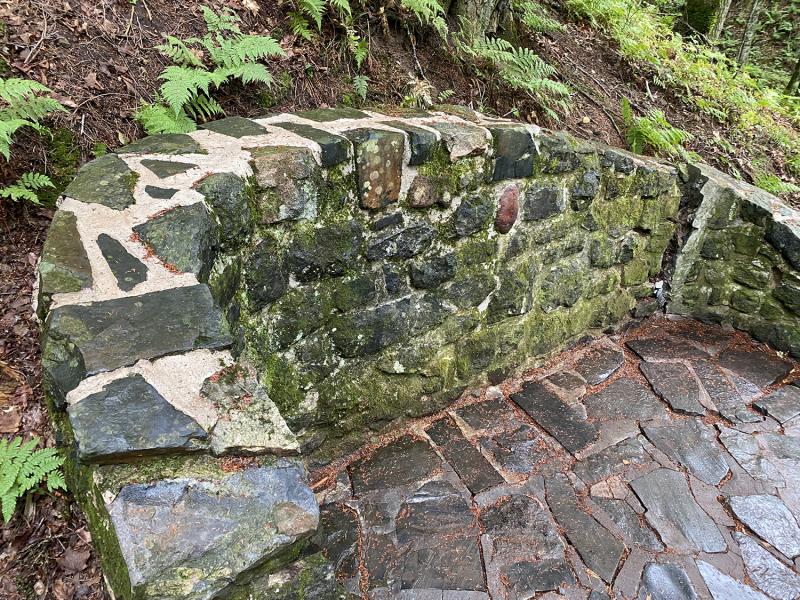 Complimentary Story
Are we all engaged in a sort of balancing act: Keeping a finger on pulse of what is happening in the world but not letting it drown out the more important eternal story also happening? In any case, I hope that this is true. As I've written before, we continue to watch and pray; not knowing yet whether this IS the final cycle being played out which will go to Messiah's return, or if YHWH may yet intervene and send a deliverance of some kind, allowing us to cycle around again. This pattern is seen most clearly in the Book of Judges, but also in a number of recuring themes throughout the Word.
I have just returned from Kentucky where I was asked to teach over several days at a Sukkot, or Feast of Tabernacles gathering. (It is also called the Feast of Ingathering and the Feast of Booths.) What an honor and privilege to share what we in Set Apart Ministries have been learning and living now these 21 years. I know many readers in
WCN
don't really know much about this Feast, or any of the Feasts of the LORD for that matter. This one is the last of the seven. It is the culmination of the story of Messiah, beginning with His First Presence here on earth as our Passover Lamb and ending with this Feast of Ingathering, also called the Marriage Feast of the Lamb.
A paramount concern is preparing as His Bride in these chaotic times. We must not let the chaos distract us from our relationship and confidence in Him! We consider ourselves as sheep following our Shepherd, but also as living stones of faith, being built together as a wall. I am going to serialize an article about Rocks and Relationships here…probably two parts, so please save this one for when the second part comes!
"Are you a lone rock, a rock in a pile, or a rock being built into a wall?"
As I completed preparation of my recent email Coaching Leadership course, it is this picture that has stayed clear in my mind; the comparison of rocks and people and how they are related. Messiah compared rocks to people when He observed that if the children didn't praise Him, the rocks themselves would cry out. Peter confirmed the comparison in these words:
"You also, as living stones, are being built up a spiritual house, a holy priesthood, to offer up spiritual sacrifices acceptable to God through Jesus Christ."
(1 Peter 2:5 NKJV).
A rock, or a person, "alone" may have a relationship with Messiah but does not have close relationships with other believers. A rock, or a person "in a pile" may have a relationship with Messiah, and may be in close proximity with others who also know Him in some kind of relationship. But a rock, or a person "being built into a wall" is an individual believer, brought together in a specific way in relationship with other believers, learning to function together. A wall serves a specific purpose, keeping things in or out, which is quite different from a simple pile of rocks. I see this as a metaphor confirming the need for relationship and training to come together as the Body of Believers, and more specifically as His Bride, so that we live and move and function together under His Headship. It is about relationship to one another in Him and represents far more than simply being near one another occasionally. It involves learning our position, our authority and our responsibilities as part of His family.
There has been no question for those who study the Whole Word of YHWH that His Word is important to study and to know. Countless teachers expound on the text. What has been less clearly understood, I believe, is that study of the Word is only half of the full picture. The remaining aspect was outlined by Solomon in Proverbs 1: 8-9, the importance of both what is called the father's teaching (Knowledge of the Word) and of equal importance, the mother's teaching (character development and maturity.)
"My son, hear the instruction of your father, and do not forsake the law of your mother; For they will be a graceful ornament on your head, And chains about your neck."
Together these two aspects of the work of the Kingdom of Yah work like chains about the neck or two reins leading a horse or camel, leading to a full, mature understanding of His teachings and the ability to walk them out. Leading with either "rein" alone will not set a positive, straight course.
When explored more closely, Messiah's words, as recorded in John and printed below, confirm my concern that we recognize the value of both Scriptural knowledge and the context of relationship. (All part of preparing Messiah's Bride, I have been continuing my studies of the concept of the Bride as a Wall. I won't repeat that study here but encourage you to consider it.)
"You also, as living stones, are being built up in a spiritual house, a holy priesthood, to offer up spiritual sacrifices acceptable to God through Jesus Christ."
(1 Peter 2:5 NKJV).
A house can be built of stones made into walls. This metaphorical house can easily be seen to refer to the House of YHWH, but the next phrase makes it clearer that it is the relationships with the people, as the priesthood, that is the focus. Peter went on to confirm that it happens through Messiah which again confirms the relational aspect of His work on our behalf. It is the work of His kingdom to build set apart relationships with and among His people and our Echad YHWH. (As you likely know, being "set apart for His purposes" is the literal meaning of "being holy.") This appears to me to be a fulfillment of an earlier declaration and confirmed in later declarations.
"'And you shall be to Me a kingdom of priests and a holy nation.' These are the words which you shall speak to the children of Israel."
(Exodus 19:6 NKJV).
"Do you not know that you are the temple of God and that the Spirit of God dwells in you?"
(1 Corinthians 3:16 NKJV).
"He who overcomes, I will make him a pillar in the temple of My God, and he shall go out no more. I will write on him the name of My God and the name of the city of My God, the New Jerusalem, which comes down out of heaven from My God. And I will write on him My new name."
(Revelation 3:12 NKJV).
Names are often inscribed on stone, and a Bride does get a new name when she marries.
In Peter's metaphor, we see confirmation that these stones are living, which is from the Greek word zao, ζάω, Strong's G2198, meaning "to live, breathe, be among the living (not lifeless, not dead)." Metaphorically, it is said to "be in full vigor" "to be fresh, strong, efficient" and as an adjective "active, powerful, efficacious."
The Bride is pictured in many ways throughout Scripture, as has been explored in earlier articles, but certainly among them is this picture of being a wall.
"The Shulamite: I am a wall, and my breasts like towers. Then I became in his eyes as one who found peace."
(Song of Solomon 8:10 NKJV).
"And I will make you to this people a fortified bronze wall; and they will fight against you, but they shall not prevail against you;
For I am with you to save you And deliver you,says the LORD."
(Jeremiah 15:20 NKJV).
As noted extensively in the earlier studies, the word for "wall" in these instances is the same: "chowmah." Strong's H2346. It carries an association with joining and encompassing or in other words, the relationship of the wall with itself and with what it contains.
If we are to be built into that fortified brazen wall as His Bride, as the vigorous, effective, fresh and strong stones that become the wall, then surely we must pay attention to His Words. In the verse in consideration today, which was given in the context of an appeal and rebuke of those who questioned His healing work, He outlined the contradiction between their great knowledge and their unrecognized need for relationship with Him.
"You search the Scriptures, for in them you think you have eternal life; and these are they which testify of Me. But you are not willing to come to Me that you may have life."
(John 5:39-40 NKJV).
He highlighted the difference between
searching
the Word for knowledge of Him to gain eternal life and the
willingness
to actually
come
to Him to receive that life.
ONLINE: Set-Apart-Ministries.org
EMAIL: info@set-apart-ministries.org