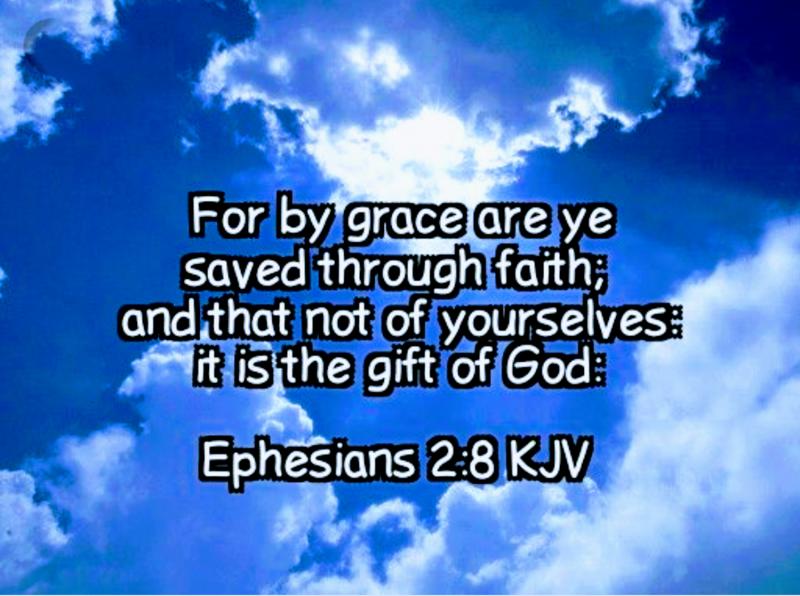 Complimentary Story
This is the fourth and final segment in the series "Saved by grace through faith." Let's review by looking at two key Scriptures concerning grace from last month. I Corinthians 1:4, "I always thank God for you because of his grace given you in Christ Jesus." Romans 8:1, "Therefore, there is now no condemnation for those who are in Christ Jesus." An additional scripture for this month, II Corinthians 5:17, "Therefore, if anyone is in Christ, he is a new creation; the old has gone, the new has come!"
We will find at least 166 additional statements in the New Testament that are similar to these three. I have a question, is being "in Christ" or "in Christ Jesus" critical to receiving God's grace and thus the salvation of our soul? If you answered yes, then this article is for you.
How do we get "into Christ?" Earlier we discussed that you have to first accept that Jesus really is the Messiah or Savior. We also found that we have to repent of our sins. Luke 13:3, "But unless you repent, you will all perish." I may claim to have faith so strong that I can move mountains, but if I refuse to repent, I will perish and will not be in heaven with God. I can believe and repent but if I refuse to confess that "Jesus is Lord" I also will not be with God for an eternity. Matthew 10:32 tells us, "Whoever confesses Me before men, I will confess him before My Father in heaven." Also, Romans 10:9, "That if you confess with your mouth, 'Jesus is Lord,' and believe in your heart that God raised Him from the dead, you will be saved." Someone may say: "Well, that's not all that difficult, I believe that Jesus is the Christ, I know that I have sinned and I have and will continue to repent, I am also very willing to confess Jesus before men. That's it, I am in Christ now, right?"
Remember, you don't want to ask me whether "that's it." Rather, let's go back to the Bible and examine it some more. Jesus said in John 3:3, "I tell you the truth, unless a man is born again, he cannot see the kingdom of God." And in verse 5, "I tell you the truth, unless a man is born of water and the Spirit, he cannot enter the kingdom of God." It appears that there is one more thing that Jesus demands of us to be "in Him" and that is to be born again.
Once again, someone says: "That's also easy, I took Jesus into my heart a while back. I said a prayer that the preacher said was the 'sinner's prayer' and I believed him, so I'm in Christ, right?" What does the Bible say?
Before we read more from the Bible, remember that it is the inspired Word of God. I'm going to believe what it tells me over what some well-known and beloved preacher may say. Can we find Scriptures that very specifically, without any ambiguity or equivocation, tells us how to get "into Christ Jesus?" Yes. Romans 6:3-8, "Or don't you know that all of us who were baptized into Christ Jesus were baptized into His death? We were therefore buried with Him through baptism into death in order that just as Christ was raised from the dead through the glory of the Father, we too may live a new life. If we have been united with Him in His death, we will certainly also be united with Him in His resurrection. For we know that the old self was crucified with Him so that the body of sin might be rendered powerless, that we should no longer be slaves to sin — because anyone who has died has been freed from sin. Now if we died with Christ, we believe that we will also live with Him."
Is there any ambiguity or equivocation in this Scripture? None what-so-ever! Jesus talked about being born again and here in Romans we read that we not only die with Christ through baptism but we are also "united with Him in his resurrection." In Acts 2:37, after the people were convinced that they had killed Jesus the Christ, they asked Peter, "Brothers what shall we do?" What did Peter say? Did he tell them to pray about it? Seriously, did he tell them to pray about it? In Acts 2:38, with all the other Apostles hearing him he said, "Repent and be baptized, every one of you, in the name of Jesus Christ so that your sins may be forgiven. And you will receive the gift of the Holy Spirit."
Please note that none of the other apostles corrected his statement. Being born again of water grants not only the forgiveness of sin but also the indwelling Holy Spirit. According to Romans 8:9 having the indwelling Spirit is vital. Here is what it says, "And if anyone does not have the Spirit of Christ, he does not belong to Christ." Some additional Scriptures that relate to being in Christ are: Acts 8:34-39, Acts 22:16, Galatians 3:26-29, Titus 3:5 and I Peter 3:21.
None of these Scriptures are ambiguous. It is my desire, and hopefully yours, to take those actions that are required to fulfill the obligations stipulated in the Bible to become a born again child of God. I hope this four-part series has given you something to think about.
Ed Nill
is the author of the book:
"Christianity – Why I Believe What I Believe – Why Do You Believe What You Believe?"
In the book, some 40 pages are devoted to the subject of grace. See:
www.BossPublishing.org
for additional information about the book.