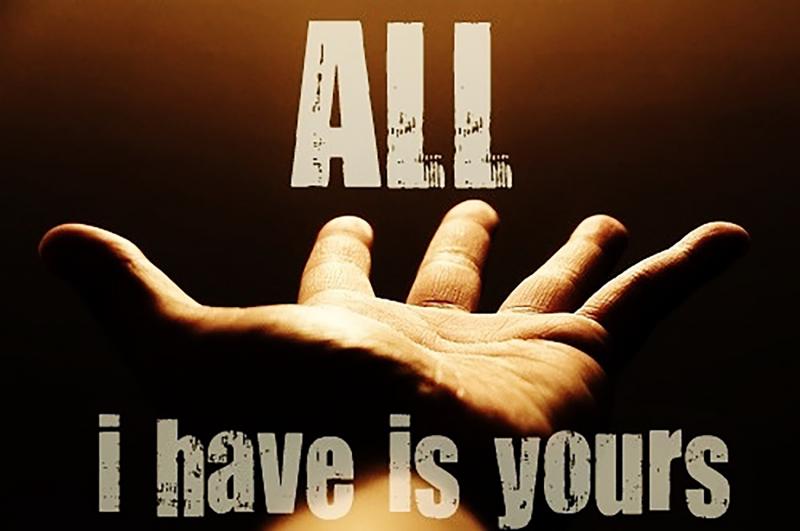 Complimentary Story
Have you ever been in a battle with your will? How many things confront you on a regular basis that are off limits, compulsive or obsessive? These things may not be earth shaking or maybe they are, but you know they may not be the best for you or even in the long run be harmful to you, but you do them anyway.
Self-will is an issue for all people and when self-will runs rampant, without boundaries or limits, it becomes addiction or idolatry. You may be thinking, "well, if you have a problem with _____ just stop.
May I suggest an exorcise for you? For the next 10 days focus only on your relationship with God. Of course, do the basic necessities of work, family and hygiene but stop everything else, including habits like, but not limited to, coffee, scrolling the internet, watching television and rigorous exercise. Days one and two eat only small amounts of raw fruit and vegetables, days four to seven drink only water, at least four big glasses or more every day, (very important so you don't do kidney damage), the eighth day eat only small amounts of raw fruit and day nine modest amounts of raw fruit and cooked vegetables. Day ten back to a healthful diet. Yes, this is a classic fast. If you don't want to try this, ask yourself, why? What is it in your life that is more important than your relationship with God? What is it that you don't want to give up? Do a little research if you decide to try the fast.
My wife and I are currently in our second classic fast over the last year. My wife, Terry, is such an awesome partner and friend. She participates and does the fast also, but they are primarily for me. I know exactly an ongoing and current battle with my will. I love to cook. I enjoy warming up the smoker and doing specialty meats from fish, wild meats and the chickens we grow. I do regular and some gourmet cooking, especially with the wild mushrooms we are picking right now; my wife is also a wonderful cook and baker. Most meals will find us both at work in the kitchen. I am also a wild berry and domestic grape wine maker. Yes, we pick the wild berries and grapes too. Terry is a picking machine! We, do not watch television, so our evening centers around building elaborate salads, sides, a main course and, many times, desert; all while having a few glasses of wine. Sound romantic? It is! My wife and I have been on our honeymoon ever since we were married over 14 years ago.
At the end of our day, many times echoes the statement, "that was really a fun day." HOWEVER, my doctor told me that my body is storing a lot of fat in my liver and that is not good. My calorie intake is way too high. The prescribed treatment? Lose weight by learning to practice portion control. I'm going to have to downsize the menus, because currently just my stir-fry is good for 2 meals for two people, for 2 days. Doing portion control, that same batch would last at least 4 dinners for 2 people over 4 days. In other words, I eat twice as much as I should and the wine needs to be cut in half as well, none at all for 5 months, the date of my next liver test. All of this involves the surrender of the will, establishing boundaries and practicing discipline. So is the ongoing battle of our self-will. "Your will not mine be done." (Matthew 6:10).
If you have been following the last two months' articles on a walk through the Twelve Steps and you have admitted you are powerless over some habit or sin in your life and you have come to believe that God can restore your life to sanity, then you may be reading this article about Step Three, "Made a decision to turn my will and my life over to the care of God, as we understood Him." This is the beginning point in our relationship with God, Jesus and the Holy Spirit. It is a decision to let God be in charge of our life. We are making a decision to seek and pray to know God's will and the ability to carry that out in our lives. This step is not a one-time event — it is a daily, ongoing practice, as I just explained in my own life.
I like to add David's prayer in Psalms 143:10 to Step 3. "Teach me to do Your will, for You are my God; may Your good Spirit lead me on level ground." There is also a prayer for Step 3 found in "Prayers for The Twelve Steps – A Spiritual Journey," pg.13. "Lord, I surrender to You my entire life, O God of my understanding. I have made a mess of it trying to run it myself. You take the whole thing, and run it for me, according to Your will and plan."
There is nothing wrong with the "sinner's prayer" in that we ask Jesus to be our Savior and we confess belief that His death on the cross paid the penalty for our sins. I am saying we need to add to that by surrendering our will to His and deliberately begin the day-to-day process of seeking to know how God would want us to live and pray for the Holy Spirit to give us the ability to carry that out in our lives.
"Not by might nor by power, but by my Spirit, says the Lord of hosts." (Zechariah 4:6b). Zerubbabal, the governor of Judah, reminded Israel that the completion of the temple would not be accomplished by military or personal strength. What was needed was Spirit-empowered workers under the direction of God's appointed leader. The relevance of this historical verse is found in the New Testament teaching that we, the Step Three believers in Jesus and the power of God, are the living temple of God. (1 Corinthians 3:16). By faith, by believing in Jesus and turning our will and lives over to Him, the Holy Spirit of God comes, lives within us and we become the temple of God. The building process, spiritual growth and maturity of our bodily temple, will not be accomplished by our own strength but by the inner working of the Holy Spirit in us and by us yielding our self-will to do His. God even provides us the strength to do His will if we seek it and yield to follow it.
Step Three is also a step of trust. Before this step I never trusted anyone or any thing but myself. I think a lot of folks are like that. We are trained to be that way, I believe. Slogans like "if you can do it yourself, don't ask for help," or "learn to do it yourself so you don't have to ask for help," or "get a good job, with benefits, and you will have everything you want and need." Start thinking about it and there are hundreds of sayings indoctrinating self-sufficiency. The result is our society trusts in themselves, their personal abilities and in government to provide all their needs. Little consideration is given to the power of God. 2 Corinthians 3:5, "Not that we are competent to claim anything for ourselves but out competence comes from God." Or, Ephesians 3:20, "Now to Him who is able to do more than all we ask or imagine, according to His power that is at work within us." In step three we are turning everything in our life over to God. A good word that encompasses the concept is "surrender." I remember my first Step Three, many years ago. I never felt so vulnerable. What was going to happen to me if I wasn't in control? Surrender was not part of my vocabulary or behavior. I was apprehensive and even fearful. I had no idea how this surrender of my will to God was going to work, other than the testimony of others who had surrendered their will to God. Now I pray that I am being a testimony to others as they were to me. God has proven Himself trustworthy to me. He has given me victory over addiction and provided contentment and an abundant life that I could not achieve on my own. He has never left or abandoned me. I trust Him way more than I trust myself.
Yet, there is that tendency among all of us sinners — sin. That is why Step Three is an ongoing, daily practice of surrendering our self-will to God's will. In closing this article, I will quote a few lines from The Twelve Steps for Christians, handbook. "Self-will is the determination within us all to control our own lives. Self-will in itself is not wrong; God has given us the power to choose. The problem with choice occurs when our will conflicts with God's. Our choices have brought us pain, hardships, addictions, compulsions and self-defeating behaviors. God's will for our lives bring us hope, healing, and peace. His plans are good. Our self-will is best exercised in choosing surrender to God."
Lynn Fredrick
is the author of
Stand Firm
, a short book on how to use the divine power of God to transform your life.
www.LynnFredrick.com
W8756 Townline Road
Ladysmith, WI 54848