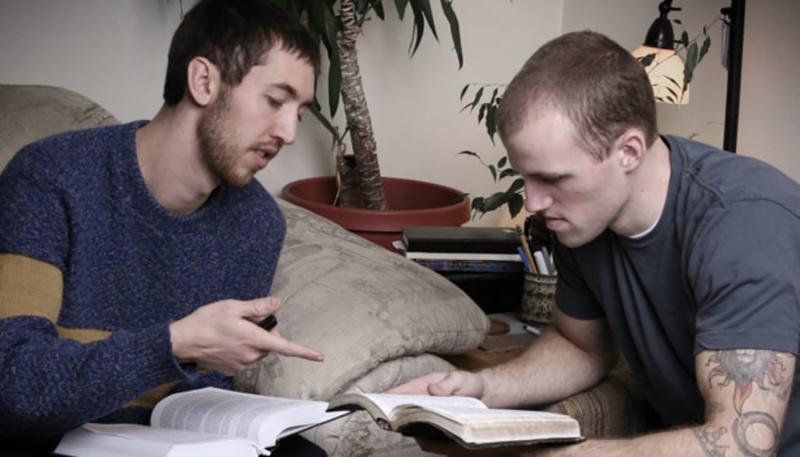 Complimentary Story
Our enemy, the devil, lies to us, and his first lie was, "did God really say that?" Jesus has told us to go and make disciples of all people teaching them everything He taught us in the Word. If Jesus told us this 2000 year ago, why are we so hesitant to share Jesus' words with people? I ask this of myself, and others and I find that the thoughts in our hearts are always accusing us why Jesus' words are not enough. Excuses might be: people are just too stubborn, people won't listen to me, I don't want to offend anyone, I am not gifted enough, what if they reject the Word... You can come up with your own thoughts that keep you from sharing Jesus' words.
What did Jesus teach us about the Holy Spirit? Jesus said that the words would come to us when we need them. He said not to worry about what we say, not that we shouldn't be prepared, but the Holy Spirit would remind us of the truths we need, at the proper time. I think we all have trouble trusting Jesus when we want to share or communicate the gospel to someone we know. But where do all these negative thoughts and doubts come from? We have an enemy who wants to discourage us because he does not want Jesus' words to influence people. Jesus KNOWS that His words will always accomplish want He wants them to. Sometimes it will be a negative response; all the apostles had people that rejected Jesus' words. Read the book of Acts. We see Paul going from city to city telling people about the resurrection of Christ. Some believed and were saved but others tried to kill Paul. What was Paul's prayer for himself? Ephesians 6:18-20: "And pray in the Spirit on all occasions with all kinds of prayers and requests. Be alert and always keep on praying for all the Lord's people. Pray also for me, that whenever I speak, words may be given me so that I will fearlessly make known the mystery of the gospel, for which I am an ambassador in chains. Pray that I may declare it fearlessly, as I should."
Acts 17:2-4: "When Paul and his companions had passed through Amphipolis and Apollonia, they came to Thessalonica, where there was a Jewish synagogue. As was his custom, Paul went into the synagogue, and on three Sabbath days he reasoned with them from the Scriptures, explaining and proving that the Messiah had to suffer and rise from the dead. 'This Jesus I am proclaiming to you is the Messiah,' he said. Some of the Jews were persuaded and joined Paul and Silas, as did many God-fearing Greeks and quite a few prominent women."
Paul didn't just give someone a verse, he reasoned with them and talked to them, maybe for hours. We have a hard time quoting a verse here or there with someone. Why is this? I think there are a couple reasons for this. We are fearful of the response, and fear is of Satan, not God. Or we truly do not believe in our souls and minds that the Gospel is the power of God. I know from personal experience the fear and doubts that plague my mind at times, but this is not from our Savior Jesus. Jesus said, "I will never leave you or forsake you." NEVER! So, our struggle is against principalities and powers, and our own doubts to trust God. I want to say that Jesus never gives up on us. NEVER! I do not want you to be too discouraged that we fail at sharing Jesus' words. Jesus has more grace and forgiveness than we can comprehend. Jesus has brought me, personally, through many trials of my faith in Him and is still working on me today and tomorrow.
The solution to our problem is to go to Jesus and His promises and meditate and resist in our own minds the temptations that come our way. God is faithful and will not let us be tempted beyond what we can stand. God's Word is powerful and effective and can build us stronger each day as we take hold of Jesus' promises. Romans 8:28-39 tells us that God is for us, nothing can separate us from His love. We need to remind and encourage our minds and souls in these great promises. We need to sing hymns to ourselves about God's great love for us. We need to forgive ourselves when we fail, because Jesus has already forgiven us on the cross. Jesus can not forgive us any more than what He accomplish at Calvary.
We should remember it is not our job to convert or save someone. Only God and Jesus can awaken a dead sinner. Ephesians 2:1-10: "As for you, you were dead in your transgressions and sins, in which you used to live when you followed the ways of this world and of the ruler of the kingdom of the air, the spirit who is now at work in those who are disobedient. All of us also lived among them at one time, gratifying the cravings of our flesh and following its desires and thoughts. Like the rest, we were by nature deserving of wrath. But because of His great love for us, God, who is rich in mercy, made us alive with Christ even when we were dead in transgressions — it is by grace you have been saved. And God raised us up with Christ and seated us with Him in the heavenly realms in Christ Jesus, in order that in the coming ages He might show the incomparable riches of His grace, expressed in His kindness to us in Christ Jesus. For it is by grace you have been saved, through faith — and this is not from yourselves, it is the gift of God — not by works, so that no one can boast. For we are God's handiwork, created in Christ Jesus to do good works, which God prepared in advance for us to do."
It is only because of God's grace and mercy that He alone saves a person. But He has chosen us to communicate the message for Him. Romans 10: "As Scripture says, 'Anyone who believes in Him will never be put to shame.' For there is no difference between Jew and Gentile — the same Lord is Lord of all and richly blesses all who call on Him, for 'Everyone who calls on the name of the Lord will be saved.'
"How, then, can they call on the One they have not believed in? And how can they believe in the One of whom they have not heard? And how can they hear without someone preaching to them? And how can anyone preach unless they are sent? As it is written: 'How beautiful are the feet of those who bring good news!'"
We should always do this with a spirit of gentleness. 2 Timothy 2: 23-26: "Don't have anything to do with foolish and stupid arguments, because you know they produce quarrels. And the Lord's servant must not be quarrelsome but must be kind to everyone, able to teach, not resentful. Opponents must be gently instructed, in the hope that God will grant them repentance leading them to a knowledge of the truth, and that they will come to their senses and escape from the trap of the devil, who has taken them captive to do his will."
We should memorize this passage and ask Jesus to help us not to be argumentative. Sometimes we need to just let go and look for another opportunity to share God's words. We need to practice being gentle with all people since this is a fruit of God's Spirit. And patience, since our God is long-suffering. Jesus is not in a hurry. Most of all we need to meditate on the verse, that the Gospel is the power of God for everyone who believes. Ask Jesus to reaffirm these great promises in our minds and hearts, so discouragement won't keep us from sharing. Maybe we need to fear God more than man. We need to trust God more!