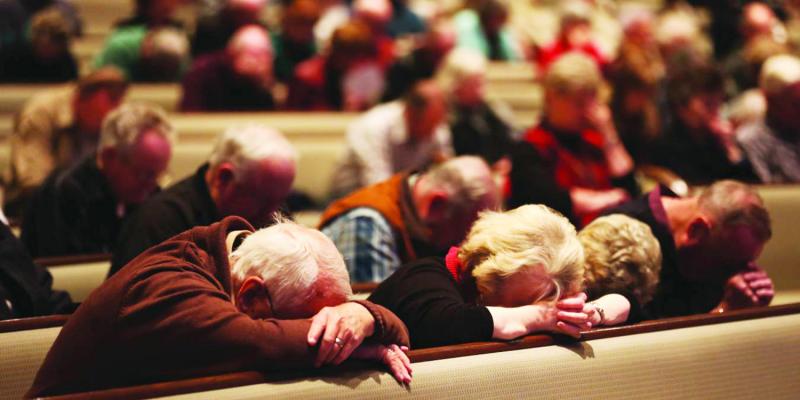 Complimentary Story
This prayer was originally written on January 27, 2012 and I posted it on February 9, 2012 under the title, "A Prayer for Revolution." The "Revolution" I identified was one of a spiritual nature. A lot has happened since that time, both in the Church in America and the country. Unfortunately, much of what has transpired in these years has further dragged the Church and country downward into the cesspool of sin and godlessness that has further separated us, as a Christian body and nation from the God of our founding and foundation.
Once again, I submit this prayer, with some additions, but under the title of "A Prayer for Repentance." Please feel free to share it far and wide. America and the Church in America desperately need a change of heart and a full return to Almighty God, or both will suffer greatly in the years ahead.
A Prayer for Repentance
"If My people who are called by My name will humble themselves, and pray and seek My face, and turn from their wicked ways, then I will hear from heaven, and will forgive their sin and heal their land."
(2 Chronicles 7:14).
Heavenly Father, in the name of Your Beloved Son, Jesus Christ, the Lord and Savior of all who will accept His sacrificial work on the Cross of Calvary, I fervently pray that you send a spiritual revolution upon America.
I pray that You raise up, at this time, bold and godly men and women of righteousness in Your Church across America that will lead Your people in a heart-wrenching repentance; a repentance:
For remaining silent and unmoved by the murder of millions of innocent children through grisly abortion;
For remaining silent when prayer and the Bible were taken out of our schools;
For remaining silent when the practice of homosexuality and other perversions were sweeping the land;
For remaining silent as corruption and injustice were running rampant throughout the country;
For remaining silent as church leaders perverted Your Gospel;
For remaining silent as politicians led America into bankruptcy, stealing the financial future away from current and future citizens;
For remaining silent while You were banned from the halls of government, education, our places of work and our communities;
For remaining silent as the country's defenses and military are gutted and weakened;
For remaining silent as subversive forces are allowed to infiltrate the land under the guise of freedom of speech and multi-culturalism;
For remaining silent as anti-American politicians and other leaders pass laws or make judgments that subvert the sovereignty and freedom of the land;
For "embracing the culture" of the land and bringing it into the Church instead of becoming a "light in darkness" and a "city on a hill" and "salt" among the lost;
For watering down the Gospel of Truth and Light so that it no longer guides lost souls out of the depths of sin and hopelessness;
For adopting materialism and prosperity as our gospel and god;
For seeking mere mortal men and women to save us from the consequences of our sin and falling away from You, Almighty God;
For proudly promoting our perversions worldwide for financial gain and pleasure;
For allowing your God-ordained family of a man, woman and children to be torn apart and destroyed by a godless society;
For allowing godless indoctrination of our children into the public schools and universities that extoll the virtues of sex and perversion; socialism, Marxism and communism or anti-Christ ideology;
For allowing America's history, in all its imperfections, to be torn asunder, revised and perverted; and numerous other failings that have separated us from You.
Father God, have mercy on me/us and forgive me/us, I humbly pray, for my/our many sins against you and for falling away from the truth of your Word and not standing firm against the evil in the Church and in the land. Help me/us, Father, to be strong and courageous in standing for Your truth and righteousness.
Father, may You raise up godly men and women in the tradition of those bold men and women who spoke out against oppression and tyranny during the Revolution that spurred the founding of this great country, the United States of America, and may the spirit of repentance flood the land with seeds of revival like never before.
So, that You, Father, will be lifted up as the One and only Sovereign Lord of the Church and America.
So, that You, Father, will be our One and only Trusted and Faithful Leader.
A revival, Father, that will return the heart of the Church and America's people to You; to a foundation of faith in Your saving grace and redemption.
A revival, Father, that will return the Church in America back to the foundations of God-inspired truth, justice and personal freedom so that we may once again be a "light" on a hill; "salt" on the earth.
A revival Father that will bring godly wisdom and knowledge to our thinking, understanding, decision-making and voting decisions.
Thank You Father for so richly blessing America in the past; for revealing Yourself to those who set the godly and just foundations of this country so many years ago.
Thank You for Your mercy and grace.
In the Holy Name of Jesus Christ, Your Son, Amen!
"For the time has come for judgment to begin at the house of God; and if it begins with us first, what will be the end of those who do not obey the gospel of God?" (1 Peter 4:17).