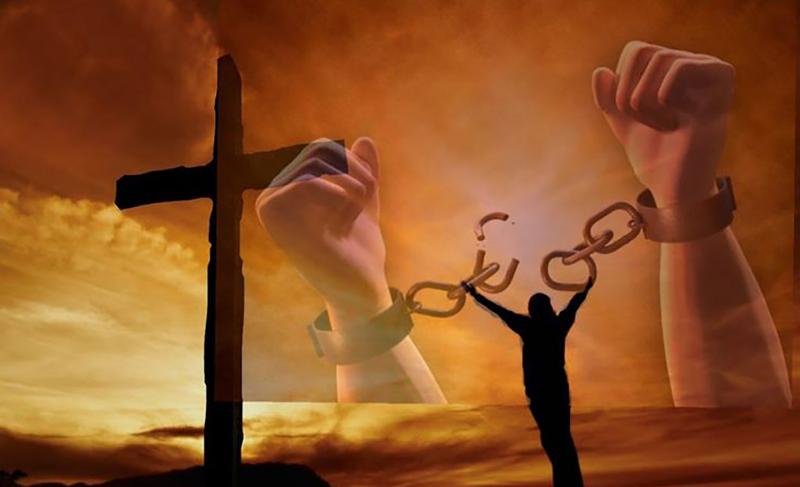 Complimentary Story
"Or do you not know that the unrighteous will not inherit the kingdom of God? Do not be deceived; neither fornicators, nor idolaters, nor adulterers, nor effeminate, nor homosexuals, nor thieves, nor the covetous, nor drunkards, nor revilers, nor swindlers, will inherit the kingdom of God. Such were some of you; but you were washed, but you were sanctified, but you were justified in the name of the Lord Jesus Christ and in the Spirit of our God."
(1 Corinthians 6:9-11).
One of the many things that new believers in the Lord Jesus Christ learn early in their faith is that they are declared by God to be a new creation. This is normally met with great joy and celebration because each individual that comes to Christ has a "story." I use that word to illustrate the point that everyone has a background. Every man or woman that receives Christ by faith has a story to tell of what Christ set them free from. We refer to that story as our testimony.
The Apostle Paul shared his testimony often. Jesus appeared to him on the road to Damascus and called him into faith and service.
"But it happened that as I was on my way, approaching Damascus about noontime, a very bright light suddenly flashed from heaven all around me, and I fell to the ground and heard a voice saying to me, 'Saul, Saul, why are you persecuting Me?' And I answered, 'Who are You, Lord?' And He said to me, 'I am Jesus the Nazarene, whom you are persecuting.' And those who were with me saw the light, to be sure, but did not understand the voice of the One who was speaking to me. And I said, 'What shall I do, Lord?' And the Lord said to me, 'Get up and go on into Damascus, and there you will be told of all that has been appointed for you to do.' But since I could not see because of the brightness of that light, I was led by the hand by those who were with me and came into Damascus."
Here is Paul's testimony included in his letter to the churches of Galatia:
"For I would have you know, brethren, that the gospel which was preached by me is not according to man. For I neither received it from man, nor was I taught it, but I received it through a revelation of Jesus Christ.

"For you have heard of my former manner of life in Judaism, how I used to persecute the church of God beyond measure and tried to destroy it; and I was advancing in Judaism beyond many of my contemporaries among my countrymen, being more extremely zealous for my ancestral traditions. But when God, who had set me apart even from my mother's womb and called me through His grace, was pleased to reveal His Son in me so that I might preach Him among the Gentiles, I did not immediately consult with flesh and blood, nor did I go up to Jerusalem to those who were apostles before me; but I went away to Arabia, and returned once more to Damascus.

"Then three years later I went up to Jerusalem to become acquainted with Cephas, and stayed with him fifteen days. But I did not see any other of the apostles except James, the Lord's brother. (Now in what I am writing to you, I assure you before God that I am not lying.)Then I went into the regions of Syria and Cilicia. I was still unknown by sight to the churches of Judea which were in Christ; but only, they kept hearing, 'He who once persecuted us is now preaching the faith which he once tried to destroy.' And they were glorifying God because of me."
A most interesting aspect of Paul's testimony appears earlier in the book of Acts passage cited above.
"I am a Jew, born in Tarsus of Cilicia, but brought up in this city, educated under Gamaliel, strictly according to the law of our fathers, being zealous for God just as you all are today. I persecuted this Way to the death, binding and putting both men and women into prisons, as also the high priest and all the Council of the elders can testify. From them I also received letters to the brethren, and started off for Damascus in order to bring even those who were there to Jerusalem as prisoners to be punished."
Apparently Paul never forgot his persecution of the people of God because he mentioned it again in his letter to the Corinthian believers.
"For I delivered to you as of first importance what I also received, that Christ died for our sins according to the Scriptures, and that He was buried, and that He was raised on the third day according to the Scriptures, and that He appeared to Cephas, then to the twelve. After that He appeared to more than five hundred brethren at one time, most of whom remain until now, but some have fallen asleep; then He appeared to James, then to all the apostles; and last of all, as to one untimely born, He appeared to me also. For I am the least of the apostles, and not fit to be called an apostle, because I persecuted the church of God. But by the grace of God I am what I am, and His grace toward me did not prove vain; but I labored even more than all of them, yet not I, but the grace of God with me."
Clearly, Paul carried around memories from his life before Christ. His persecution of the church had a lasting impact on him and his service to our Lord.
Paul considered himself to be a lowly wretch, unworthy of the love of Christ. In his first epistle to Timothy, a young pastor and protégé, Paul said this:
"It is a trustworthy statement, deserving full acceptance, that Christ Jesus came into the world to save sinners, among whom I am foremost of all. Yet for this reason I found mercy, so that in me as the foremost, Jesus Christ might demonstrate His perfect patience as an example for those who would believe in Him for eternal life."
This is an important point to understand. Jesus Christ redeems, delivers, and sanctifies us. But we play a role in that sanctification.
Paul instructs readers of his epistles to
"take every thought captive,"
to
"work out your salvation with fear and trembling,"
to pray fervently and
"without ceasing,"
to
"hold fast the confession of our hope without wavering,"
and to
"stimulate one another one another to love and good deeds."
What is Paul demonstrating for us? He is demonstrating that every person who trusts the work of Jesus Christ on Calvary's Cross for the forgiveness of their sins, becomes a new creation. As he wrote to the Corinthian believers, the old things have passed away and new things have come.
Our newness in Christ is far-reaching and all encompassing. Old things have passed away. Old habits, old patterns of thinking, old anger, old grudges, old beliefs, old perspectives, all pass away and are replaced by new things from Christ by the power and working of the Holy Spirit in us. This is captured beautifully in Ephesians 2:1-10:
"And you were dead in your trespasses and sins, in which you formerly walked according to the course of this world, according to the prince of the power of the air, of the spirit that is now working in the sons of disobedience. Among them we too all formerly lived in the lusts of our flesh, indulging the desires of the flesh and of the mind, and were by nature children of wrath, even as the rest. But God, being rich in mercy, because of His great love with which He loved us, even when we were dead in our transgressions, made us alive together with Christ (by grace you have been saved), and raised us up with Him, and seated us with Him in the heavenly places in Christ Jesus, so that in the ages to come He might show the surpassing riches of His grace in kindness toward us in Christ Jesus. For by grace you have been saved through faith; and that not of yourselves, it is the gift of God; not as a result of works, so that no one may boast. For we are His workmanship, created in Christ Jesus for good works, which God prepared beforehand so that we would walk in them."
In Paul's letter to the Roman believers we read:
"Therefore I urge you, brethren, by the mercies of God, to present your bodies a living and holy sacrifice, acceptable to God, which is your spiritual service of worship. And do not be conformed to this world, but be transformed by the renewing of your mind, so that you may prove what the will of God is, that which is good and acceptable and perfect."
Earlier in the same letter to the Roman believers Paul exhorted them to righteous and holy living because the chains that had previously held them captive to sin were broken through faith in Christ:
"What shall we say then? Are we to continue in sin so that grace may increase? May it never be! How shall we who died to sin still live in it? Or do you not know that all of us who have been baptized into Christ Jesus have been baptized into His death? Therefore we have been buried with Him through baptism into death, so that as Christ was raised from the dead through the glory of the Father, so we too might walk in newness of life. For if we have become united with Him in the likeness of His death, certainly we shall also be in the likeness of His resurrection, knowing this, that our old self was crucified with Him, in order that our body of sin might be done away with, so that we would no longer be slaves to sin; for he who has died is freed from sin. Now if we have died with Christ, we believe that we shall also live with Him, knowing that Christ, having been raised from the dead, is never to die again; death no longer is master over Him. For the death that He died, He died to sin once for all; but the life that He lives, He lives to God. Even so consider yourselves to be dead to sin, but alive to God in Christ Jesus. Therefore do not let sin reign in your mortal body so that you obey its lusts, and do not go on presenting the members of your body to sin as instruments of unrighteousness; but present yourselves to God as those alive from the dead, and your members as instruments of righteousness to God. For sin shall not be master over you, for you are not under law but under grace."
What this means in a supernatural sense is that when someone is born again, they are no longer under the bondage of sin. They have been set free from that cruel taskmaster. Therefore, the question becomes why do we still live as if sin is our master?
Have we not read that:
"We are under obligation, not to the flesh, to live according to the flesh…For you have not received a spirit of slavery leading to fear again…But…we overwhelmingly conquer through Him who loved us."
In fact, Jesus Christ always leads His sons and daughters to victory! Since that is true, why do we struggle with old habits, old patterns of thinking, old anger, old grudges, old beliefs, and old perspectives? Why are some people not able to live the victory that Christ has won and promised to all His disciples?
Why do some people still carry around the baggage of their past? The answer is very simple: the flesh wars against the spirit and often the flesh wins. Even though a Christian is filled with God's Holy Spirit he or she may still choose to disobey God. Sometimes the fleshly desires win out over the spiritual desires to love and obey God. Romans Chapters 7 and 8 describe this conflict. There is good news even in this arena however. In 1 Corinthians 10:13 we read this:
"No temptation has overtaken you but such as is common to man; and God is faithful, who will not allow you to be tempted beyond what you are able, but with the temptation will provide the way of escape also, so that you will be able to endure it."
An explanation is needed here because this is a verse of Scripture often used out of context. This verse is not saying that you will never experience more difficulties than you can tolerate. It does not say that life will never become so burdensome that you won't be able to cope with it. The fact is that life can become difficult, even to the point that we enter into despair. Telling Christians that they should never worry or allow depression to overwhelm them is simply naïve and a misapplication of this passage. In 1 Corinthians 2:8-10 we read that the Apostle Paul and his companions found themselves in a situation where all hope was lost and they believed they were going to die:
"We do not want you to be unaware, brothers, of the affliction that came to us in the province of Asia; we were utterly weighed down beyond our strength, so that we despaired even of life. Indeed, we had accepted within ourselves the sentence of death that we might trust not in ourselves but in God who raises the dead. He rescued us from such great danger of death, and He will continue to rescue us; in Him we have put our hope [that] He will also rescue us again."
The value of Paul's testimony to the Corinthians in the passage above is this: even in the darkest situations, Paul understood that God had not forsaken him. Paul knew that every trial, every gut-wrenching dilemma, every danger that he faced was an opportunity for God to show Himself great on his behalf.
I believe that Paul had this in mind as well as his "thorn in the flesh" infirmity when he later in this same letter wrote:
"I am content with weaknesses, insults, hardships, persecutions, and constraints, for the sake of Christ; for when I am weak, then I am strong."
Immediately preceding these well-known and often quoted words, is this divine response that are refreshing words to a weary and struggling soul:
"My grace is sufficient for you, for power is made perfect in weakness."
My point here, friends, is this: 1 Corinthians 10:13 cited above, is addressing the subject of temptation. When temptations come calling, the wise Christian will seek God for the path through the temptation. Notice the verse says that the way of escape is provided to endure the temptation.
,,,One area that we must address here, even if only briefly, is the area of generational sin, sometimes referred to as generational curses. The basis for the belief in generational curses is Exodus 34:4-7:
"So he cut out two stone tablets like the former ones, and Moses rose up early in the morning and went up to Mount Sinai, as the LORD had commanded him, and he took two stone tablets in his hand. The LORD descended in the cloud and stood there with him as he called upon the name of the LORD. Then the LORD passed by in front of him and proclaimed, "The LORD, the LORD God, compassionate and gracious, slow to anger, and abounding in lovingkindness and truth; who keeps lovingkindness for thousands, who forgives iniquity, transgression and sin; yet He will by no means leave the guilty unpunished, visiting the iniquity of fathers on the children and on the grandchildren to the third and fourth generations."
I want to remind readers of what we have already covered. Notice in the Exodus passage quoted above that God is said to visit the iniquity of the fathers upon the third and fourth generation of the guilty. That word refers to those who remain in their sin, or in other words, unbelievers. God will by no means clear the guilty. The sins of the fathers may well be visited upon those apart from Christ. However, when you are born again, you become a new creature and old things pass away.
The radicalness of the exchange that takes place in the mind, body, and soul of a person when they are born again is of such a magnitude that the Bible says we are a Chosen Race, a Royal Priesthood…called…out of darkness into His marvelous light.
Born again believers are taken out of Adam — that is — removed from the slavery of sin, and baptized into Christ, meaning we receive the righteousness of Christ. The testimony of the Bible is that we are completely new in Christ.
It is time that Christians drop the baggage they carry around with them as if they are shackled to this burdensome load. The Bible is clear that we are no longer who we were before faith in Christ. Because that is true we should clearly understand who we are in Christ.
You may support The Transforming Word Ministry by sending your gifts to:
Dr. Mike Spaulding
PO Box 3007
Lima, OH 45807

Online at http://www.TheTransformingWord.com
Or by PayPal studies@TheTransformingWord.com