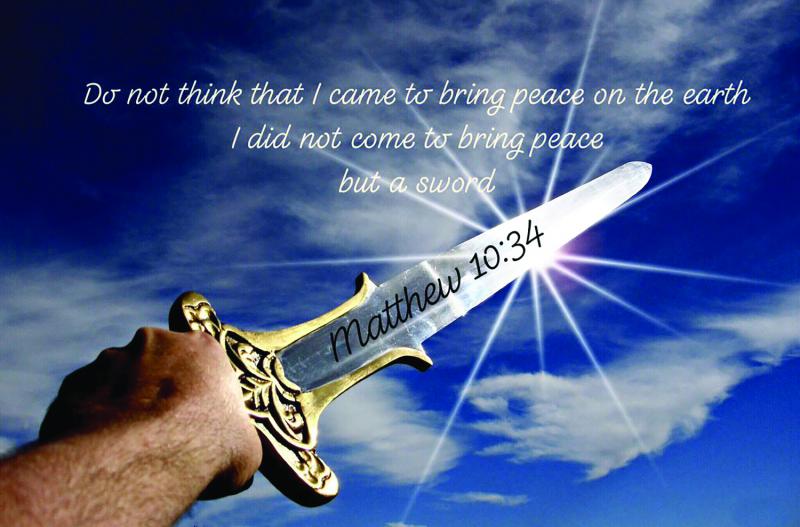 Complimentary Story
In recent times, I've become increasingly aware of a tendency among believers (and even some non-believers) to promote the belief that Jesus came into the world to unite everyone together. And that if a division exists, it must not be the will of God. This belief often promotes a false unity, or a least-common-denominator acceptance of anything and everything under the banner of unity at all cost. But the Holy Bible says otherwise.
Jesus Himself disproves that notion with the following:
"Think not that I am come to send peace on earth: I came not to send peace, but a sword. For I am come to set a man at variance against his father, and the daughter against her mother, and the daughter in law against her mother in law. And a man's foes shall be they of his own household."
(Matthew 10:34-36).
Christ is saying that He came to cause division between people. He even stated that a man's enemies will even be those of His own household. And the reason is Jesus Himself: dividing those who are fully dedicated to Him from those who aren't. To our modern-day minds, this sounds extreme, and so "unlike Jesus." But it is true and Biblical none-the-less.
The Lord Jesus Christ causes division between people in many areas. He wants followers who are fully on board, not with divided hearts. Jesus continues:
"He that loveth father or mother more than Me is not worthy of Me: and he that loveth son or daughter more than Me is not worthy of Me. And he that taketh not his cross, and followeth after Me, is not worthy of Me. He that findeth his life shall lose it: and he that loseth his life for My sake shall find it."
(Matthew 10:37-39).
Christ puts it bluntly: If you love parents, children, spouse, or any other relation more than Him, you are not worth of Him. He wants it all, He's God, and no one else! This is a clear statement of division — those who love Jesus more than anything, and those who love someone or something else more. It should serve as a serious warning to all believers.
In Luke 12:51-53, Jesus says:
"Suppose ye that I am come to give peace on earth? I tell you, Nay; but rather division: For from henceforth there shall be five in one house divided, three against two, and two against three. The father shall be divided against the son, and the son against the father; the mother against the daughter, and the daughter against the mother in law; the mother in law against her daughter in law, and daughter in law against her mother in law."
What are some ways that Christ causes division in households? When one or more family members are sold out for Jesus, and the rest are antagonistic to them. It happens between people in the world, and it happens in families. Christ predicted it. But when it does, our allegiance is to be 100 percent to Jesus, and not anything less.
Division results between on-fire hot believers and those who are lukewarm. The lukewarm like the blessings of God, but they don't like the Cross or death to self. Theirs is a "comfortable Christianity" that conforms to the world, and receives the world's praise. It's a "popularity" Christianity, that enjoys acceptance of the world and its ways. Yet, Jesus warned us in Luke 6:26 —
"Woe unto you, when all men shall speak well of you! For so did their fathers to the false prophets."
Jesus is actually in the corner of the persecuted, the abandoned, the lonely, the friendless, those who are reviled for doing good — and He pronounces a warning to the popular, the "life of the party," those that laugh at things God hates. This is the soft lukewarm Christian that Christ will spit out of His mouth. Unfortunately, there are many that don't believe that this applies to them. And they are beyond Holy Spirit conviction. This should cause them great distress of soul!
To put it straight out, you either really love Jesus all the way, or you love yourself. Because anything you love more than Christ is really just a form of self-love. But Jesus gives a blessing to those who are hated for Jesus' sake. He says in Luke 6:22-23,
"Blessed are ye, when men shall hate you, and when they shall separate you from their company, and shall reproach you, and cast out your name as evil, for the Son of man's sake. Rejoice ye in that day, and leap for joy: for, behold, your reward is great in heaven: for in the like manner did their fathers unto the prophets."
If you are among those who have been on the receiving end of hate for Jesus' sake, or for doing His will, take heart little flock. God knows and sees, and your reward in Heaven will be great!
There is division between those who openly shine the light of Jesus to the world, and those who hide it out of fear of self-preservation. Jesus declared in the Sermon on the Mount, in Matthew 5:14-16,
"Ye are the light of the world. A city that is set on an hill cannot be hid. Neither do men light a candle, and put it under a bushel, but on a candlestick; and it giveth light unto all that are in the house. Let your light so shine before men, that they may see your good works, and glorify your Father which is in heaven."
While we are to be of a humble spirit when it comes to ourselves (not loud, obnoxious, or condescending), when it comes to Christ, we are to be bold and proclaim His Lordship. We are not to hide it under a bushel, or hidden anywhere else for that matter.
The Apostle Paul reminds us in Romans 1:16,
"For I am not ashamed of the gospel of Christ: for it is the power of God unto salvation to every one that believeth."
How ashamed Christ must be of many American Christians who are afraid to make Jesus known, while believers across this planet are persecuted and tortured for Christ every day. And here in America, multitudes of sexual deviants proclaim their "pride" to a wicked lifestyle in such a way that everyone must bow to it or be ostracized. But again, Christ will cause division between the lukewarm and the sold out believers. He'll divide between the ones seeking to be admired and accepted — and the ones who are willing to suffer for His name. And He will separate between the sheep and the goats at the end of the age.
The apostle Paul also taught division. For example, 2nd Timothy 3:4-5 states,
"...lovers of pleasures more than lovers of God; Having a form of godliness, but denying the power thereof: from such turn away."
Paul is admonishing us to separate (divide) from the lovers of pleasures, and those that have a "form" of godliness. In other words, on the surface (or externally), they look like sheep, but are actually goats (or wolves), that thwart the work of God, and put pleasure and convenience before obedience to God. Whereas the true sheep love to follow the shepherd. They know His voice, and do not recognize the call of the world. (Read John chapter 10).
Paul also says in 1st Corinthians 5:11,
"But now I have written unto you not to keep company, if any man that is called a brother be a fornicator, or covetous, or an idolater, or a railer, or a drunkard, or an extortioner; with such an one no not to eat."
Again, Paul is telling us to divide from the disobedient. We are not to be "hanging out" and enjoying wicked activities, entertainment, alcohol, partying, and other abominations that God would not approve of. We are to be separate — NOT united, but separate! If this is too much for you to handle, you should have counted the cost before setting out to follow Jesus Christ. If this world and everything it contains is more important to you than the Savior who bled and died for you on a cruel cross, then you have the wrong God.
Revelation 18:4 states:
"And I heard another voice from heaven, saying, 'Come out of her, My people, that ye be not partakers of her sins, and that ye receive not of her plagues.'" Christ is commanding His people to "come out, and be separate."
Because He says further in Revelation 22:14-15,
"Blessed are they that do His commandments, that they may have right to the tree of life, and may enter in through the gates into the city. For without are dogs, and sorcerers, and whoremongers, and murderers, and idolaters, and whosoever loveth and maketh a lie."
This is a clear distinction here. And what is that distinction? Between those who "do His commandments" and those who practice sin and live for self, this world, and self-preservation.
Christ, for 2000 years, has been calling out (ekklessia) a people for His name. They are to die to self, and pick up their cross and follow Him daily. True disciples love what Jesus loves: His Gospel being proclaimed and obeyed, a love for souls, His Word going forth, and seeing His righteousness reign, and His name being glorified.
The Lord Jesus Christ came to make this happen, and we should rejoice to have a part in it! There is never a time to minimize Jesus in order to make someone else feel more comfortable. The devil is always there to get us to question God, and ask "Hath God Said?" We are to flee the devil, and cling to God Almighty. He sent His Son to divide those who are truly His, from those who either reject Him, are lukewarm, or love the things in this world (including people) more than Christ Himself. Let us desire this division, because it is a gift from our loving Heavenly Father. For He says to us in Hebrews 13:12-13,
"Wherefore Jesus also, that He might sanctify the people with His own blood, suffered without the gate. Let us go forth therefore unto Him without the camp, bearing His reproach."
Email Contact: dflein@yahoo.com