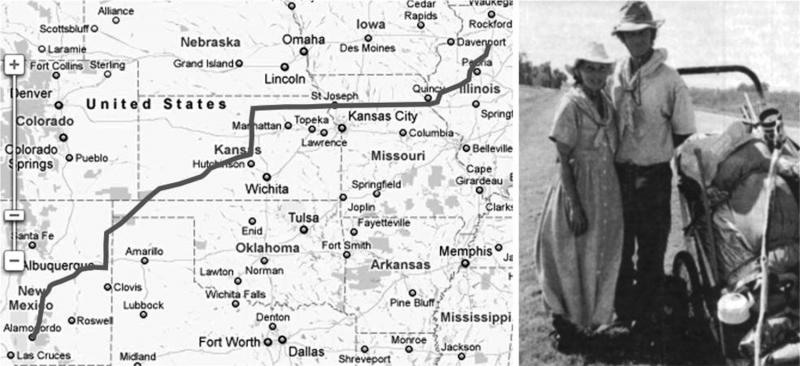 Complimentary Story
The final confirmation that we should "take a hike" came on June 2, just days before Harry's folks would move and we would leave, for somewhere. It was a Sunday and we had been to church in the morning. The church we had been attending had some activities planned for the afternoon, which included a late afternoon church service in the park, eliminating the evening service. We were unable to participate in these activities due to prior commitments and as evening approached we felt that we really needed to be in church. We decided to visit a church we had attended a time or two on the invitation of some friends, completely forgetting they DO NOT hold church on Sunday evening. When we got to the church, no one was around. Harry was reluctant to leave so we sat there for a few minutes.
Presently, someone arrived and unlocked the church and went inside. Soon other people began to arrive, including our friends, who explained to us that their pastor had called a special service for the congregation to come and pray for needs within their lives, the church, and for the lost loved ones of the members. The pastor's main church is about 25 miles away and he takes care of this little church on Sunday morning and on an as-needed basis. This special service was something that was very rare.
God set this service up for us so He could give us the final word about our walk that we had fought so much against.
We went inside with our friends and found seats at the back of the church. After a short preliminary by the pastor, people began to go forward for prayer for themselves and their families. Harry waited until everyone else in the church had gone for prayer and then he turned to Hadassah and said, "I feel we should go forward for prayer for our kids and for guidance concerning the walk." We had not told anyone, including our friends, the pastor or his wife, who were praying with people as they came forward, what we specifically wanted prayer for. Just that we needed guidance for a decision we had to make and prayer for our children. After they had prayed for us, the pastor had this to say... I do not remember the entire message but one part stuck fast in both our minds: "I never send My children on a journey without going before them and making the way." WOW! We felt assurance that this message was of God and vowed not to question His will for this walk again. We never again questioned what we already knew God wanted from us. That certainly does not mean we understood why this was to be, but we knew we must do it.
We began making plans for a "long hike." The concerns that we had from the very beginning were still real, they did not go away, but now we knew that the Lord was the author of this and we would be taken care of. We really needed the help of the Lord because although we had learned how to live on the road we must now, all of a sudden, survive on the road. There is a huge difference between being able to drive where we need to go in order to make a living on the road and surviving whatever circumstance we may face, from the elements or a potentially dangerous man-made situation, and having to do it while on foot. We had been through major storms and we had been in situations that had the potential of becoming dangerous while traveling with our truck. While we had never suffered any harm, we had seen situations that could have come out much differently and left someone seriously injured or worse. The very real memory of these experiences is the reason we were so hesitant about traveling on foot.
What we originally thought would not take place for one year, giving us ample time to prepare ourselves, was now going to happen in a matter of a few weeks. We had no idea why the Lord was sending us out this quickly.
We figured that in order to be far enough south before bad weather hit we would have to be gone by the first of July. That left less than one month to put this entire project together! Neither one of us had any experience at this type of thing and we could not afford to do it wrong because there would be no time to correct our mistakes before we left.
One of our bigger concerns was being able to physically take the abuse that our backs, legs, knees, and feet were going to receive. I have worked on cement floors almost my entire life and I know what a beating the cement can give you. We knew we would be on hard surface roads for almost the entire trip. We decided to build our own hiking boots. We had learned something about making moccasins and boots since we had been doing it for the last 2 ½ years. We designed a boot that would absorb shock and be extremely comfortable from the very first time it was put on so we wouldn't have to suffer through a break-in time.
That was just the beginning of what needed to be done. We simply had no idea where to start. And then God stepped in!
Now that God had our undivided attention I intended to tell about His provision this month, but there is just too much to tell about how He helped. So next month we will tell how He provided everything we needed in His own miraculous way.
"And I have been with thee whithersoever thou hast walked, and have cut off all thine enemies from before thee..."
(I Chronicles 17:8 KJV).
Contact:
Harry@Virtually-Forever.com