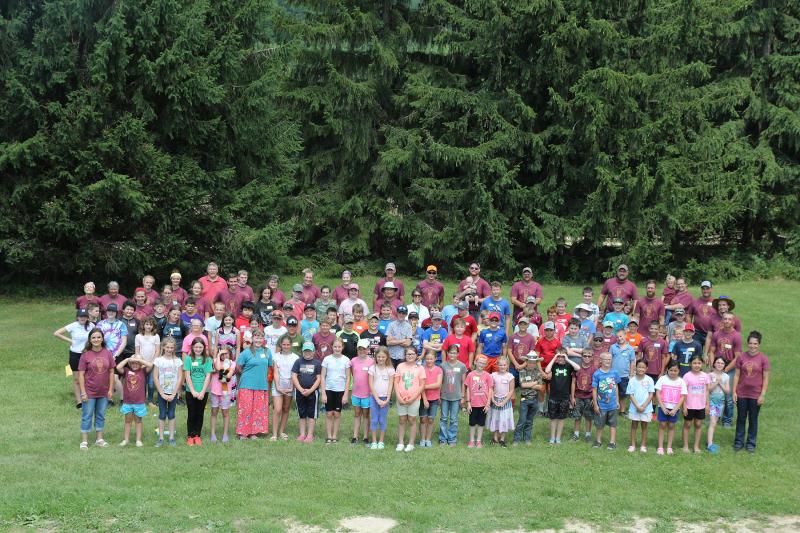 Complimentary Story
March 2022
Mid-way between the Wisconsin Dells and La Crosse lies the city of Hillsboro, the "Czech Capital of Wisconsin." Approximately 9 miles west of town by way of Highways 33 and 82, Warner Avenue, Cherith Way, around several curves, over a hill or two, and past a few Amish buggies is the location of Trail Ridge Camp.
Trail Ridge held its first summer of camping in the year 2000 reaching families and young people for Christ with the mission of serving the under-served.
Great food, good preaching/teaching and lots of activity have all been part of the camping program at Trail Ridge Camp.
Due to COVID, many struggled with finances due to layoffs, limited working opportunities, or elevated expenses for a variety of reasons. These financial burdens were considered when planning camp for 2021 when a "Buy One, Get One Free" was offered for summer youth camper registrations.
This year of 2022 has brought continued opportunity to carry on the mission of serving the under-served. The leadership of Trail Ridge understands the challenges many young people face including the indoctrination many are subjected to in ways contrary to Scripture. The exposure to all things ungodly in today's culture, and the incessant barrage of misinformation spoon fed to our young people are negatively infecting today's youth.
Because of the generous and sacrificial giving of donors to this camp ministry coupled with their desire to get young people to camp, Trail Ridge is excited to offer a week of summer camp for those in 3rd-12th grades for $100 if registered by April 30th. The only extra costs associated with camp are the campers' transportation to and from camp as well as any snacks or souvenirs they wish to purchase at the camp store.
$100 (at the time of writing this article) could buy approximately: 30 gallons of gasoline OR 10 months of a movie streaming service OR a double cheeseburger every week for a year OR 36 cups of regular coffee at one of this nation's popular caffeine dispensaries OR 1-3 oil changes OR a 20% share in one of the newest video game consoles. These other offerings are not mentioned to convince the readers to consider the price they are paying for a double cheeseburger, but to recognize the value in sending a young person to a week of camp.
Just $100 is the cost for a young person to enjoy Monday through Saturday camp…the fresh, clean air in southwest Wisconsin; nutritious and filling meals; qualified, loving, and caring supervision; plenty of indoor and outdoor activity; and many opportunities for spiritual impact throughout the week by way of personal and cabin devotion times, Scripture memory challenges, and twice daily chapel sessions.
Over the years, several decisions for the Lord have been made at Trail Ridge. These decisions have been provoked after hearing a stirring chapel session or just by having a thought-provoking conversation with a camp staff member. It's not uncommon after an evening chapel session to see campers sitting in the lawn outside the chapel with their counselor discussing the implications of the things brought to light in that session. Many-a-time around a campfire at the end of the week, campers have shared the impression God's Word has left on their hearts.
Throughout the year, the camp staff is made aware of continuing growth in the lives of campers, volunteers, and seasonal staff. It's no doubt that Trail Ridge Camp is a place of eternal impact!
Trail Ridge isn't just a summer camp. There's quite a full schedule of activities each year including events like parent/child retreats, Seniors Weekends, Family Film Nights, Young Adults Retreats, Sweethearts Banquets and more.
Opportunities abound for those interested in volunteering their time and talents for a day or a week at a time. Skilled and willing help is needed by volunteers during the weeks of summer camp in addition to times like the upcoming "Work Weekend" May 5-7.
There are seasonal employment positions available for young adults willing to spend the summer as Counselors or members of the Operations Team.
Readers are encouraged to make Trail Ridge Camp their destination this year whether they come as campers themselves, volunteers, seasonal staff or participant in any of the other camp events throughout the year. Until then, the place to go for registration and more information about Trail Ridge Camp is
www.TrailRidge.org
or call
608-489-3810
.
VCYAmerica.org
www.TrailRidge.org