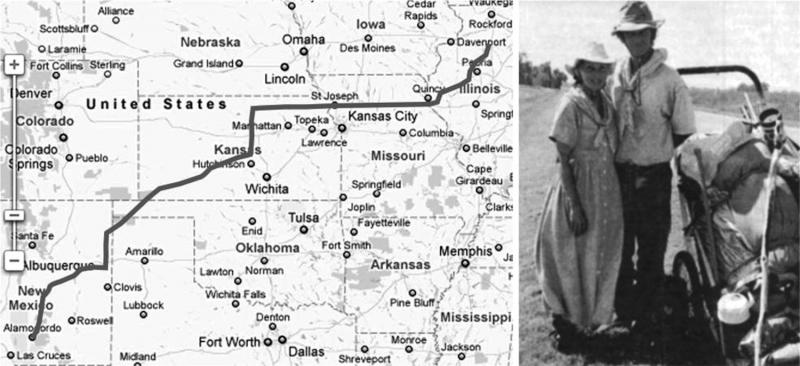 Complimentary Story
May 2022
This is only Day 3 and it is the beginning of our lessons in what can go wrong without any warning. Not that things always go wrong because there are blessings that keep us going.
Today I found a Standard Oil credit card lying at the side of the road. The person who lost it won't have to worry about us charging gas against his card! We will turn it in at the first Standard Oil Station we find.
We watched a pair of hawks for a few minutes. Hawks became a welcome and familiar sight. They were with us every day and we got to where we looked for them.
All of a sudden we faced our first real danger which caught us totally by surprise. It was our first lesson in paying close attention to what was around us. We tangled with our first dog. A pit bull mutt with a bad attitude. The dog came out from a house along the road and was so close to us before we saw him that I didn't get a chance to drop the cart so I could try to run him off. The only thing I could try and do was to keep the cart between him and Hadassah.
The owner's son heard the ruckus and came out from the house but he wasn't any real help in getting the dog under control. That dog had one thing in mind and that was to get to Shiloh. The boy just stood there yelling at his dog. Hadassah was trying to use her walking stick to ward him off when he would get past me and close to her and Shiloh.
The situation was looking pretty hopeless and I knew I had to get rid of the cart so I could get to my club and put an end to this. This whole show was going on in the middle of the road and that is where I dropped the cart, right in traffic. As I ducked out from under the handle I use to pull the cart, I stepped right into the end of Hadassah's walking stick as she took another swing at the dog. I got hit just below my right eye.
That made me all the more disgusted and I got hold of my club and told the boy he had better get his dog under control or I would. I went after the dog and he, apparently, didn't know what to do when the tables got turned and someone was after him.
I never did get close enough to him to even touch him. The dog circled around and went over by the boy to get away from me. The boy, who was about 14, finally got hold of him and told us (not very apologetically) that they have had trouble with him before. He drug his dog back to the house and we collected our cart from the middle of the road and put a little distance between us and the house before we stopped so Hadassah could check on my rapidly swelling eye. The dog got out of it all without a scratch and I got a shiner.
At least, it was over and no one got chewed up.
We are both near exhaustion from the exercise and the heat. I am not sure if I suffered worse mentally or physically today. As I think about it, I do believe the mental end of it got me the worst. I honestly cannot remember a time that I was so near complete exhaustion. The extreme heat along with the physical exertion was almost more than I could take.
Once again, we can only thank God we made it through the day. We know He put us here and we also know He will take care of us. That doesn't mean it will be easy, but it does mean that we will have whatever it takes to see this through to the end He has in store. "And my God will supply your every need according to His glorious riches in Christ Jesus." (Philippians 4:19 KJV).
I know Hadassah is having just as much trouble as I am, but neither one of us is really willing to express negative feelings during the day. We do talk, a little bit, in the evening about how hard it is. We don't feel there is any purpose in being negative. We know there is a reason for this and our faith will see us through. We have really been too tired to talk much at all anyway.
A very nice elderly gentleman, Henry, was kind enough to let us pitch our tent on his ground. It was a grassy area with large shade trees. Very pretty, cool and more appreciated than words could ever express. Hadassah was about ready to "camp" in the middle of the blacktop road.
Henry gave us a supply of fresh cool water, another big blessing. By the end of the day, our water gets to about the temperature of warm bath water and it tastes just about as good. In fact, that is where our bath water comes from. We use the water we did not drink during the day to wash in the evening. Then one of the first things we do in the morning is find a supply of fresh water.
God got us out of the dog fight, kept us going in spite of near exhaustion, and then provided fresh water and a great place to camp. Huge blessings at the end of the day.
"And I have been with thee whithersoever thou hast walked, and have cut off all thine enemies from before thee..." (I Chronicles 17:8 KJV).
Contact:
Harry@Virtually-Forever.com