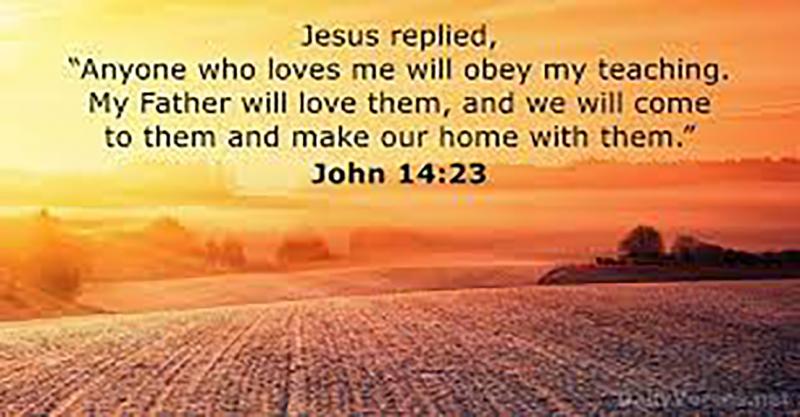 Complimentary Story
May 2022
Jesus said,
"Whoever has My commands and keeps them is the one who loves Me."
(Jn 14:21). And He goes on to give a beautiful promise,
"The one who loves Me will be loved by My Father, and I too will love them and show Myself to them."
This means that there is a CONDITION to abiding in Jesus' and God's LOVE! This is not something you will hear in most "churches" on Sunday mornings. But, if you truly love Jesus, you will KNOW AND KEEP His commands. And you cannot KNOW them if you are not in His Word regularly. One of God's commands is to "meditate on My Word day and night" so God says we are to be in His Word DAILY! If you are not in His Word, you are being disobedient to God. And God gives us this command not for Him, as it doesn't benefit God if we know His Word or not, but He does this for us. To protect ourselves from the wickedness of the world and to protect our families from the wickedness of the world. And, if we are not in His Word regularly, then we cannot and will not even KNOW God's Word, let alone, be able to keep it.
How God speaks to us is through His Word. This is why it is called His "living, breathing Word." And, if you ignore His Word, you ignore God! So you must be IN God's Word to know it.
And, you must KEEP God's commands too. It is not enough to know God's Word, you must keep God's Word. This means that we must be obedient to His Word (His commands). This is how we show our love for Jesus. And He even gives us the opposite of this statement, though we can safely assume the opposite is true even if He didn't spell it out for us,
"Whoever says, 'I know Him,' but does not do what He commands is a liar, and the truth is not in that person."
(1 John 2:4).
Keep in mind, whether you use the word "know," "follow," "believeth." "love" or put your "faith and trust" in Jesus, these words all mean the SAME THING!
So, you either know and keep Jesus' commands and show your love for Him or you are a LIAR and there is no truth in you!
So, are you saved by your "love" or "obedience?" No! That is a "works-based" gospel. That is a heretical and false gospel. But our "love" or "obedience" is the "fruit," the evidence or the results of our faith, not a partial means of it.
And the four greatest cries that come out of heaven are:
1). The First Commandment to love God with all our heart, mind soul and strength.
2). To love our neighbors AS ourselves. And our "neighbors" begins with the greatest need in this country. And the greatest need after the "Great Commission" is the only group of people who are being literally TORTURED TO DEATH, BY THE THOUSANDS, DAILY, without any type of protection from most "churches," most professing Christians and even any legal protection from the government.
3). The "Great Commission." Seven thousand people perish daily in this county and the statistics show only 2% (49 out of 7,000) are trusting in Jesus Christ and following Him (according to Bill Bright of the Campus Crusade for Christ), which means that 98% of them are dying without the Gospel!
4). True Repentance from our sin. Repentance requires a change of heart from doing the things we are repentant for, which will result in a change of actions. So, if we are repenting from the sins of disobedience, indifference and omission, we will stop committing these sins. Feeling bad or sorry for doing something but continuing to do it, is not repentance!
So, if you are going to profess to be a genuine Christian, you must KNOW AND KEEP Jesus' commands. And, at the forefront of these commands are these great cries that come out of heaven. And, if you are ignoring these great cries, then you are ignoring Jesus!
If you are ignoring Jesus, you should stop calling yourself a "Christian" because judgement begins in the house of God!
May God bless you with knowledge, wisdom, understanding and genuine love for His Word. And for the "least" of your "neighbors."
Email: BrianAish4@gmail.com or call me at 520-404-1142.