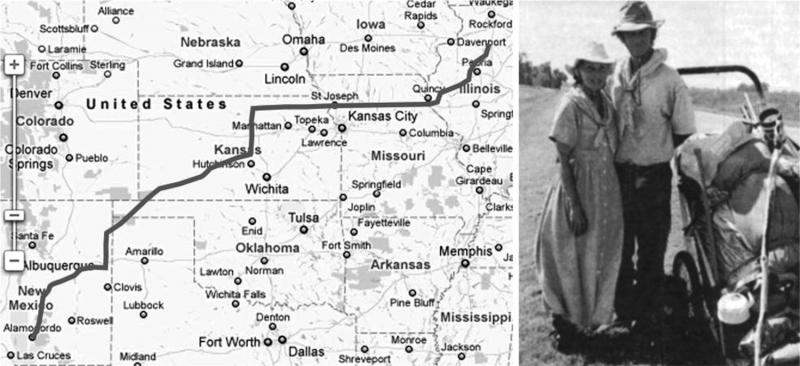 Complimentary Story
June 2022
The next few days began to show us a pattern of how God would keep His word about providing for us on our walk. Every time we were in need of something, whether it was food, water, a safe place to camp for the night, cash, or just a quiet place to rest during the day, our needs were met by people that stopped to offer whatever it was we needed.
We couldn't find a place to camp the sixth day and we ended up walking 17-1/2 miles before we came across some grain storage bins that would provide us a good place to spend the night. We asked at the farmhouse and the woman there said we could spend the night by the bins. Before we could even get the tent set up she came with a "Care Package" — biscuits with strawberry jam, homemade cake, a Hershey bar, a can of pork and beans, a banana, and a cold Pepsi. We feasted on these goodies along with the ham sandwiches a young man gave us earlier in the day. Once again God proved His faithfulness! Hadassah's legs are in terrible shape. They are swollen and very red. My right leg, back, and right shoulder are still giving me a lot of trouble.
We had stayed on secondary roads until now, but the hills were getting too steep to be able to pull the cart up them so we decided we needed to get to a main highway which would be much flatter. It was day 8 and unknown to us, we were about to become somewhat of a novelty on local television. A woman stopped and asked if she could call the local TV station, WMBD, in Peoria, Illinois. We told her that would be fine. We stopped to rest and listen to a preaching tape a pastor friend had loaned to us. He sent several of his tapes so we could hear God's Word while we were walking. We knew we would probably never be able to be in church. Just after we started traveling again, a man named Ben showed up from the TV station. He told us a woman had called the station and said there was a couple traveling on foot and she thought they were Amish or something like that. He didn't really think we looked too much like Amish. He stayed with us for about 6 miles, taking all kinds of pictures and interviewing us.
Before he left, he went into the next town, Elmwood, and brought us back a half gallon of pure orange juice, apples (2 big, beautiful ones), and a package of dried fruit. He also gave us $20.00 and said, "Every little bit helps." When we got into town, I got a bag of ice and we sat in the city park at the town square and feasted. We ate the huge apples with some peanut butter on them and drank ICED orange juice. WOW! Shiloh enjoyed an ice cube and cool water. What a welcome relief from the heat and humidity!
As we left town, we stopped at city hall and explained what we were doing and asked if there was any place we could camp in town. The woman called someone and the answer came back, "No," so we headed out of town.
Just across from a Dairy Freeze, a man pulled up, the mayor. He handed us $5.00 and told us to get something to drink while he checked with the churches to see if one of them might have a place we could stay. When he came back he would not take the change from his $5.00. He took me in his car a few blocks to a field that was owned by one of the churches and told us we were welcome to stay there for the night. He said that after the woman from city hall called him, he got to feeling guilty about someone coming through town and needing a place to stay and the town not being able to offer help, so he decided to try and help us find a place to camp. He even told the night patrolman where we were and to keep an eye on us to make sure no one bothered us through the night.
We are comfortably camped at the edge of a soybean field among weeds and bushes. Hope we don't pick up any chiggers! Hadassah says she keeps thinking about something she is sure God told her back when we were deciding if we should do the walk. One of her big concerns was the money. How could we afford it? God told her, "Just stand back and watch Me provide." He has done that wonderfully! First it was water, food, and places to camp. Now the Lord has started providing funds to use. (Philippians 4:19).
As the mayor was taking me to see the place he had arranged for us to camp, he started asking questions about what we were doing. As I briefly explained how the walk got started and how the Lord has provided everything we need, I could see doubt written all over his face. I answered his unspoken disbelief by being sure he understood he was now playing a part in supplying the answer to a present need. By the time we parted company, he was willing to admit he could see that he was a part of "something." (Colossians 4:6).
We were soon to see God's provision increase greatly as our needs got bigger. A physical encounter with an angel was only a few days away and a prophetic vision was fulfilled within minutes.
"And I have been with thee whithersoever thou hast walked, and have cut off all thine enemies from before thee..."
I Chronicles 17:8 (KJV).
Contact:
Harry@Virtually-Forever.com