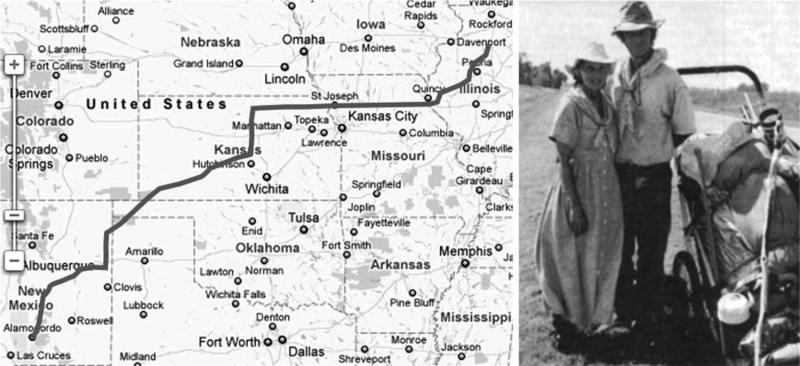 Complimentary Story
September 2022
Our first "unhappy" incident happened today. We had been walking for 16 days and God has provided for us just as He had promised. During the years prior to this, that we spent on the road with our truck, we saw first hand how dangerous the road could be. That fact is what made us hesitate so long before we finally decided to follow what God had told us to do and start walking without any real protection. At least our truck provided some semblance of security.
We always walk against traffic. A car approached going the same direction we were, so it was on the far side of the highway. We heard the car slowing down and turned to look as it stopped in the middle of the road. The young man behind the wheel said something to us. We both thought we heard him right, but hoping we were wrong. Both of us asked at the same time, "What did you say?" and he repeated it. What he said was too vulgar to repeat, but he propositioned Hadassah right there on the highway. I very quickly found out that I am not passive. I pulled the club that I carry right behind me on the cart, but before I could even drop the cart the young man took off. We have prayed for him and know that God will deal with his heart.
When he was gone, I told Hadassah to watch closely because he had been by once before and I expected him to come back. I definitely recognized him and his car. As we went on down the road and I thought about what had happened and what I had seen the first time I saw this young man, I realized that he had not been by before. What I saw the first time was this same person sitting in the same car looking at us. It was the very same thing we had just seen a few minutes before. I know the Lord had shown me of a danger that was about to happen, although I sure did not understand it at the time. Even though it was a very unfortunate incident, I felt an assurance that before anything major happens that will threaten us, I will know about it in advance because I know in my spirit that God gave me that promise and this incident was the proof of His promise to take care of us. Praise God again!
"And the LORD, he it is that doth go before thee; He will be with thee, He will not fail thee, neither forsake thee: fear not, neither be dismayed."
(Deuteronomy 31:8 KJV).
We stopped in the next small town where we got some groceries and spent some time in the park at the town square. We wrote some letters and postcards and talked with a few people that stopped by.
As we were leaving town, we passed a fast food restaurant as a car pulled out of their driveway and onto the highway. They stopped and the man rolled down his window and gave us the change he had just received at the drive up window. When he drove away, the car following him through the restaurant stopped and rolled his window down and asked if those people were giving us any trouble. I assured him they were just offering us some help and that everything was alright. He said he just wanted to make sure and then gave us the change he had just received. We thanked both of them, as we always do. Within a few minutes, the second car came by again. The driver felt that he had not done enough for us, so he went to an ATM and withdrew another $20.00 and gave it to us along with his business card. It turns out that he is the head of a group that helps people that find themselves in difficult (dangerous) situations. He told us to make sure we called the number he gave us and we would have whatever kind of help we need if we have a problem. This man is a perfect example of not judging someone by what we see. His business card said he owned a tattoo parlor and he displayed many examples of his work.
These little towns we have been going through, with their town squares, are delightful. People who travel the interstates are really missing out. Rural America is still out there, complete with the down home hospitality of friendly people.
It has been another day filled with the promises of God that He would take care of us. God physically showed us His promise of protection through the vision of the man that propositioned Hadassah and later the same day a man offered whatever help we may need from a group that he was the head of. Although we do not always receive what we think we need, God does provide what we need when we need it!
"But seek ye first the kingdom of God, and His righteousness; and all these things shall be added unto you. Take therefore no thought for the morrow: for the morrow shall take thought for the things of itself. Sufficient unto the day is the evil thereof."
(Matthew 6:33-34 KJV). He has been faithful through the provision of safe places to spend nights, money to use for food, gifts of food and water. He has shown us that His Word is true. We do not need to worry about tomorrow. It has already been taken care of!
Within two days we have a physical encounter with an angel.
"And I have been with thee whithersoever thou hast walked, and have cut off all thine enemies from before thee..."
(I Chronicles 17:8 KJV).
Contact:
Harry@Virtually-Forever.com