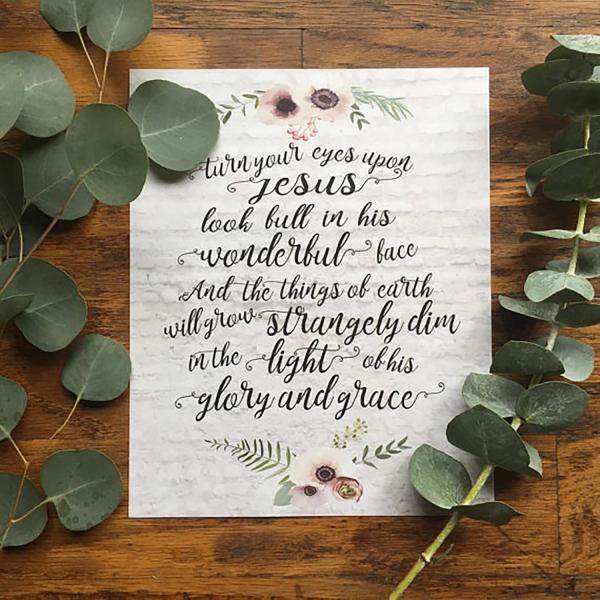 Complimentary Story
November 2022
"Turn your eyes upon Jesus; Look full in His wonderful face. And the things of earth will grow strangely dim, in the light of His glory and grace."
We live in a world of chaos. As born-again Christians, we desire that things and people would be godlier. We love God's way because they are perfect in every way. (Psalm 119). God's Kingdom will never fail, because God and Jesus Christ sit on the throne over this world. There should be no doubt in our minds that Jesus will eventually rule over everything. God promised us that He rules, and all the earth has always been His. In the book "Trusting God," Jerry Bridges wrote, if there is a single event in all the universe that can occur outside of God's sovereign control, then we cannot trust Him.
Jesus Christ Himself said we would have many trials and tribulations in this world, but Jesus Christ has overcome the world. 1 John 2: 15-17, "Do not love the world or the things in the world. If anyone loves the world, the love of the Father is not in him. For all that is in the world — the lust of the flesh, the lust of the eyes, and the pride of life — is not of the Father but is of the world. And the world is passing away, and the lust of it; but he who does the will of God abides forever."
God is not saying in these verses we should not be thankful for everything we have, because God has given everything to enjoy. Ask Jesus to reveal to you what these three things are. The most difficult one to overcome is the pride of life. But God gives us enormous grace to overcome all sin. Paul said "by the grace of God I am what I am." Paul recognized God's sufficient grace for everything he needed.
We were all saved by God's grace (Ephesians 2), and we will all enter the Kingdom of God by His grace only. Read the words of the song, "Amazing Grace." The fourth line assures us that God's grace will see us through. Why do we look fully into the face of Jesus Christ according to the song? Because when we do, Jesus gives us grace. Because of the old rugged cross...
"Oh, that old rugged cross, so despised by the world, Has a wondrous attraction for me; For the dear Lamb of God left His glory above To bear it to dark Calvary. So, I'll cherish the old rugged cross, 'Til my trophies at last I lay down; I will cling to the old rugged cross, And exchange it someday for a crown. In that old rugged cross, stained with blood so divine, A wondrous beauty I see, For 'twas on that old cross Jesus suffered and died, To pardon and sanctify me. To the old, rugged cross I will ever be true; Its shame and reproach gladly bear; Then He'll call me someday to my home far away, Where His glory forever I'll share."
Jesus Christ will pardon and sanctify me. Hebrews 10:11-14, "And every priest stands ministering daily and offering repeatedly the same sacrifices, which can never take away sins. But this Man, after He had offered one sacrifice for sins forever, sat down at the right hand of God, from that time waiting till His enemies are made His footstool. For by one offering He has perfected forever those who are being sanctified."
Jesus Christ made us perfectly holy in God's sight by His death and resurrection, and promises we are being sanctified by His Spirit who lives in us. The perfect blood of Jesus Christ will guarantee our salvation forever to be with God in heaven.
In Romans, God says that His kindness and goodness leads people to repentance. That is what grace is. God first loved us and gave us Jesus Christ even when we were dead in our sins. (Ephesians 2). Let us not forget the wonderful grace and power of the blood of Jesus Christ. There is God's almighty power in the blood and words of Jesus Christ our Savior and LORD!