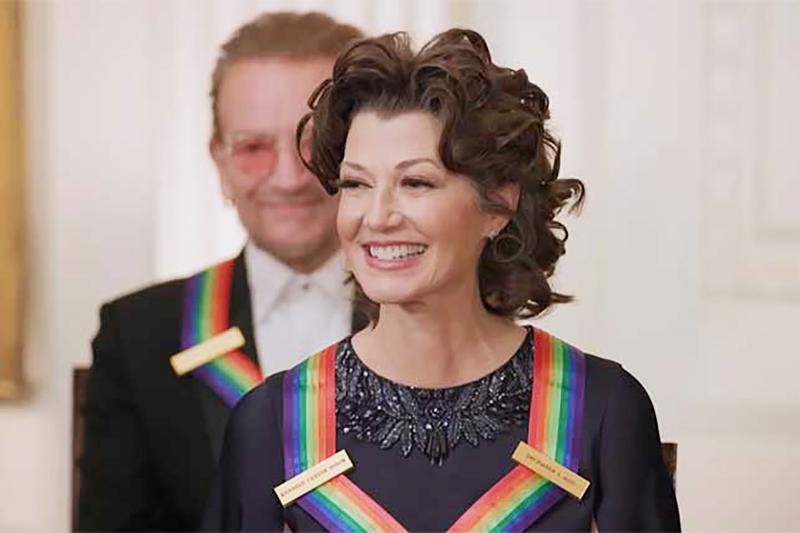 Complimentary Story
January 2023
Having been in the music business for over 30 years of my life, I can tell you what is real and what is not when it comes to those who claim to be what they are not (Matthew 23:3) especially, when it comes to the professors in the Christian scene. I have seen the modern-day church-goers (98%) proclaim to be what it is that they are clearly not.
They are hypocrites on so many levels. Jesus took much of His time telling us to beware of their hypocrisies (Matthew 23). They are, in many cases, the blind leading the blind (Matthew 15:14).
One of these hypocrites is Amy Grant. While the world praises her in her compromises and hypocrisies (Luke 16:15), many seem to not understand God's Word. Many have forgotten that Amy, when "crossing over" as they call it, forgot to bring the cross with her (Philippians 3:17-21).
Amy ends up in divorce and then marries another man, which Christ clearly defines as adultery (Matthew 5:31-32). The Church in America has clearly disregarded this commandment (1 Corinthians 6:9).
Is it any wonder now that Amy is hosting same-sex weddings, which have never been in the history of mankind and is in clear and blatant rebelliousness toward the very God that she claims to serve? Once again, what Amy is advocating for is in stark contrast to the Lord's commandments (Leviticus 18:22, 20:13). Scripture calls such behavior an abomination.
Of course, she has to hide behind a different gospel (Galatians 1:8) and says she believes that "Jesus wants us to 'love God and love each other.'" Of course, He does but not at the expense of His commandments (Psalm 19:11), which define what is holy is and what is sin (1 John 3:4).
Churchleaders.com reported:
"Amy Grant is Christian music royalty, having been recognized by The Kennedy Center Honors earlier this month (Dec. 6). Along with being nominated for 20 Grammy awards, Grant has been awarded over 20 Gospel Music Association Dove Awards over her successful career.
Grant pushed the boundaries of Christian pop music with her 1991 release of 'Heart In Motion.' The album would cross the barriers of Christian music, going on to sell more than 5 million copies.

"Grant's hit singles 'Baby, Baby,' 'That's What Love Is For,' and 'Every Heartbeat' propelled her into the limelight of secular radio stations and into the homes of pop listeners around the world.

"The Christian music queen of pop's success opened doors for other Christian artists like Michael W. Smith, who crossed into the secular music world with his hit album 'Change Your World' in 1992.

"Grant's influential platform has given her the opportunity to speak out for the LGBTQ community. In 2013, Grant did her first LGBTQ+ press interview with PrideSource.com for the promotion of her 'How Mercy Looks From Here' album.

"In that interview, Grant answered questions about her faith and the LGBTQ community. She shared, 'I know that the religious community has not been very welcoming, but I just want to stress that the journey of faith brings us into community, but it's really about one relationship. The journey of faith is just being willing and open to have a relationship with God. And everybody is welcome. Everybody.'"
In conclusion: It's a good thing that Amy Grant is not the standard. Jesus Christ is (John 14:6), and what she means to promote, God's Word clearly condemns.
Amy says that we are all welcome. She is right in this and yet, when they "come to the table," as she puts it, the message is "Repent for the kingdom of Heaven is at hand" (Matthew 3:2), and that applies to all of us.
What Amy Grant calls "love" is, in fact, hate. In Leviticus 19:17, it tells us
"Thou shalt not hate thy brother in thine heart: thou shalt in any wise rebuke thy neighbour, and not suffer sin upon him."
Furthermore, 2 Timothy 3:16-17 tells us:
"All scripture is given by inspiration of God, and is profitable for doctrine, for reproof, for correction, for instruction in righteousness."
Apparently, Amy forgot to read this passage! Amy calls it love to withhold God's truth when it comes to the sodomite communities. Shame on you, Amy!
SonsOfLibertyRadio.com