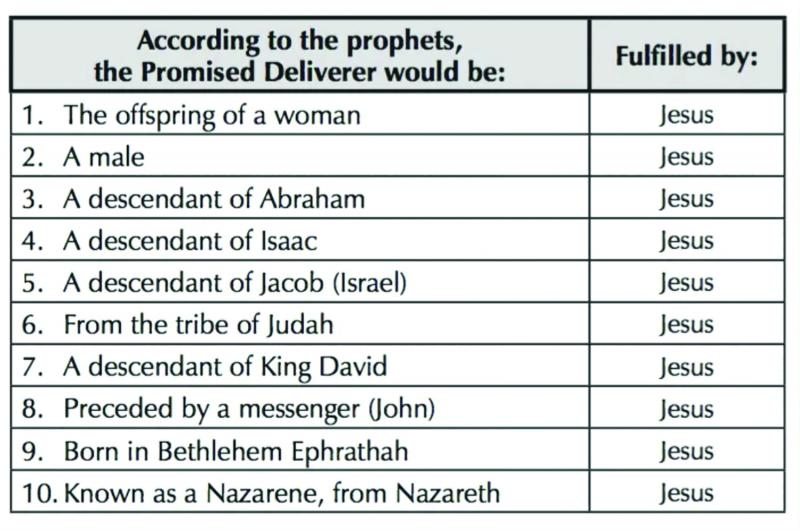 Complimentary Story
January 2023
Many Muslims claim that Christianity is a religion that was invented by Paul and others who lived in the 4th century. However, once again, we continue in our writing here that Christianity is not a religion. It is simply the fulfillment of many prophecies which were written hundreds of years before Christ came in the flesh.
Let us look at the prophecy concerning Christ and how He would be betrayed by His closest friends. We read about this in Psalm 41:9, which was written 1000 years before the coming of Christ: "Even My own familiar friend in whom I trusted, who ate my bread, has lifted up his heel against me." The fulfillment of this prophecy is found in Matthew 26:14-15a: "Then one of the twelve, called Judas Iscariot, went to the chief priests and said, 'What are you willing to give me if I deliver Him to you?'"
As for the price for the betrayal, we read about this in Zechariah 11:12-13: "Then I said to them, 'If it is agreeable to you, give me my wages; and if not, refrain.' So they weighed out for my wages thirty pieces of silver. And the LORD said to me, 'Throw it to the potter' — that princely price they set on Me. So I took the thirty pieces of silver and threw them into the house of the LORD for the potter." This was written over 500 years before the coming of Christ, and the price was for thirty pieces of silver. Once again, it was fulfilled in Matthew 26:15b: "And they counted out to him thirty pieces of silver." During this time, slaves were sold for 50 pieces of silver. It is amazing that those priests and Jewish leaders who rejected Christ as the Messiah knew of this prophecy of Zechariah, and all they had to do to disqualify Jesus as being the Messiah was to simply pay 31 pieces of silver. However, they paid exactly 30 pieces of silver.
It was the norm to execute a blasphemer in the Jewish law by stoning, but when it came to the killing of Jesus Christ, the Jewish people could not stone Him as they had done with Stephen in Acts 7:58-60: "And they cast him out of the city and stoned him. And the witnesses laid down their clothes at the feet of a young man named Saul. And they stoned Stephen as he was calling on God and saying, 'Lord Jesus, receive my spirit.' Then he knelt down and cried out with a loud voice, 'Lord, do not charge them with this sin.' And when he had said this, he fell asleep."
If they had stoned Jesus, this would have disqualified Him as being the Messiah. For in doing so, two prophesies would not be fulfilled. First, we read in Psalm 34:20: "He guards all His bones; not one of them is broken." Second, we read Jesus must be crucified according to Psalm 22:16: "For dogs have surrounded Me. The congregation of the wicked has enclosed Me. They pierced My hands and My feet." All this was fulfilled in the pages of the New Testament.
Not only would Christ be crucified, but He must be speared in His side as we read in Zechariah 12:10: "And I will pour on the house of David and on the inhabitants of Jerusalem the Spirit of grace and supplication; then they will look on Me whom they pierced. Yes, they will mourn for Him as one mourns for his only son, and grieve for Him as one grieves for a firstborn." We read of the fulfillment in John 19:34: "But one of the soldiers pierced His side with a spear, and immediately blood and water came out."
Jesus would be buried in a rich man's tomb was prophesied in the Old Testament in Isaiah 53:9: "And they made His grave with the wicked — but with the rich at His death, because He had done no violence, nor was any deceit in His mouth." The fulfillment is found in Matthew 27:57-60: "Now when evening had come, there came a rich man from Arimathea, named Joseph, who himself had also become a disciple of Jesus. This man went to Pilate and asked for the body of Jesus. Then Pilate commanded the body to be given to him. When Joseph had taken the body, he wrapped it in a clean linen cloth, and laid it in his new tomb which he had hewn out of the rock; and he rolled a large stone against the door of the tomb, and departed."
We can read about the prophecy that Jesus Christ must rise again from the dead on the third day in Psalm 16:10: "For You will not leave My soul in Sheol, nor will You allow Your Holy One to see corruption." We read of the fulfillment of this prophecy in Matthew 28:7: "And go quickly and tell His disciples that He is risen from the dead, and indeed He is going before you into Galilee; there you will see Him. Behold, I have told you." These are just a few examples of 300 prophecies which were amazingly written and then were fulfilled.
As for the question in part 1 of this article, which asked that if Christianity is any good, then why has it failed in defeating and eliminating Islam? This is another evidence that Christianity is true, for Jesus taught us a great lesson about the nature of the true faith and the number of those who will believe in it. This is found in the greatest sermon of all, the Sermon on the Mount, for in Matthew 7:13-14 we read: "Enter by the narrow gate; for wide is the gate and broad is the way that leads to destruction, and there are many who go in by it. Because narrow is the gate and difficult is the way which leads to life, and there are few who find it." If Christianity grew to have the largest number of followers, then that would mean that the teaching of our Lord and Savior Jesus Christ in Matthew 7:13-14 is not true. God forbid. For Jesus Christ is the Way, the Truth, and the Life. From His teachings we can bring the evidence that the large number of Muslim believers is one of many evidences that Islam is a false religion.
That is why Christianity is not taking over Islam or any other religion. Christianity is the only belief that offers the free gift of eternal life. It is not a religion that is forced on people by the edge of the sword nor is it gained by birth. If that were the case, then we can say with all confidence that since there are more that claim to be a Christian in the world, and with the mentality of our Muslim friends, that is evidence that Christianity is a true religion. However, here again we must emphasize that few of those who claim to be a Christian are a born-again Christian.
Do you want to know more about these prophecies and their fulfillments? Read the Bible. For more information about Islam, visit our website. To debate the information of this article, please call
941-223-3698
.
www.TheStraightWay.org