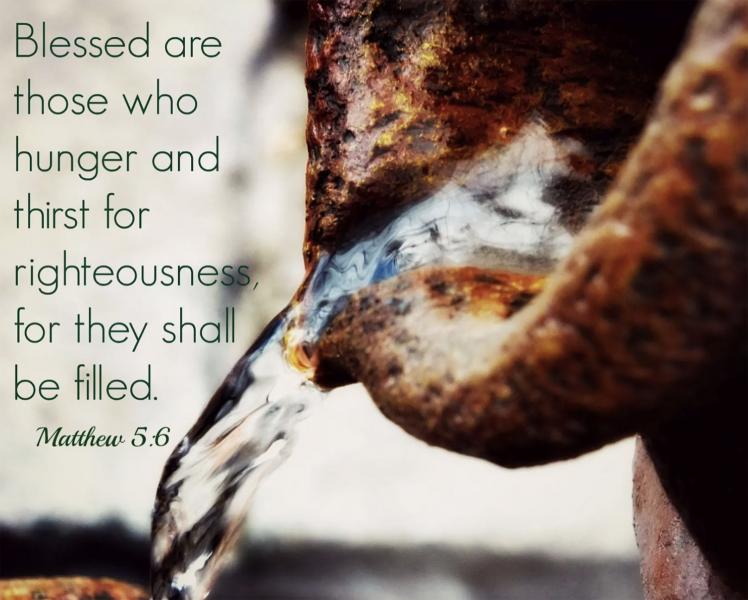 Complimentary Story
January 2023
"Blessed are they which do hunger and thirst after righteousness: for they shall be filled."
(Matthew 5:6). Why do we need righteousness? We need righteousness because; "As it is written, There is none righteous, no, not one: There is none that understandeth, there is none that seeketh after God." (Romans 3:10-11). Few people are bothered about this matter of unrighteousness, but they should be.
"Know ye not that the unrighteous shall not inherit the kingdom of God? Be not deceived: neither fornicators, nor idolaters, nor adulterers, nor effeminate, nor abusers of themselves with mankind, nor thieves, nor covetous, nor drunkards, nor revilers, nor extortioners, shall inherit the kingdom of God."
(1 Corinthians 6:9-10). If we do not inherit the kingdom, we will hear this terrible sentence from the King on the judgment day.
"Depart from Me, ye cursed, into everlasting fire, prepared for the devil and his angels."
Read that whole account in Matthew 25:31-46. It establishes the fact that we do need righteousness. So how do humans who are not righteous obtain that righteousness?
God, long ago, designed a plan whereby man can be forgiven of all his unrighteousness. God gave the Jews a system of sacrifices that atoned for their sins. Each year they had their special times when they offered the blood of animals on their altars. These sacrifices served until Jesus came. When John the Baptist saw Jesus he said,
"Behold the Lamb of God, which taketh away the sin of the world."
(John 1:29). Jesus' blood was sacrificed on the Cross and God was satisfied with that sinless blood as atonement for all the sins of all humans. However, only those who believe this will be saved.
But where does this hungering and thirsting after righteousness come into our experience? Hunger and thirst speak of desire. We desire to be righteous. Sin and unrighteousness is distressing. All the sinful conduct listed above come from fleshly desires and does not bring satisfaction. Sinful pleasures leave us feeling empty. When we hear the Gospel story of how we can be saved and delivered from our sins and we begin to believe and seek that deliverance, we are hungering after righteousness. When we seriously seek to know God and His truth we are hungering and thirsting after righteousness. God begins to fill us with His truth and righteousness. We are blessed.
Today, many religions are teaching a spurious grace. "Since we are saved by grace," they say, "it does not matter how we live because we are not saved by works." Notice this.
"For the grace of God that bringeth salvation hath appeared unto all men, teaching us that denying ungodliness and worldly lusts, we should live soberly, righteously, and godly in this present world."
(Titus 2:11-12). When Jesus saves us, He gives us His Holy Spirit and that Spirit bears fruit in our life. We are filled with the fruit of righteousness. Instead of living selfishly, we live to serve others. Instead of living for the next carnal pleasure, we seek for ways to be like Jesus. We are what Paul called "New creatures in Christ." We become the "workmanship" of Christ. When Christ makes us a new creature, we are greatly changed! Those around us know that we have been changed. When people claim to be Christian and then live in ungodly ways, they bring a reproach on Christ's name. They are not a part of Christ's kingdom and they will suffer along with Satan and his angels.
Hungering after righteousness means that we are tired of sinful living. You begin to read your Bible or you reach out to someone that you know is a Christian and you seek to learn about God. A Christian will tell you the story of Jesus and read to you from the Bible. They will help you to understand what repentance is and help you to repent of all your past sins. You will begin to read the Bible with a great "thirst to know" the will of God for your life.
God will give you knowledge of His will and you will have peace in your heart as you obey what He teaches you. Jesus will fill you with His righteousness!
Rod & Staff Publishers
W6053 County Rd. X
Withee, WI 54498
(715) 229-9400