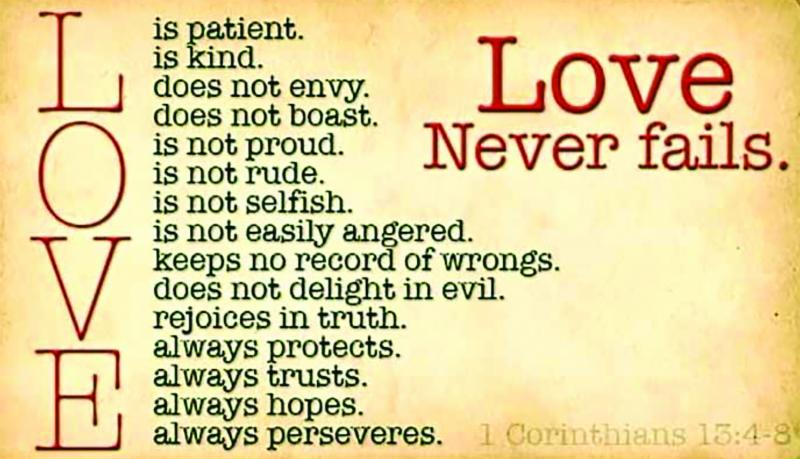 Complimentary Story
January 2023
In 1992, the book
"The Five Love Languages"
was published. It was written with the goal of helping people "express love to their mate." The intention of this book is God-honoring and can be a great tool in the hands of someone sincerely looking at how to love others well. However, I have most often seen this book misused. Like me, you also have probably been asked dozens of times, "what's your love language?" Most of us, because of our sinful selfish natures, not because of the book; read this book and walk away keenly aware of what makes us feel loved. Not necessarily caring or aware of what the love language of our spouse is. We may read the book and stare across the room at the one whom God has placed most closely in our life, silently asking the question… "what have you done for me lately?" Our natural tendency is to realize what we want and need as our primary focus; often not giving a thought to the 'other' in our life, except to make a list in our heads of how they could love us better.
"Love is patient, love is kind. It does not envy, it does not boast, it is not proud."
(1 Corinthians 13:4 New International Version).
This love God has defined for us in 1 Corinthians "is not proud." Other versions say that this love "is not puffed up" (New King James Version). This love is not all about itself. (This love cares more about the love languages of others than its own love language). The very nature of pride is that it thinks highly of oneself… one's desires, one's opinions, one's time and possessions.
Pride: adjective; 1). feeling deep pleasure or satisfaction as a result of one's own achievements, qualities, or possessions or those of someone with whom one is closely associated. "A proud grandma of three boys." 2). having or showing a high or excessively high opinion of oneself or one's importance. "A proud, arrogant man."
Pride puffs up our egos as we look at all we think we are and all we want. Pride is selfish. Love, as God defines it, is never selfish. Which is why love is not proud, and can never be proud, if it is to truly be love. Pride and love stand in opposition to one another. The contrast between doing something by myself versus for another; having someone do something for me versus me doing something for them; or focusing on what makes me feel loved versus what I can do to love those around me.
Love never points back to itself, but always has eyes searching outward to see who needs this gift of God and how it can be shared. Love is not proud, looking at one's own needs and desires. Love is humble, looking to the needs of others.
This example of humility expressing the love of God is best represented by Jesus. Phillippians 2:5-8 ESV,
"Have this mind among yourselves, which is yours in Christ Jesus, who, though He was in the form of God, did not count equality with God a thing to be grasped, but emptied Himself, by taking the form of a servant, being born in the likeness of men. And being found in human form, He humbled Himself by becoming obedient to the point of death, even death on a cross."
Jesus' greatest act of love toward us, dying on the cross, is the ultimate example of humility expressing the love of God. He was not puffed up or arrogant because of who He was; rather, He emptied and humbled Himself on behalf of each of us.
True agape love is so pure and powerful that it cannot be contaminated by our flesh's selfish nature. For once we begin to define it as anything that originates with us, is to our credit, or is focused on gratifying myself; it ceases to be agape love and becomes an entirely different thing… a love the world embraces, but an imposter of the love of God. This love is not to become one of our accomplishments, which we could take 'pride' in, but is a fruit of the Holy Spirit. This love is not achievable on our own, by our own efforts…it can only be evident in our life after we have received it as a gift from God…we love because He first loved us (1 John 4:19). Because this love originates with God, we can take no credit or pride in our distribution of it. For we are only giving away what was given to us for that very purpose.
Love is to be accomplished in our lives. Never viewed by us as personal accomplishment, but rather the work of God in us that is so powerful and effective that we cannot keep it from escaping. God's love can only be accomplished in our life as we love others. It must flow out of us to someone else to truly be agape love. This sacrificial nature of love, being always others-focused, is in direct opposition to the pride we so naturally embrace. We need not worry about how well others love us; for we carry the love of God, which is enough to fill every crevice of our heart and life. We can confidently go out into our home, our church, our community, and the world to share what we have been given, without a thought to what we might receive in return. For we have been given the gift of love on the front end of the giving from God Himself. It is an inexhaustible gift and we need not fear sharing it.
Instead of looking at our expectations of those around us to love us well, and asking them "what have you done for me lately?" as we enter into 2023, let's ask the Lord to show us who He has put into our path that needs to know His love, and how best to love them.
John 15:12-13 New King James Version,
"This is My commandment, that you love one another as I have loved you. Greater love has no one than this, than to lay down one's life for his friends."
Chris McMahan, 'Tea-vangelist'
Tea4Jesus.com
Email:
Happy1970@icloud.com
Please email me if you would like to
receive monthly ministry updates.