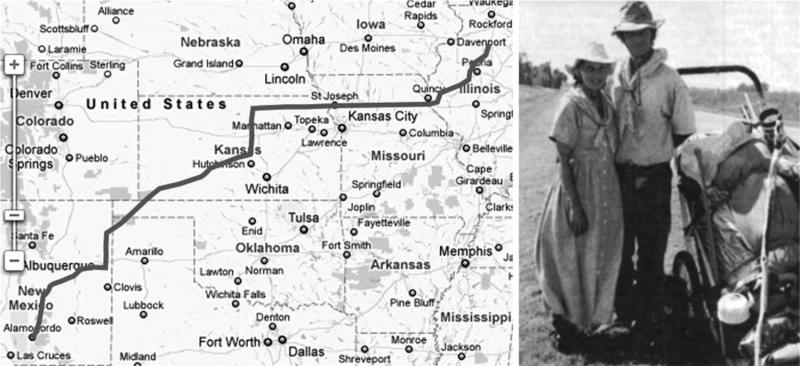 Complimentary Story
January 2023
After spending a relaxing weekend with a gracious young couple that took us in and treated us like family it was time to start our walk again. We got our cart packed again and started out.
It had rained early in the day and was quite humid. At least the shoulders were wide and blacktopped so the walking was easy. God once again provided when a couple of men stopped and gave us a bottle of spring water and a bottle of tea. They turned out to be the mayor of Hannibal and a friend who is celebrating his birthday today. They told us they are Christians and the mayor's friend gave us $20.00.
A reporter from a local TV station met us and did a short interview and got pictures of us walking. Another man stopped and talked to Harry a while and came back a little later and told us where we could camp for the night. About 4 miles from where we were. It was on some land with farm buildings, belonging to a friend of his who passed away.
We were within sight of where we were going to camp when thunderstorms broke out and by the time we reached the property it was raining so hard we could hardly see where we were going. Every time we looked up the rain beat in our face and eyes. The rain stopped shortly after we arrived and we got the tent up. Everything we have on is soaked, of course. Our boots are saturated. I suppose it will take a day or two of really good weather to dry them inside and out.
Praise the Lord! We have a safe place for the night. Once again, provided by God through a total stranger.
There is nothing I can think of that quite compares, in the "real world," to climbing out of bed, slipping into damp clothing, pulling on soggy boots, and hitting the road for a long walk. It is not exactly our favorite way of getting the day started! But, the day did get much better.
The young couple that took care of us over the weekend, drove out to find us and invite us to a barbecue at her parents' home in the next town. A young man was there who used to run cross-country. We told him about the problems we were having with our legs. He knew exactly what was wrong and what to do about it. He was amazed, when he looked at Harry's legs, that he was able to walk. The problem: shin splints. He showed us a very simple exercise that alleviates and also prevents this painful condition. Praise God! He has provided again. I don't know the young man's name. He was the boyfriend of one of the daughters. We sure thank him for his help and thank the Lord for getting us together. (Philippians 4:19)'
We stopped at a grocery store to get supplies and Seven Garden Dust to try to help keep ticks off of our faithful dog Shiloh. The ticks are getting horrible. We pull anywhere from 20-40 ticks off of Shiloh every evening (not to mention the ones that were on us). His tick collar is worthless.
A couple of young ladies were having car trouble in front of the grocery store. They were 60 miles from home and very upset. Harry worked a couple of hours trying to get their car going without success. It turned out to be the starter. By the time we left, they were calmer and help was on the way. They were nice and Hadassah got to witness for the Lord just a little to one of them. She had a Christian background and knew she needed to put her faith in God and get her life in order. She was friendly and receptive and we enjoyed a good talk together.
Harry needed to get a part for their car and the nearest parts store was about a mile away. Just as he was getting ready to walk to the store, a man stopped in his car and asked if we needed any help. Harry explained what was happening and he would appreciate a ride to the parts store. The man told him, "No," and drove away. When Harry got back he was with the same man in the man's car. Harry told me later the man thought about what he had done and got to thinking that we were the two people he had just seen interviewed on television. He had turned around and met Harry about a ¼ mile down the road, apologized, and asked if he would still like a ride.
I was a little hesitant about buying the part because I was not sure it was the cause of the problem and it was the last $20.00 we had. I am sure the Lord told me He would replace the money before the day was over. Keeping with His promise of replacing the money, a man stopped later in the day and gave me $20.00.
We camped that night just over a railroad track in a little arbor of trees next to someone's dump. Other than the fact the dump looks like a haven for snakes and all kinds of critters (Praise God! we didn't see any) it is a neat campsite. It was quiet, out of sight, and really, kind of pretty if you spend your time looking out over the river valley instead of at the dump.
"And I have been with thee whithersoever thou hast walked, and have cut off all thine enemies from before thee..."
(I Chronicles 17:8 KJV).
Contact:
Harry@Virtually-Forever.com