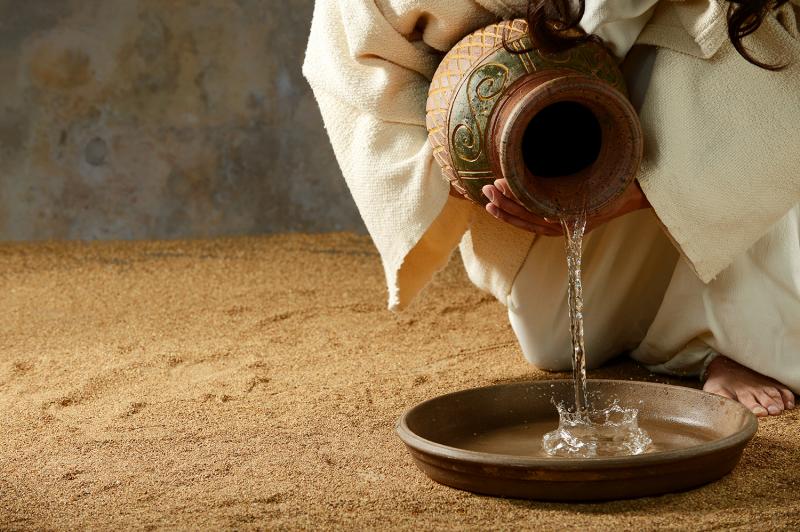 Complimentary Story
January 2023
In the past months we saw from the Scriptures, God the Creator of all things, "and without Him was not anything made that was made" (John 1:3). As God the Father, Son, and the Holy Spirit planned creation, there was a purpose for everything they did, all for one main purpose as their focus...that being to preserve a faithful remnant that would love and serve their Lord God with all their heart, soul, and mind, and with all their strength (Mark 12:30). Why? Because He, with great love, first served us in providing for all our needs; including His forgiveness of our choosing to listen to the father of lies, and embracing the knowledge of evil. He being "just to forgive us our sins, and to cleanse us from all unrighteousness," if we confess that we are sinners and turn from our wicked ways, being faithful as He has promised in I John 1:9. We become free to love and serve such an awesome and loving God!
What does it mean to serve? In the Hebrew (5647-"Abad") it means to cultivate, to work, enslaved, to do the work expected, for whatever the reason. God commanded in Deuteronomy 6:13, "thou shalt fear (have respect and honor) the Lord thy God, and serve Him." And in Deuteronomy 11:13, God said, "Harken diligently unto My commandments which I command you this day, to love your God, and to serve Him." In Psalm 100:2-5 the psalmist states, "Serve the Lord with gladness. Come before His presence with singing. Know ye that the Lord, He is God: it is He that hath made us, and not we ourselves; we are His people, and the sheep of His pasture. Enter into His gates with thanksgiving, and into His courts with praise: be thankful unto Him, and bless His name. For the Lord is good; His mercy is everlasting; and His truth endureth to all generations."
One of three Greek words for "serve" is (1398-"douleuo") which means to be a slave to, to be in bondage to; Frequently used without association of slavery but voluntary. The other two we will look at in a future article. In Matthew 6:24, "No man can serve two masters… Ye cannot serve God and mammon (money)." Both are served as a voluntary choice, but only the one, money, can become involuntary and enslaving. Whereas serving God is always voluntary, because of the promised benefits, we serve with gratitude! In Luke 15:11-32 is the parable of the prodigal son who chose to serve riches and lost it all. But his older brother chose to serve his father with contentment, until his brother came home to receive compassion and forgiveness from his father. Then the fact became evident that the older son did not serve his father with gratitude in verses 28-32, but became jealous of his brother because of his entitlement mentality. And he was angry, and would not go in" to celebrate his brother's return!
Paul addresses this subject in Romans chapters six through sixteen. In the first five chapters, Paul states all the reasons for us to give up serving the flesh and creation more than the Creator, for all have sinned. He establishes in the first chapter, that our Creator has supreme authority over all that was created. Also, that man is without any excuse to not believe this, but of their own freewill choose to serve the desires of the flesh. In Romans chapter five, Paul explains the work of God's love which compelled Him to have compassion on man to provide grace sufficient for all our needs, including a just way to forgive and cleanse us from all wrong thinking. (I John 1:9). All this was planned before creation (Revelation 13:8).
In Romans chapter six, Paul starts with a number of questions. Since God has provided grace, everything sufficient to meet our every need, "What shall we say then? Shall we continue in sin, that grace may abound? God forbid. How shall we, that are dead to sin, live any longer therein? Knew ye not, that so many of us as were baptized into Jesus Christ were baptized into his death?" This is Spirit baptism, not water baptism, for water baptism does not save, but is a token of our faith in the work of God which He has provided, that we could not do to escape the penalty of our sins!
"Therefore we are buried with Him by (Spirit) baptism unto death (death of the old man that lived by the flesh): that like as Christ was raised up from the dead by the glory of the Father (He that raised up Christ from the dead shall also quicken your mortal bodies by His Spirit that dwelleth in you — Romans 8:11), even so we also should walk in newness of life." This is not just in eternity, but now! The Spirit shall make alive our "mortal bodies," to "walk in obedience in newness of life. For if we have been planted together in the likeness of His death, we shall also in the likeness of His resurrection."
"In His likeness..." what does that mean? Let's look at Philippians 2:5-9 as to what Paul describes as the mind of Christ, which led Jesus through the process of fulfilling the plan made before creation (Revelation 13:8) to be "the Lamb of God slain from the foundation of the world." Paul states, "Let this mind be in you, which was also in Christ Jesus: Who being in the form (3444-totally) of God, thought it not robbery (to take what did belong to Him) to be equal with God: But made of Himself of no reputation, and took upon Himself the form (3444-again totally) of a servant, and was made in the likeness of man (calling Himself the Son of man): And being found in fashion (4976- all that is intrinsic with a human body) as a man, He humbled Himself (surrendering Himself as a man totally to the will of the Father, John 8:28-29), and became obedient unto death, even the death of the cross."
Likewise this mind is to be in us, to give up our God given freewill to be our own god to serve the gods of our own choice, which God said to Adam (Genesis 2:17) " of the tree of the knowledge of good and evil… for in the day that thou eatest thereof thou shalt surely die." And as God also said in Ezekiel 18:4, 20; "Behold, all souls are Mine (I have created all of them!); as the soul of the father, so also the soul of the son is Mine: and the soul that sinneth, it shall die… The son shall not bear the iniquity of the father, neither shall the father bear the iniquity of the son." We only are responsible for our choices of wrong thinking (iniquity) and wickedness. Likewise we only are responsible for our choices of right thinking (righteousness) and our obedience to God by the baptism into Christ, with humility and surrender becoming a total servant to the Holy Spirit. Thus being "planted together in the likeness of death… Knowing this, that our old man is crucified with Him, that the body of sin might be destroyed, that henceforth we should not serve sin. For he that is dead, is freed from sin." Dead men do not sin!
"Now if we be dead with Christ, we believe that we shall also live (quicken our mortal bodies) with Him. Knowing that Christ, being raised from the dead, dieth no more; death hath no more dominion over Him. For in that He died, He died unto sin once: but in that He liveth, unto God (the Father in obedience John 8:28-29). Likewise (let this mind also be in you!) reckon ye also yourselves (a choice of our free will) to be dead indeed unto sin (and again, dead men do not sin!), but alive unto God through Jesus Christ our Lord. Let not sin therefore reign in your mortal body, that ye should obey it in the lust thereof. Neither yield ye your members as instruments of unrighteousness unto sin," as in the example of Cain in Genesis 4:5-8 when Cain was angry without cause for God's rejection of his offering, the best of his crops. "And the Lord said unto Cain, Why art thou wroth (angry)? And why is thy countenance fallen? If thou doest well (implying Cain did something wrong!) shalt thou not be accepted? And if thou doest not well, sin lieth at the door and unto thee shall be his desire (that desire of the flesh), and thou shalt rule over him (the law of the flesh I John 2:16, "The lust of the flesh, and the lust of the eyes, and the pride of life is not of the Father, but is of the world"). And Cain talked with Abel his brother; and it came to pass, when they were in the field (refusing to rule over his anger without a cause), that Cain rose up against Abel his brother, and slew him."
Servants of God do not have unconfessed sin in their lives, for it will render our lives useless for our calling and an abomination to the purpose of God and His holy name! Continuing in Romans 6:14, "For sin shall not have dominion over you: for ye are not under the law (to serve the flesh), but under grace (every provision God has made before creation that we would walk in them). What then? Shall we sin, because we are not under the law, but under grace? God forbid (!!!) Know ye not, that to whom ye yield yourselves servants to obey, His servants ye are to whom ye obey: whether of sin unto death, or of obedience unto righteousness? But God be thanked, that ye were (yes were) the servants of sin, but ye have obeyed from the heart (yes the heart is changed only by the power of the Holy Spirit when one yields to the baptism of the Holy Spirit unto the death of the flesh) that form (5174- a model for warning, an example, a pattern) of doctrine which was delivered you. Being then made free from sin, ye become the servants of righteousness (right thinking)."
Paul understands the power of the flesh as a man, "for as ye have yielded your members servants to uncleanness and to iniquity unto iniquity," perverting what God had said was very good in Genesis 1:31, adding more perverted thinking to already perverted thinking. "Even so now yield your members servants to righteousness (right thinking) unto holiness." If we spend as much effort to serve God as we did to serve the flesh, "for when ye were the servants of sin, ye were free from righteousness (right thinking). What fruit had ye then in these things whereof ye are now ashamed? For the end of these things is death. But now being made free from sin," because He is faithful and just to forgive us our sins, if we confess our sins, cleansing us from all wrong thinking, I John 1:9. Now "become servants to God, ye have your fruit unto holiness (living as we were created to live, in a world filled with iniquity), and the end everlasting life. For the wages of sin is death; but the gift of God is eternal life through Jesus Christ our Lord."
This was God's plan from even before creation. In Isaiah 43:9-11, "Let all the nations be gathered together, and let the people be assembled: who among then can declare this, and shew us former things? (Oh they try to explain everything as if there is no God!) Let them bring forth their witnesses, that they may be justified: or let them hear, and say, it is truth. Ye are My witnesses, saith the Lord, and My servants whom I have chosen: that ye may know and believe Me, and understand that I am He: before Me there was no God formed, neither shall their be after Me. I, even I, am the Lord; and beside Me there is no Savior."
Choosing to not believe God's every Word does not make it untrue, but we only deceive ourselves when we refuse to serve our Lord God, and Creator! He is King of kings, whether we make Him our King or not! It is not a matter of whether we serve, but, Who do we serve?