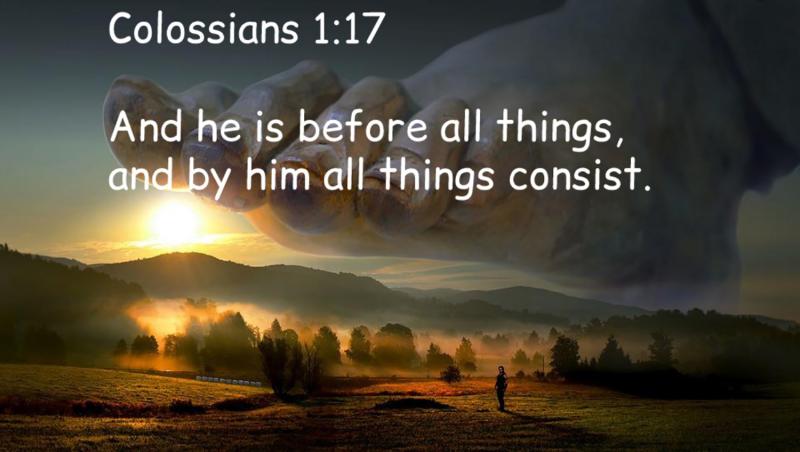 Complimentary Story
January 2023
Daniel 4:34-35,
"And at the end of the time I, Nebuchadnezzar, lifted my eyes to heaven, and my understanding returned to me; and I blessed the Most High and praised and honored Him who lives forever. For His dominion is an everlasting dominion, And His kingdom is from generation to generation. All the inhabitants of the earth are reputed as nothing; He does according to His will in the army of heaven, And among the inhabitants of the earth. No one can restrain His hand, Or, say to Him, 'What have You done?'"
Colossians 1: 15-18,
"He is the image of the invisible God, the firstborn over all creation. For by Him all things were created that are in heaven and that are on earth, visible and invisible, whether thrones or dominions or principalities or powers. All things were created through Him and for Him. And He is before all things, and in Him all things consist. And He is the Head of the body, the Church, who is the beginning, the firstborn from the dead, that in all things He may have the preeminence."
Think about these verses. Ask God to show you how much He controls. God does reveal these things to us so we will trust Him. Jesus told His disciples,
"trust in God, trust also in Me."
God desires us to trust Him completely, and throughout the entire Bible, He promises us peace when we do.
The problem we have is living by sight and not faith. Jesus said in this life we will have troubles. We do not have to look far to find problems large and small in this life. Jesus said not to be anxious about anything. This almost seems a little bit crazy. How is it possible not to be anxious about everything that is going on in this world? If Jesus said "do not be anxious," He can accomplish this for our souls. Everything Jesus commands for us as His children is possible by His grace.
Psalm 33,
"The Lord brings the counsel of the nations to nothing; He makes the plans of the peoples of no effect."
Proverbs 3,
"The king's heart is in the hand of the Lord, Like the rivers of water; He turns it wherever He wishes."
Even the wind and water obey Christ. Read Luke 8. If Jesus can speak the wind, does He not control everything on earth? Now I know that we must obey the Lord Jesus by submitting to His Spirit. But what about just trusting Him for His sovereignty over everything? I listen to a lot of Christian teaching on the radio, but I do not hear much about the sovereignty of Jesus Christ. I know that we are supposed to expose the lies of this world. I know that we are supposed to stand for the truth of God's word. Do we really believe that Jesus Christ is the same yesterday, today, and tomorrow? God never changes His character. Exodus 3:
"And God said to Moses, 'I AM WHO I AM.'"
Psalm 46:
"God is our refuge and strength, a very present help in trouble. Therefore we will not fear, even though the earth be removed, and though the mountains be carried into the midst of the sea; Though its waters roar and be troubled, Though the mountains shake with its swelling. There is a river whose streams shall make glad the city of God, the holy place of the tabernacle of the Most High. God is in the midst of her, she shall not be moved. God shall help her, just at the break of dawn. The nations raged, the kingdoms were moved; He uttered His voice, the earth melted. The Lord of hosts is with us. The God of Jacob is our refuge. Selah."