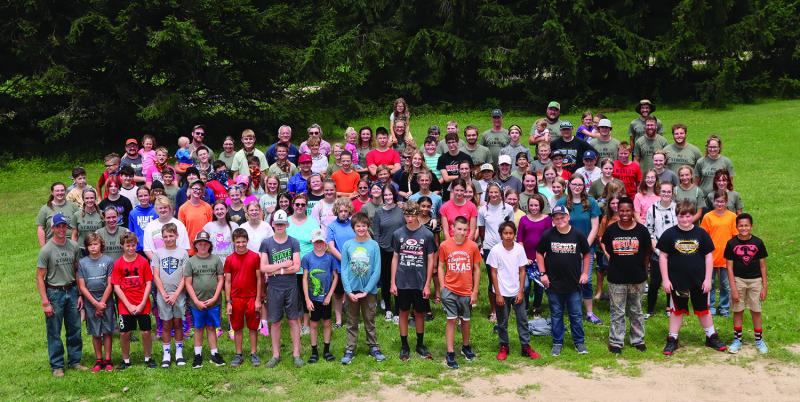 Complimentary Story
March 2023
As one navigates the Scriptures, they cannot help but stop in all the usual places: Creation in Genesis 1, Noah's Ark in Genesis 6, The Ten Commandments in Exodus 20, The Battle of Jericho in Joshua 6, The Kinsman Redeemer in the book of Ruth, Queen Esther in the book which bears her name, The Heart of the Man after God's Own Heart in the Psalms, Wisdom in Proverbs, The books of Prophecy, Jonah and the Great Fish, The Life of Christ in the Gospels, Paul's Missionary Journeys in the Epistles, The Hall of Faith in Hebrews 11, and a glimpse into the end times in the book of Revelation. This survey of Scripture, of course, does not come close to covering the entirety of its message. One commonly overlooked passage is Acts 17. It's in verses 6-7 that we find our theme for camp this year at Trail Ridge:
"And when they found them (Paul and Silas) not, they drew Jason and certain brethren unto the rulers of the city, crying, These that have turned the world upside down are come hither also; Whom Jason hath received: and these all do contrary to the decrees of Caesar, saying that there is another king, one Jesus."
What was it that turned the world upside down? The preceding verses indicate that it was the preaching of the Gospel that had shaken up the people in Thessalonica. What offensive hate speech! These fear-mongers, these bullies had the audacity to share hope with this city. They expected the world around them to conform to the teaching of God's Word. The people who spoke truth to people dying in sin were the ones in the wrong. Sound familiar?
It is this message of the hope we can have through Christ that will be taught at Trail Ridge this summer. We'll be talking about the Gospel, missions, boldness, and so much more as we explore the theme, "Topsy Turvy." It's our prayer that through the summer of ministry at camp, there will be many young people fully surrendered to God's calling on their lives, and they will confidently follow Him.
Our staff and speakers are excited to share this message with campers in creative ways as they participate in camp this summer. Young people from 3rd-6th grades can attend Kids Kamp. Middle schoolers in 6th-9th grades can attend either of our weeks of Junior High Camps. High Schoolers from 9th-12th grades can attend Teen Camp.
Family Camp, this summer, will feature our special speaker, Carl Kerby with "Reasons for Hope." With his quick wit, vivid media presentations, engaging discussions, and the perpetual admonition to "Stay Bold", Carl will bring challenging messages at each of the sessions during Family Camp (July 5-8). This short week of family camp is perfect for all ages from little ones to grandmas and grandpas.
This summer, youth campers have the ability to attend a week of camp for just $100. Fifteen meals, five nights of lodging, nine chapel sessions, and countless opportunities for spiritual growth and tons of fun! (It is recommended that campers bring spending money for crafts, snacks, and souvenirs.) The $100 Early Bird Registration ends on April 30th. After this date, the cost will be raised to $125. Regardless of when a camper signs up, the value of camp remains.
Registration is available online RIGHT NOW at
TrailRidge.org
. Our web site is chock-full of more information about Trail Ridge. Listen to VCY America on Wednesday mornings at 8:00 Central for weekly updates on Trail Ridge.
Trail Ridge would not be possible without the volunteers and donors that make things happen. We'd greatly appreciate your consideration of any level of support for this ministry. Cost for summer campers is kept at the lowest rate you'll find in the state of Wisconsin due to the generous giving of many to the Camper Scholarship Fund.
At whatever level — Camper, Parent, Volunteer, Donor, Prayer Warrior — we'd encourage you to be involved at Trail Ridge this summer!
Trail Ridge Camp is located at
S2695 Cherith Way, Hillsboro, WI 54634
. Connect with us online at
TrailRidge.org
, email
info@trailridge.org
or call
608-489-3810
.