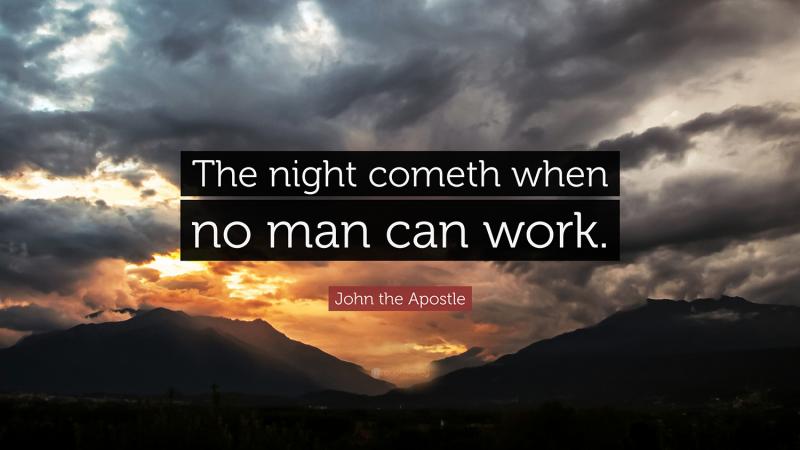 Complimentary Story
March 2023
The more I get older, the more I realize how few the days of my life may be. They are certainly less than they were a week ago, a month, a year and certainly a decade ago. We don't often live life with that thought in mind, but it remains true regardless. The Bible says in the book of James 4:14
"...For what is your life? It is even a vapour, that appeareth for a little time, and then vanisheth away."
With the awareness that our days are limited on this Earth, it is wise to ask the Lord to
"teach us to number our days, that we may apply our hearts unto wisdom."
(Psalm 90:12) Using our time — our very life — wisely, for eternal things, for the things of God and His Kingdom is of paramount importance. None of us get to live today over again. So much time, energy, and resources are wasted on the trivial. This is indeed how the world lives. But it should not be so for the true believer, disciples of our Lord Jesus Christ.
With that in mind, here are a few thoughts on making one's life count for God — or as Scripture puts it
"Redeeming the time, because the days are evil."
(Ephesians 5:16).
One thing we can do is to get the Word of God out to the world. There are a number of ministries that send Bibles to various parts of the globe, both new and used Bibles, in many languages. Millions of people are suffering worldwide due to a lack of the Scriptures. We can offer extra copies of Bibles we possess to these ministries, or we can send the money necessary for their printing, shipment, and placement.
Along those lines, there are various tract and literature ministries that produce voluminous amounts of Gospel literature. A few of my favorites are Pilgrim Tract Society (Randleman, NC), World Missionary Press (New Paris, IN), and Fellowship Tract League (Lebanon, OH). These ministries can be supported financially. But better yet, contact them and get a bunch of tracts to use on your own. It's easy to enclose a tract with every bill or greeting card you send out. Tracts can be left with tips at diners, or in other places they may be found. Testimonies are many from individuals who have been reached for Christ by Gospel tracts. They are often called the "silent witness." Almost anyone can do this.
Another way to go to work for God is the roadside placement of Scripture signs. The Bible says His Word "shall not return unto me void." (Isaiah 55:11). If you own property along a roadside, or know of someone that would gladly put up a sign, or even your church — this is a great way to have perhaps hundreds or thousands of people per day see a Gospel witness. Signs get the Word out whether we are working or sleeping. An ad appears each month in the
Wisconsin Christian News
for Free Christian Signs! (See Page 12). I've spoken to the director, Tom Harrison, a gracious Christian gentleman. The Lord has put it on his heart and his wife's heart to produce these attractive Gospel signs for anyone who can use them throughout this country. Did I remember to say FREE? What a great and creative idea! While they are free, this fine couple could certainly use some donations to help them in this work if you are so led. It takes gas to transport these signs long distances. They could also use your prayers as well.
Another source for Gospel signs is Watchman Gospel Signs in Oregon. These are modestly priced, 2 feet by 3 feet signs with Scripture or Gospel statements on them. They are another great way to witness; I've used some of these signs myself. They have multitudes of different signs available.
Another avenue for making your life count for God is by supporting important Christian radio broadcasts. Supporting ministries that use shortwave radio to send the message into foreign lands — many of them which are hostile to the Gospel — may reach people who would never hear about Jesus Christ otherwise. Two programs here in America that I believe are very important are Crosstalk America with Jim Schneider (whose columns appear in the Wisconsin Christian News); and Viewpoint with Chuck Crismier. Both of these radio programs tackle the issues of the day from a Biblical perspective and with penetrating insight. Tell others about them. Support them if you can, and listen often!
There are many ministries that are truly in the trenches, on the street and in the gutter, rescuing the perishing, helping them to overcome addiction and to save lost souls. Two great examples are Pacific Garden Mission (Chicago, IL) and Teen Challenge (Brockton, MA). Lives are changed for eternity by ministries like these, and are worthy of the support of Christians. They help with physical and emotional needs, but recognize that the greatest need is a life transformed by the Lord Jesus Christ! Stories of redeemed lives are inspiring, encouraging, and demonstrate the truth that
"...if any man be in Christ, he is a new creature: old things are passed away; behold, all things are become new."
(2nd Corinthians 5:17).
You might also consider becoming a volunteer distributor for this newspaper. Volunteer distributors receive bulk copies of
Wisconsin Christian News
each month and stock them in news racks in public places. Because it is in newspaper format, thousands of people pick up a copy each month and it has changed many hearts and lives. It's also used extensively in prison ministries, hospital chaplains and by others who minister out in public.
Wisconsin Christian News
is also reader-supported, meaning that it only survives as the powerful outreach ministry it is, because of donations from individuals like you!
There are many other ways to make your life count for Christ, ways that require more personal involvement. Some examples might be visiting nursing homes to share Jesus Christ. So many of these dear people are nearing the end of their time here on Earth and need to be prepared for eternity. They need to become born-again, blood-bought children of the King, our Lord Jesus Christ. Having had a religious upbringing years back is insufficient. They will still go to Hell without Jesus.
Prison ministry is along these same lines. It takes a particularly burdened person for this type of ministry, but the incarcerated need the Gospel as well. These are people that need redemption just as much as anyone.
Supporting a Crisis Pregnancy Center and volunteering in some capacity is a wonderful ministry where believers can assist and encourage young mothers to bring their precious babies to term, and to help them physically, emotionally, financially, and spiritually to be better equipped to love and take care of their babies. Caring for babies and children is big with Jesus. He would have us to have that same compassion. Many of these mothers (and fathers too!) have found Christ through these centers of mercy!
It takes a lot of prayer and passion to go out to the streets — the highways and byways — and seek the lost. To approach them and speak to them lovingly about their eternal destinations. Sometimes a good supply of tracts can help by having something to give to those you talk with. Again, tracts have often been the seed that is planted in the hearts of the lost, and the message is always relevant and can be read over and over again. They can cause a person to be convicted and see their need for the Saviour long after a conversation may have ended.
At some point our earthly journey will end. What have we done to make a difference for eternity? We can start by getting excited about Jesus Christ and His Kingdom! I believe it is His desire that we work
"while it is day: the night cometh when no man can work."
(John 9:4). Be creative! Be enthusiastic! Make your life count for God!
Email: dflein@yahoo.com