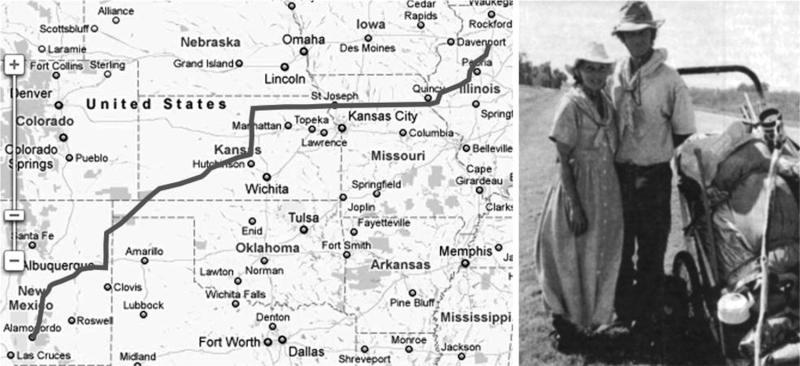 June/July 2023
Our clothes were soaked with sweat, we were covered with road dust, and we were so hot and tired we were barely moving when we got off the highway.
God made provision for a retired minister, Dan, to see us coming into town and he stopped to ask if we needed a place for the night. He told us the ministerial alliance would provide lodging for the night and a meal. Harry told him that would really be appreciated but what we had to do right now was find a place to sit in the shade and get something cold to drink. We had to cool our bodies off. We were very close to heat prostration and could not do anything until we cooled off. He told us about a park and a grocery store a few blocks away.
As we walked on into town we passed a driveway with broken cement that caused a good-sized hole. It had rained in town today and the hole was full of water. Without breaking stride Shiloh plopped himself, spread eagle, in the middle of it. We let him enjoy this unexpected refreshment for a few minutes before going on. He was quite a sight lying there enjoying the water, oblivious to everything else. (Proverbs 12:10).
As we got to the park, Dan drove up with ice and a liter of Pepsi. After we cooled off and rested in the park, he took Harry to a motel to see if we could get a room for the night.
Dan took Harry to the pol ...