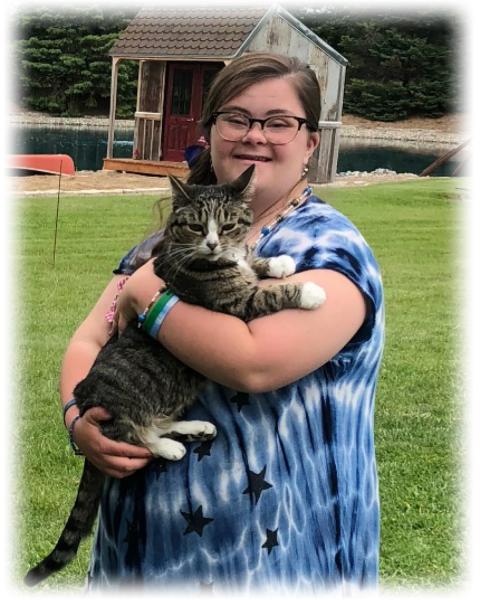 Complimentary Story
October 2023
The Schara family commemorated the anniversary of Grace's birthday on September 22, 2023 by doing something that was always an enjoyment for Grace — visiting a go cart track where she enjoyed a leisurely drive around the track. Grace would have been 21 years old had the medical community not taken her life so cold heartedly.
The Scharas filed a lawsuit against five doctors: Gavin Shokar, M.D., David Beck, M.D., Daniel Leonard, M.D., Karl Baum, M.D. and Ramana Marada, M.D., as well as two nurses: Hollee McInnis, R.N. and Alison Barkholtz, R.N. along with St. Elizabeth Hospital and Ascension Health.
Scott Schara, Grace's dad, has done thousands of hours of research since Grace's death and he has a new series that dissects a growing phenomenon of medical deaths driven by dangerous protocols and harmful pharmaceuticals. Research shows Americans have been programmed to "trust the science and the white coats," leading to their premature deaths.
Scott states, "By studying the convergence of medical killing across multiple areas — including hospitals, elderly care facilities, the 'jab' agenda and more — I've noticed a clear pattern. The medical establishment, backed by coercive government policy and financed and supported by big business, is undertaking a 'soft genocide.' They look at what they are doing as 'hastening death,' but that's just another way of saying 'murder.' Key targets include the elderly and the disabled. I'm sharing my research widely and speaking out in the media multiple times a week because all Americans must protect themselves against this evil and deadly agenda."
The key facts and findings of Scott's research are:
• All deaths are rising at an annual average of 8%, resulting in an ongoing increase of 228,000 annual deaths — putting "medical malpractice" at a yearly death toll approaching heart disease.
• In the five years following the passage of the Affordable Care Act ("Obamacare"), hospice deaths have risen to more than 50% — more than doubling from a prior rate of 21.6%.
• Over 50% of the annual federal budget is related to the individuals using Medicare/Medicaid for the bureaucracy and, ominously, "the financial projections in this report indicate a need for substantial changes to address Medicare's financial challenges." (2021 Annual Report of the Boards of Trustees of The Federal Hospital Insurance and Federal Supplementary Medical Insurance Trust Funds).
• All-cause mortality is up 24% in the "vaccinated" — even as more "vaccines" are being purchased and delivered with American tax dollars.
• There is a deliberate and systemic targeting of the elderly and disabled in this medical murder agenda — amounting to an open campaign of genocide.
Scott's research shows three primary, public motivations driving this medical murder: it's incentivized, it's profitable and it's now becoming a mainstream policy position of high-level government and corporate figures in America because of the skyrocketing cost of the Medicare/Medicaid bait and switch program. But, the hidden motivation is much darker.
As growing numbers of Americans die at the hands of corporate healthcare chains, the FDA's Emergency Use Authorizations for ventilators (90% kill rate) and Remdesivir (75% kill rate) remain in use today. Trillions of dollars — and one historic, unprecedented propaganda campaign — later, the net health outcome of the "Warp Speed" efforts of the American medical system has been a spike of mortality.
Please go to Grace's website,
OurAmazingGrace.net
and Scott's Rumble channel,
"Deprogramming With Grace's Dad"
as Scott connects the dots on the who, what, when, where, why and how surrounding this disturbing "new" driver of American mortality.
Pregnant moms and dads go to the doctor after receiving their WONDERFUL news — "you're having a baby!" — and the doctor immediately asks them to have an amniocentesis done so they can make sure their child doesn't have Down Syndrome and if it's found the child may have it, they can terminate the pregnancy. TERMINATE THE PREGNANCY? MURDER the child? YES, this is 100% TRUE! This reporter went with her daughter and son-in-law to one of their prenatal visits and heard this EXACT thing! The doctor was with Ascension Health in Appleton and his office was right on the hospital campus. He continued to tell our daughter and son-in-law that if she opted for the termination of the "fetus," he would have to perform that off campus as they are a "Catholic hospital" and they don't condone such procedures and explained to them where he performs such HEINOUS CRIMES. When he was finished, this grandmother to be (at that time) not so politely told him how, if my grandson had ANY birth problems and the parents couldn't handle it, his grandma and grandpa would ABSOLUTELY adopt that child as there is NO WAY he was going to MURDER my grandchild! I then went on to tell him how our daughter was born with a medical condition which she will have her ENTIRE life and if I would have chosen to murder my child, she wouldn't be there, on that day, expecting our grandson! My husband and I were there on the evening our grandson was born, a healthy baby boy!
Scott and Cindy recently attended a demolition derby (another event Grace loved to go to) and her original pediatrician sat behind them. He was totally unaware of Grace's death; even though he saw the billboards on the highways, he never put together who she was. Scott and Cindy spoke with the pediatrician and he asked when she died and wasn't there an antiviral around at that time called "Rem.....something, like that"....Scott asked him how awake he was to the whole COVID agenda and his reply was the nurses from the former AMC hospital keep him "up to date." SERIOUSLY? Doctors depend on nurses for their updates and don't even know what the name of the "medication" is that's killing people? And that's how doctors handle such important "health issues?" Talk about SCARY!
A short time ago, Scott received some information that was sent to him by a lady who has been following this case. The information was about "My Chart" Ascension, Wisconsin. It was called "My Chart Proxy Access for adult to teen accounts." Parents, once the child is age 13 are removed from the system of the "My Chart." At age 13 the child owns the "My Chart." The parent is no longer on this system. The teen can grant proxy access to the parent(s). If the teen grants proxy access these are the exclusions: The parent has no access to all social history information such as sexual activity and substance abuse. There is no ability to schedule, cancel or confirm any prior or current appointments and the parents have no access to sensitive lab and radiology reports. Age 13? Are they serious? A child is EXACTLY that at age 13, a CHILD! And they're brainwashed into such hypocrisy!
An update on the lawsuit:
There was a hearing on July 14, 2023 to rule on a Partial Motion to Dismiss. At the hearing the judge requested the Schara's legal team file an Amended Complaint to respond to comments by the defense. That Amended Complaint was filed on July 28, 2023. A jury trial was also scheduled beginning November 4, 2024. Because of the Amended Complaint the Schara's received two additional Partial Motions to Dismiss which follow a similar logic to the first one and they are:
#1 - They want the DNR (Do Not Resuscitate) dismissed because Grace is dead. Now folks, as I have said over and over in my previous articles, this is TOO STUPID to make up! Grace is dead BECAUSE they gave her Precedex, Lorazepam and Morphine, then put the DNR order on her so when the drugs took hold, there would be no way she wouldn't die! THEY KILLED her!
#2 - They want the intentional tort (battery claim) to be classed as medical malpractice to limit the liability and not have to be held accountable for intentional actions. This reporter finds it VERY interesting, the doctor's medical malpractice insurance companies are paying the legal fees of the defense attorneys. That fact is likely another reason why they are motivated to have this case be ONLY about medical malpractice. The Schara's attorneys are currently working on their Briefs in Opposition. The next hearing for this is on Monday, October 30, 2023 at the Courthouse in Appleton, Wisconsin. The Scharas will be greeting and speaking with people on the lawn outside the courthouse beginning at 1:30pm. There will be a time of prayer prior to the hearing that begins at 2pm. It is CRITICALLY important to pack the courtroom for this hearing and each and every time there is a proceeding regarding this lawsuit!
The Scharas are hopeful that all of their claims (especially the illegal DNR and battery) are allowed for the trial. If there's going to be justice (for Grace and 1.2 million others), through man's legal system, the ENTIRE case MUST be heard at the trial. The Briefs in Opposition spell out the reasons these claims must continue and must be separated from medical malpractice. PLEASE continue to keep this case in prayer!