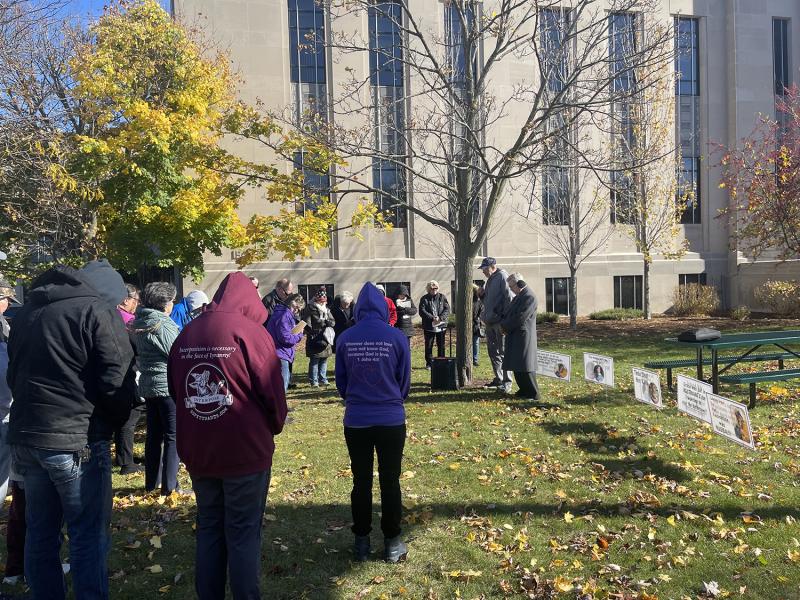 Complimentary Story
November/December 2023
A Candlelight Prayer Vigil was held in Remembrance of Grace Schara and her brother, Travis, on October, 13, 2023 with approximately 100 people in attendance. It was held two years after five doctors: Gavin Shokar, M.D., David Beck, M.D., Daniel Leonard, M.D., Karl Baum, M.D. and Ramana Marada, M.D., as well as two nurses: Hollee McInnis, R.N. and Alison Barkholtz, R.N. allegedly murdered Grace at St. Elizabeth Hospital in Appleton, Wisconsin.
Prior to the beginning of the vigil, I walked around the room and asked people to share with me how they know the Scharas and why they came to the event. A very sweet lady who spoke that evening at the vigil told me, "I've known the Scharas and Grace as they came to our church. I used to be angry about the murder of Grace, but sadness and broken hearted feelings have taken over. I am broken hearted for Jesus and for Grace and what she stood for. It's such a precious waste, she was so precious. I came tonight to be a support to Cindy and Scott. I want to declare God's glory because that's what Grace was about. She never wanted anything to be about herself, I know that for a fact from her baptism."
Another couple told me they live next door to the Scharas' other daughter, Jessica, and her husband, Adam, and their boys. She babysat for them when the boys were babies and they met Grace when she would come to their home to visit. She continued to tell me "what happened was wrong." She, also, was hospitalized with COVID in 2020 as she suffers from asthma. They had her on oxygen but they never talked about intubating her. She explained how they treated her was downright scary; she was going through it as an adult and how it makes her sick when she thinks about what they did to Grace. She also was hospitalized at the very same hospital, St. Elizabeth in Appleton. The couple has left Ascension Health since that time. She stated that Dr. Daniel Leonard was her Pulmonologist and she received a letter in spring of this year, very soon after the lawsuit was filed from "the staff" stating Dr. Leonard was no longer with them. That letter was sent to her one month after he had already left the practice. It never gave her any suggestions on whom she could now receive her care from which left her without a Pulmonologist for a month, in the spring, when her asthma is the worst.
The vigil was organized by a gentleman and his wife who spoke of how they approached Scott and Cindy on the day of Grace's death with the idea. He told of the honor and how proud he is to know the Schara family. Scott Schara then spoke about the events of the evening which included many different speakers who knew the Schara family as well as those who didn't, a video that Scott, the gentleman who organized the evening put together. He went on to speak about Grace's sense of humor and how her big brother, Travis, began his humor back when he was only four or five years old. He gave a couple examples of that humor and further went on to tell those in attendance how Grace picked up on that same humor. Scott continued to speak of Grace's humor and road signs. He was on a highway in Wisconsin and saw a sign with a stick person and a bike above it. Grace told her dad that sign means to watch out for falling bikes. Scott then challenged everyone at the vigil, as well as those that are reading this article, to take one day and take every sign that you see literally. "You call into work, you do so stating 'I'm not going to be in today,' when they ask 'how come?' you tell them you came to a Stop sign." This is the type of thing that Grace got and the sense of humor she had.
Deer (buck) and angel cookies along with hot chocolate and apple cider were served to the guests at the vigil. Cindy, Grace's mom, spoke of the significance and meaning of both cookies. Grace always wanted to get a ten-point buck when she deer hunted. Unfortunately her life ended way too soon, and she wasn't able to obtain that goal. The year she died, God sent a ten-point buck for Scott and Cindy's grandson, Caleb, to shoot. On the day the deer was shot, he was wearing Grace's jacket, using her gun and sitting in the stand she would have sat in to shoot the deer. The other cookies, angels, were to commemorate that Grace is now with the angels and the Lord.
Scott and Cindy are so very grateful for all the people the Lord has brought into their lives and the love that has been shown to them through those people. The angel cookies are extra special as they also commemorate the loss of their son, Travis. The week the vigil was held was the fifth anniversary of the loss of Travis. The year Travis died, Grace went dressed as an angel on Halloween (devil worship day) which she absolutely hated as she knew and acknowledged that is the day satan is worshiped by so many people. She also hated all the "decorations" in the store and called the devil a creep. She went from home to home that year and shined God's light to all those who answered the door and to others who were out with their children celebrating satan's holiday.
The apple cider was served as remembrance of all the times Grace helped make it, as that was also one of her favorite things to do so others could enjoy it. Once again, Grace was NEVER selfish, she put others before herself and did whatever she could to make others feel special and show her love to them.
Cindy received a text message from Grace's dance studio gentleman who would help at the recitals. The text spoke of the date Grace met her Heavenly Father, how he could never watch the documentary "Breaking the Oath" and the death of his very precious student. How sick to his stomach he was, continuing to tell Cindy about the family in another town with a Down Syndrome daughter whom he told about Grace. They also watched the documentary that he had forwarded to them and they were in disbelief as well. He was watching the full documentary now as he was typing the text and he wanted Cindy to know how much he misses Grace, stating she was the best friend anyone could ask for.
Cindy told of Grace's wish at her 19th birthday, her last birthday with her earthly mom and dad. Her wish was for a ticket to heaven to see her brother, Travis, whom she missed SOOOO much, for a day, then come back and tell everyone about her day. God blessed her with that ticket. No, He didn't want her to die, but He allowed that to happen so people would wake up to the evil that's going on in our "medical community."
The evening was filled with grief for the loss of both Grace and Travis and shared by all those that attended. Due to the grief Cindy was experiencing, she inadvertently missed sharing two very important texts she had received. One of those texts came from a dear friend by the name of Levi. He shared how heartbroken he is to hear the news about the loss of Grace. He goes on to say she was so kind and she loved unconditionally. Her smile, hugs and her kindness to him at a time when not very many people were will forever be missed. Levi was looking forward to the day Grace's dream of getting married would be witnessed by him and now that will no longer happen. He spoke of the great job Scott and Cindy did raising Grace to be the person she was! He stated, "I pray that God uses this somehow for His plans for us. Let Grace be a reminder of God's love for us and that He takes what the world might consider broken and makes it beautiful. I am honored to have been her friend."
A text received from Simeon, a young man and Grace's classmate touched Cindy's heart deeply. He stated, "One thing about your daughter that I'm noticing now, is that everytime I read the Bible or a Bible study book, everytime it mentions 'Grace' almost as a person, I can't help thinking of your Grace. Because everytime it talks about 'Grace' it describes how I knew her and what I saw from her."
Numerous people spoke that evening about Grace and everything she meant to them including a dear lady, Grace's "Chewbacca lady," who did her Chewbacca impression. Chewbacca was one of Grace's favorites including a mask that she wore. Grace loved to show her the Elvis Presley moves that she had and spoke of the whole history of Elvis that Grace had memorized and how if she would have lived, she would be working at their museum as she would have been perfect for the job! She went on to share the memories she had from time in church. Grace grabbing her hand as well as mom or dad's hand and she would hold it during the prayer time. She always had a message, she would duck so she wouldn't disturb anyone as she made her way to the basket to put the message in it. She was emphatic, caring and loving and she would say, "mom, I've got it, dad, I've got it, pastor, I know that!" At her baptism, she was asked by the pastor "Who is Jesus? What does He mean to you?" She said, "He is EVERYTHING, EVERYTHING!" and she meant it! She went down in the water and she came up with her arms straight up and both thumbs up. She would want us to give God all the glory! She would say "AMEN! HALLELUJAH!"
Person after person spoke of Grace and all she meant to them, how selfless and loving she was and how much they miss her beyond words of description. The last person to speak that evening talked about how he didn't have the chance to meet Grace, but echoed what others were feeling. The Scharas sharing their sorrow, their anguish and most of all their children, Grace and Travis with all in attendance. I, myself, have been writing these articles and the privilege I have had to speak with Scott, Cindy and Jessica and the horrific murder of their daughter, Grace, and the tragic loss of their son Travis, all through the insanity of the "medical community." I ask myself over and over again, WHAT will it take for this to STOP?! WHY aren't the doctors and nurses who were involved in Grace's death repenting and asking for the forgiveness that is found ONLY in our Lord, Jesus Christ? Maybe they don't know Him. Why is nobody else from that institution coming forward? They have to be seeing/have seen this with more people than just Grace! Dr. Leonard is no longer with his practice? Where did he go? Is he even still "practicing?"
At 7:27 pm, the exact time Grace passed from this earth into eternal life, candles were lit, five minutes of silence and prayer followed and then the singing of "Amazing Grace." There wasn't a dry eye in the room through the night, especially during that time. What a beautiful memorial to Grace and Travis! Fellowship time followed with people sharing each other's grief and memories while enjoying the cookies, hot chocolate and apple cider. A group of us then grabbed our candles and walked around the hospital, stopping at the front by the window of the room Grace passed away in. What a way to end the evening, looking up at the window where our very dear sister and Scott stood at one point of Grace's hospital stay and looked outside to wave to Jessica.
Desperate Defendants' Final Motion to Dismiss Schara vs Ascension Health et al. fails,
Opening Door for Breakthrough Precedent at Jury Trial
As I have reported to our valued readers in prior articles, the Scharas filed a lawsuit against five doctors: Gavin Shokar, M.D., David Beck, M.D., Daniel Leonard, M.D., Karl Baum, M.D. and Ramana Marada, M.D., as well as two nurses: Hollee McInnis, R.N. and Alison Barkholtz, R.N. along with St. Elizabeth Hospital and Ascension Health. On October 30, 2023 another hearing was held in front of a packed crowd at the Outagamie County Courthouse. Due to a breakthrough, a Wisconsin lawsuit is speeding unstoppably toward trial and our judicial system has FINALLY said that "intent" matters.
This landmark wrongful death lawsuit prevailed over one final attempt by the defense at dismissal — securing a first-of-its-kind jury trial set to redefine the impact of intent in medical death cases. Judge Mark J. McGinnis rejected with hallmark clarity, all motions by the defense to dismiss the Scharas' charges. "This case is ready to be tried in November," he stated.
The rejection of the motions ensures the trial in November, 2024 will be decided by a jury of Wisconsinites rather than attorneys representing "healthcare" conglomerates in a case that has far-reaching legal ramifications for American medicine. The lawsuit alleges that Appleton's Ascension St. Elizabeth Hospital facilitated the wrongful death of Grace Schara. It also alleges that five doctors defied informed consent laws and those same doctors and two nurses committed battery when they killed Grace, a 19-year-old with Down syndrome on October 13, 2021 after the above named doctors and nurses fraudulently labeled her as a "DNR" (Do Not Resuscitate) patient, administered a lethal drug cocktail known to kill and then brazenly REFUSED to save her life as she died while the "hospital protocols" forced Scott and Cindy to watch their loving daughter die on FaceTime. REMEMBER, Scott was ushered out of the "hospital" by an armed guard.
This victory by Scott and his legal team, which is led by the nationally recognized Mendenhall Law Group, "Is a playbook for all Americans who have lost loved ones at the hands of what I and many others believe to be a medical establishment dangerously committed to harm — more concerned with incentives and penalties than patient health. Our case simply surviving should send shockwaves across the nation, because we showed how to pierce the medical malpractice veil with a legal brief, which can be found on 'OurAmazingGrace.net.' Winning this claim will create a tidal wave — and a game-changing legal precedent," stated Scott.
An illustration of the battery claim in Schara vs Ascension et al. is simply stated by Scott: "Imagine a physician who fails to fully inform a patient about the risks of a leg amputation, but the patient does agree to have his leg amputated. This violates the duty to obtain informed consent. Now imagine a physician who amputates a patient's leg without obtaining consent or telling the patient or their family what he is doing (and in this case, removing the patient's power of attorney and parent from the hospital first). That's a battery."
Why is this important? The defendants' attorneys have argued that their clients had state statutory protection for their actions. If America followed the defendants' perspective on medical battery, hospitals would become "walled gardens where any intentional misconduct could be treated as simple negligence." And, "in this world, any unethical or financially-motivated physician could administer deadly drugs without consent for malign purposes, included making room for new patients....and even that liability would be subject to insurance coverage." (This is quoted from Scott's October 23, 2023 Brief In Opposition). Medical MURDER that is currently state-sanctioned MUST end!
If, (this reporter prefers to say WHEN), Scott and Cindy wins the case at trial:
• Medical malpractice state statutory protection NO LONGER applies when doctors commit crimes without the patient's knowledge.
• Medical malpractice insurance protection also no longer applies.
• The statute of limitations on wrongful death claims is increased substantially.
• Intentional torts facilitate punitive damages, so attorneys would be willing to take wrongful death cases on contingency.
Another attempt by the defense's attorneys to dismiss the claims has FAILED! I have personally been with the Schara family from just shortly after this all began and reporting on all that has happened. I have seen the HUGE impact this has had on Scott and Cindy and Jessica and her family and at times it has been almost unbearable to watch. This reporter and her husband were the only media in that courtroom. After leaving there, we went to a local sporting goods store and walked directly into WLUK, Channel 11 here in the Fox Valley. Now, they were listening in on the hearing over the internet, however they felt it was more important to report on the Green Bay Packers and people purchasing or not purchasing their gear and talk about other such nonsense rather than coming to the hearing and reporting on such an extremely important matter. Yet, they claim they have balanced coverage. DO YOU? You reported, in the beginning, on the beginning of the lawsuit but haven't done anything to report on it since! Why is that? As my husband and I walked past their reporter, I commented on how they didn't seem to have time to be in the courtroom but had time for what they were doing and received a "look' by that reporter. I am very proud to say I was in the courtroom that day! It has truly been an honor and pleasure to walk alongside the Schara family through all of this. Everyone that was there sees God's mighty hand in this and His blessings and provisions on the Schara family. PLEASE continue to keep them in your prayers!
Genesis 50:20, "But as for you, ye thought evil against me; but God meant it unto good, to bring to pass, as it is this day, to save much people alive."