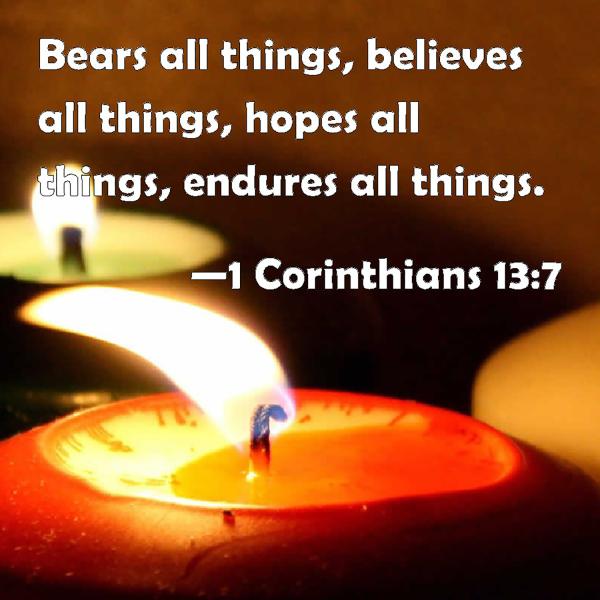 Complimentary Story
November/December 2023
Are you an online shopper or do you brave the stores the day after Thanksgiving? Whatever your preference for shopping, with the Christmas season fast upon us, we are all probably all getting ready to give gifts to those we love. 'Tis the season for all the pretty things to appear in stores. As much fun as it is to see someone's face light up when we have selected the perfect item for them, the truth is that sometimes we give those gifts with the expectation that we will receive something in return.
The love God teaches us about in 1 Corinthians 13:7 is an outward-flowing love, that is not worried about what it will receive in return.
"Love bears all things, believes all things, hopes all things, endures all things."
(1 Corinthians 13:7 ESV).
As we have journeyed through this chapter together, we keep coming back to the idea that love is not a feeling; love is a choice. Agape love is the ability God gives us to love people like He does… Not because of who they are, but because of who we are. We are able to love because the love of God has transformed us.
In today's verse, we see that love does four things. Love bears, believes, hopes, and endures all things. Each of these verbs have in common that they either require perseverance, or looking ahead to a future reward, instead of immediate gratification. There is a longevity to these verbs that we do not see very often in our self-indulgent, fast-food culture.
Although this verse may not be reflected always by the culture that I live in, it is easy for me to understand what this looks like. I only have to look at Jesus on the cross and it becomes crystal clear.
It is not wrong to say that Jesus died on the cross so that I could be forgiven, but it is more accurate to say that Jesus died because He loves me. He loves me so much that He was willing to BEAR the consequences of my own sins that were not His, to BELIEVE that I was redeemable, to HOPE that I would choose Him, and to ENDURE death on a cross. He did all this, loved sacrificially, in order to achieve for me what I am not able to achieve for myself. He persevered and endured on the cross because He loved me more than He loved His own life. Jesus died selflessly so that He could give me the gift of life, life eternal with Him.
The question that pierces my heart as I read first Corinthians 13:7 is… Am I willing to love others like Jesus loved me? Am I willing to bear with others and their sinfulness? Am I willing to continue to hope, even when change takes a long time? Am I willing to believe that what God did for me, He can do for others? Am I willing to endure the pains of betrayal and rejection?
If my love is focused on other people — not focused on what I am receiving, but on what I have to offer — I will bear all things, believe all things, hope all things, and endure all things.
Friends, let us allow this holiday season to be a reminder to us; not only of the great gift we have received in Jesus, but also of the great gift God has given us to share with others…the love of Christ… which bears all things, believes all things, hopes all things, and endures all things.
Chris McMahan
Email: Happy1970@icloud.com