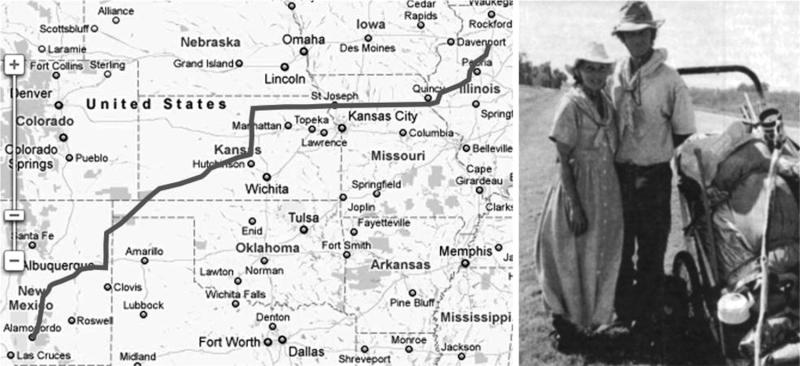 Complimentary Story
November/December 2023
Around 1:30 PM, a pickup truck stopped briefly and the men inside asked where we were headed. Around 3:00 PM, the same truck came back toward us with just the driver. He said he couldn't get us off his mind. He works on the irrigation lines that provide water for the crops here. His boys both left for college this week and he is alone at home and feeling very lonely. He offered to take us to his home and give us a meal tonight and the opportunity to wash our clothes, take a shower, and sleep in a real bed. It sounded great to us. Harry had told me, a few hours before we were offered the ride, that when we reached the next town he had to get a good meal. We can't carry enough of the right kinds of food to sustain us through all the physical exertion and the heat is an added drain on our energy.
Thank God, this man is another one of God's answers to a real need — without us ever asking for it. Jack is a Christian and a very nice man. He provided all he said he would and we got a very good, and restful, night's sleep. We washed our clothes, took showers, and enjoyed an evening of fellowship over a good meal. Jack was gone early, before we got up, as he told us he would be. We left a note of "thanks" and headed out, stopping in town for groceries. (Matthew 25:34).
We got coffee at a gas station and headed out around 9 AM. We were told that when we got to the Saline River we would have a very long decent and an equally long climb back out of the river valley, but after that the ground would start to flatten out. We have heard the line about "flat ground" just in front of us before. We will believe it when we see it.
When we got to the Saline River valley, we sat down and rested for quite a while. From where we were sitting, we could see across the valley. We guessed at the distance being about nine miles before we got to the top on the other side. We are getting pretty good at judging distance. We have had a lot of practice, seeing water towers in the distance and judging about how far away they are.
Neither one of us were up to making the next few miles across the valley. We were tired and worn out, but that isn't anything new anymore. We have found that no matter how tired you think you are, you almost always have a little more energy left. We have learned a lot about ourselves and what we can do with the Lord's help. We are out here totally and entirely trusting Him and we know that with His help, we will climb back out of this valley yet today. (Philippians 4:13).
It seems strange, but we have found that a long decent is as hard on our legs and back as a long climb. Even a short steep hill is difficult to get down without hurting our knees. Hills put strain on our knees going down and on our legs and back going up. That is why we are not looking forward to these next few miles, but we do know that it will be done with the Lord's help.
We ate while we were resting because we knew we would definitely need the extra energy. Pulling the cart on relatively flat ground, I can only get about eight miles before I have to have something to eat. We know this valley is wider than that and no matter what we eat, it will not be enough to get us to the other side.
Judging the amount of calories we would require was our biggest error in trying to anticipate our needs before starting the walk. God has provided us many meals to make up for the nutrition we are not getting from the food we are carrying.
After we rested and ate, we started down the hill. The decent was as difficult as we figured it would be. Our legs were aching very badly about half way down. The scenery was beautiful, however, and we often use the beauty around us to get our minds off how we feel.
We were within about a mile of the bottom when a sporty little Mustang convertible went by with the top down. It got just past us and turned around in the middle of the highway and came back down the hill. As it came along side us, it turned across the highway and pulled in front of us, crossways in the road. The driver offered us a box and asked, "Could you use some food? I bought two dinners today and I don't know why."
We thanked him and the Lord for this bounty. We waited to eat until we got to the bottom of the hill and then we rested and ate the meal that God had, once again, so graciously provided for us.
The box contained chicken and French fries. It didn't look as though there was a lot of food, but it was enough to fill both of us. It was amazing to us that we had the energy to climb the 4 ½ miles back out of the river valley. Non-stop! God had given us just what we needed just when we needed it. Praise His mighty name!
This is now day 54 since we started our walk. Just as God promised Hadassah before we ever started, He has provided everything we have needed. We have never done without. He is FAITHFUL! (Philippians 4:19).
"And I have been with thee whithersoever thou hast walked, and have cut off all thine enemies from before thee..."
(I Chronicles 17:8 KJV).
Email Contact:
Harry@Virtually-Forever.com