WISCONSIN RAPIDS, Wis.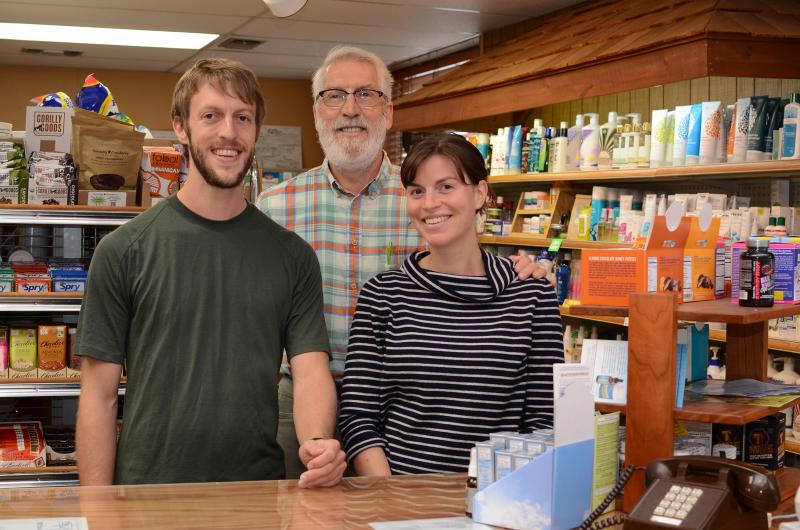 Complimentary Story
In 1945, Frank Hittner of Wisconsin Rapids had a tough decision to make: continue working for General Mills, but transfer to a division in Pennsylvania (along with his wife and two small children) -- OR choose to maintain his roots in the community and do something else. He chose the latter.
It was in 1946 that Frank opened Rapids Feed and Supply Company to fill the needs of area farmers. Along with feed for livestock and seeds for planting crops, in 1948, Frank started offering organic fertilizers to farmers with small operations.
As his business grew, there were many "firsts" including selling the first Surge milking machines in the area.
Frank also knew the value and importance of good health, and so he began ordering organic foods for his family. Soon his customers became interested in these products too, and asked Frank to order a few extra items for them as well. So he began stocking just one or two shelves of a few select items -- natural vitamin and mineral supplements, natural health remedies and foods. Often Frank and his family worked hand-in-hand with local chiropractors and doctors specializing in natural medicines to serve the Wisconsin Rapids and surrounding community.
The products Frank offered soon became so popular that in 1958, the business became known as Family Natural Foods. Though the Feed and Supply Company was still going strong -- and still exists even to this day -- the emphasis shifted more toward Natural Health Foods.
In 1971, Frank's son, Mike, started working full time at the store, and expanded the Natural Foods concept even further, adding more products, including a wider variety of grocery items. When Frank retired in 1982, Mike became the new owner, and continued the family tradition of building close, friendly relationships with his customers, always going the extra mile to serve the needs of their families.
"It's not just a business," said Mike's son, Stephen, "it's really more like a family here. We know our customers by name and work hard to maintain that feeling of community and family."
Stephen and his sister Katrina officially became the new owners of Family Natural Foods in 2014 when Mike retired, so now this business that started 71 years ago has transitioned to the third generation of the Hittner family. Grampa Frank would be proud of the company his son and grandchildren have grown, and even more importantly, the ethical standards they maintain in all their business dealings.
Mike still comes and works at the store occasionally when time allows, and extended family members are also part of their 8-member staff.
At Family Natural Foods, you can still get the products Frank started with, including bulk, heirloom and organic garden seeds. But today, there is also so much more, including:
• Health and Dietary books with over 200 titles;
• Natural and organic cosmetics, everything from shampoo, conditioners, moisturizers, bath products and dental products;
• Flours, bake mixes, and gluten free products;
• Cookies, crackers, grains and seeds;
• Protein drinks and mixes from soy, whey, pea, and rice;
• Over 100 herbal teas and tea blends as well as organic Fair Trade coffee (5 varieties);
• A complete selection of individual vitamins, minerals and multi-vitamins for adults and children;
• Over 100 herbs in capsule, tinctures and standardized extracts;
• Over 70 varieties of Essential Oils and diffusers;
• Individual homeopathic remedies and combinations, aloe concentrate, juice and gel and Bach Flower remedies;
• Bulk nuts and spices;
• Refrigerated foods; including bread, yogurt, juices, dairy products, local produce, flax and cod liver oils;
• Frozen foods; including free range, hormone free chicken, beef, buffalo, salmon and gluten free products.
"It's sort of like we have come full circle," Katrina said. "Grampa used to sell products that farmers needed, and now we are selling the products the farmers produce!"
Indeed, Family Natural Foods works closely with area farmers and Wisconsin-based producers. They do extensive research to find only the finest products available, and buy locally whenever possible. About 40% of the items in the store are made right here in Wisconsin.
They have also recently partnered with one of Wisconsin Rapids' favorite family restaurants, "Great Expectations," to offer a selection of hot soups and fresh salads during the lunch hours on Tuesdays and Thursdays, as well as select soups in the freezers.
But the selection at the store isn't limited. You'll also find items from all over the world. Most recently, they have added VomFass all-natural oils and vinegars in a variety of flavors, from Europe.
So you want to "get healthy" and eat better and live a better physical life but have no idea where to start? That's where the "family" part of Family Natural Foods comes in! Because when you shop at the store, you will find you're not a stranger for long -- you'll be welcomed warmly -- and if you have questions or are seeking the answer to a specific health need, you'll find the staff has done their homework! They are there and ready to help you select just the right items, and education is a big part of what they do! The Hittners are not just there to sell products, but to help you understand any health challenges you might be facing, and show you the science behind each of the natural remedies, supplements and healthy food items they offer. They can also recommend a great book or teaching tool to help you learn and grow in your own knowledge of living a good, natural, healthy lifestyle.
So whether you're interested in landscaping and gardening the natural way, seeking the freshest local produce and groceries, or need a dietary supplement or remedy for a particular ailment, you WILL find what you're looking for at Family Natural Foods.
Family Natural Foods is located at 910 West Grand Avenue in Wisconsin Rapids. You can call them at (715) 423-3120 or toll free at (866) 291-3284. The store is open Monday through Friday from 9 am - 6 pm and Saturdays from 9 - 4.
If you're online, you can learn more at their website: FamilyNaturalFoods.com, and if you're on Facebook, you can "like" their page and stay informed of all the latest specials and new items arriving frequently.
Feel free to tune into WFHR 1320 AM Monday-Friday for their 9am sponsored health program. Another way to stay connected is signing up for their newsletter on their website or learn about upcoming health presentations.
Katrina shared that she and her husband are expecting their first child soon.... so the legacy may well continue on to a fourth generation of the Hittner family! You're invited to stop in soon and experience the difference of a FAMILY-based natural food store!