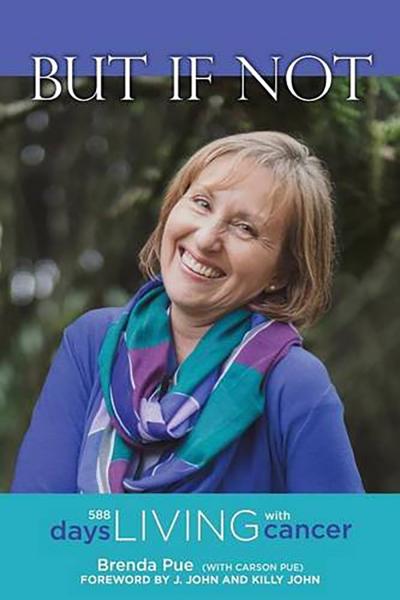 Complimentary Story
We all will die from something someday, but God does not teach us in Scripture how to die; but rather, how to live. A life lived for God is a gift -- a legacy to those around us and an offering to the Lord Himself, who gifted us with that life for that very purpose…to live for Him. This message shines brightly in Brenda Pue's book, "But If Not….588 days living with cancer."
This autobiographical account of Brenda Susan Pue's remarkable last days is not a story of a battle 'lost' to cancer; but rather in reading it, you experience an inspiring note of triumph and victory through a woman who chose to live every day of her life for the glory of God.
Through a compilation of Caring Bridge posts, Brenda allows us to journey with her as she celebrates living life fully after her stage-four lung cancer diagnosis in 2014. She shares from the core of her faith, "I believe that all of our days are numbered. Some of us just happen to be more aware of it than others so each day that I awaken to greet a new day is a true gift."
The title of this faith-filled chronicle, "But If Not," comes from the book of Daniel.
"O Nebuchadnezzar, we have no need to present a defense to you in this matter. If our God whom we serve is able to deliver us from the furnace of blazing fire and out of your hand, O king, let him deliver us. But if not, be it known to you, O king, that we will not serve your gods and we will not worship the golden statue that you have set up." (Daniel 3:16-18 NRSV).
Brenda says to the reader, "As I think about this story and my cancer journey, I know that God is able and willing to heal me miraculously, but if not, I want you to know that He has a better plan."
Through her honest and faith-filled entries, Brenda gives every reader insight and wisdom into what it is to live this life for the glory of God, by the grace of God, without denying that life often brings pain into that journey. She says, "Discomfort brings most of us to our knees…especially unresolvable discomfort. Having anything going on that is beyond my scope to manage puts me into a praying mood. Prayer is the best way for me to manage the unmanageable."
In addition to seeking God through prayer during this difficult season, Brenda allows her cancer journey to be a blessing to others as she shares page after page of insight and wisdom that can often only be learned through the dependency on God that comes to us through adversity.
"God in His wisdom wanted to show me some important things about myself -- things that were needed -- so that I can pass them along. I know that God has a plan here, and day by day I am paying attention to what God is showing me. Someone once told me that the definition of a Christian is one beggar telling another beggar where to find food. It's in my heart to do what I can in the time that I have to bless others."
"Do nothing from selfish ambition or conceit, but in humility count others more significant than yourselves. Let each of you look not only to his own interests, but also to the interests of others." (Philippians 2:3-4 ESV).
Although her doctors had given her only months to live after her initial cancer diagnosis, Brenda chose to live out whatever days the Lord had numbered for her joyfully and victoriously, leaving a legacy of faithfulness. Instead of a life cut short, we read of a life released as Brenda shares "life in all its fullness" -- the kind that Jesus promises in John 10:10. This book is both life-affirming and death-defying; not about dying with cancer; it is about living with it. It will encourage you and challenge you in your faith as Brenda shares, "I have chosen to live life with faith."
Come, be inspired by the life of an amazing Godly woman who shows us what it is like to face a life challenge with courage and grace.